Advertise With Us
Make an impression — place an ad on The Dance Enthusiast and receive thousands of eyes on your work every week. Learn more. 
50% OFF ALL ADS through December 31st. Use the promo code FALL50 at checkout HERE.
Contribute
Your support helps us cover dance in New York City and beyond! Donate now.
Lincoln Center Education presents performances by Kenan Fellows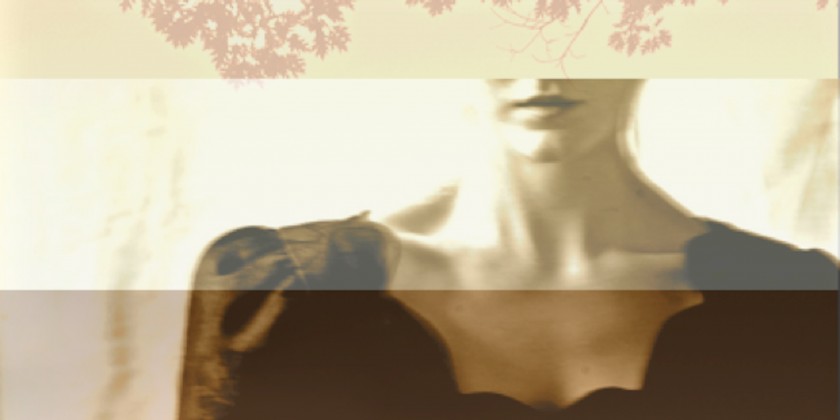 Company:
Lincoln Center
DANCE AND THEATER PERFORMANCES
at Lincoln Center Education January 29 - 31
Kenan Fellows Studying Arts and Education Present Their Work
CLARK STUDIO THEATER AT LINCOLN CENTER EDUCATION
70 Lincoln Center Plaza, Rose Building, 7th Floor
FREE ADMISSION
The Expressionist
theater and dance
By Kevin Carillo

Few works of art have been the subject of as much controversy, rejection, and admiration as the intense, striking paintings of Austrian artist Egon Schiele. Growing out of the central theme of adolescence, Kevin Carillo's one-man presentation examines Schiele's life and work, and focuses on the painter's 24-day prison sentence in 1912, where he created thirteen provocative watercolors. Does an artist wither in the confinement of a prison cell, or does it take him to the depths of expression? Carillo blends dance and drama to reach the essence of Egon Schiele's experience.

Thursday, January 29, 7:00 pm and Friday, January 30, 8:00 pm
RSVP: expressionist.lincolncenter@gmail.com

******************************
Packing Up
theater
time: Fall, 2009
place: Durham, North Carolina
writer & director: Samip Raval
cast: John Stewart, Jacobi Howard, Emily Ussery, Ari Itkin, Alex Morf, Regina Strayhorn

Packing Up is an endeavor to reveal a moment in a young man's life when he has become aware of his talent as an artist, but is challenged to pursue his dreams in the face of economic injustice. Raval calls on actors whom he trusts to help him find the voice of the story.

Thursday, January 29, 8 pm and Saturday, January 31, 1 pm
RSVP: sraval@lincolncenter.org

******************************
Fifth Planet
theater
by David Auburn
directed by Kel Haney
featuring Madeleine Meigs and Andrew Guilarte

Veronica and Mike work at the same astronomical observatory. She is an astronomer, he is a janitor. Their paths do not cross until Veronica discovers Mike stargazing atop a quiet hill. Over the next year, the two track more than the stars—they track each other. Their separate lives collide and out of the impact emerges a connection neither one expected. Fifth Planet ends on an optimistic but ambiguous note, leaving you free to imagine the future for Mike and Veronica.

Friday, January 30, 7 pm and Saturday, January 31, 7 pm
RSVP: fifthplanetlc@gmail.com

******************************
Down to the River
dance and theater
directed and choreographed by Julia Boyes
Julia Boyes
with actors ensemble
Four dancers, four actors, and text from Edgar Lee Masters's The Spoon River Anthology: In her new work, Down to the River, director/choreographer Julia Boyes joins movement and spoken word to take a sharp look at the human condition — the joys and trials common to us all. Simplicity acquires depth, and the epitaphs for Masters's characters — famously narrated by the dead themselves — resonate again, far beyond small-town America.

Saturday, January 31, 2 pm and 8 pm
RSVP: kenanshowjb@gmail.com

******************************
Actor/Playwright Kevin Carillo first appeared professionally in New York on Broadway in A Christmas Carol, directed by Mike Ockrent and choreographed by Susan Stroman, working alongside F. Murray Abraham and Jim Dale. Kevin, a recipient of the Licia Albanese-Puccini Foundation scholarship, was asked to sing at Alice Tully Hall at Lincoln Center in honor of Mario Lanza. At the NY International Fringe Festival, Kevin performed in a new musical, Escape from Pterodactyl Island. He also appeared on Sesame Street. In 2009, Kevin was nominated for a Papermill Playhouse Rising Star Award. He earned a BFA in Drama from the University of North Carolina School of the Arts, where he was awarded the William R. Kenan, Jr. Excellence Award, a full scholarship based on talent. In love with the classics, Kevin has tackled seven Shakespeare characters and additionally studied in the School of Ballet under the deanship of Susan Jaffe. Kevin is currently working with the Education and Outreach Department at MCC Theater.

Samip Raval is an actor, director, and teaching artist from Charlotte, North Carolina. His Regional Theater Credits include The Importance of Being Earnest (Shakespeare Theater Company), Troublemaker (Eugene O'Neill Playwrights Conference), No Man's Land (Artists Repertory Theatre with William Hurt), Antony & Cleopatra, The Tempest (Georgia Shakespeare Festival). He has performed in readings and workshops at the Drama League, Kennedy Center, Goethe Institute, and American Thymele Theatre. New York Directing Credits include DAWN at the Emerging Artists Theater and 112 Decibel Levels at OneArmRed. At UNCSA, he directed Defiance, Brilliant Traces, and Death and The Maiden, and soon after travelled to Kenya and directed Contaminated, collaborating with Shabuya Productions and local Nairobi artists. He has taught Acting and Red Nose at institutions in South Florida, New York, Kenya, and India. Samip is a recipient of the Kennedy Center Directing Fellowship and holds a BFA from the University of North Carolina School of the Arts. Upcoming productions have him returning to the Kennedy Center and then travelling to the Oregon Shakespeare Festival.

Madeleine Meigs' time during her Fellowship at Lincoln Center Education has been jam-packed with career building experiences such as appearing in The Dream Vault Cycle at La Mama Experimental Theatre Club, workshopping Babel during a residency with Convergences Theatre Collective, and a reading of Three Thousand Seizures at CAP21. Madeleine is the recipient of a BFA in Acting from the University of North Carolina School of the Arts.

Julia Boyes graduated from University of North Carolina School of the Arts with a BFA in contemporary dance in 2012, and completed the Two-Year Acting Conservatory at the Maggie Flanigan Studio in 2014. She was a featured dancer in UNCSA's 2011 televised performance of Oklahoma! directed by Terrance Mann with Agnes DeMille's original choreography re-staged by Gemze de Lappe. Julia has performed original works by choreographers Mark Dendy (recently praised in a New Yorker review), Grady McLeod Bowman, and Andrew Harper; and theater works by playwright Eugenie Carabatsos and director Michelle Sutherland. She has also taken on classic roles, such as Laura from The Glass Menagerie by Tennessee Williams, Emma from Diff'rent by Eugene O'Neill, and Catherine from A View from the Bridge by Arthur Miller.


William R. Kenan, Jr. Performing Arts Fellowship at Lincoln Center Education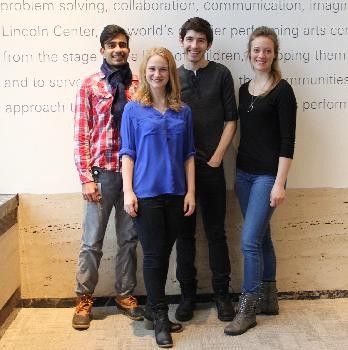 2014-15 Kenan Fellows at Lincoln Center Education
L to R: Samip Raval, Julia Boyes, Kevin Carillo, Madeleine Meigs

For many years, Lincoln Center has offered summer internships for aspiring arts administrators and emerging artists, giving them the benefit of experience with LCE programs, as well as with Lincoln Center's overall administration, performance series, and outreach activities. The William R. Kenan, Jr. Performing Arts Fellowship Program enables recent graduates of the University of North Carolina School of the Arts to work with leading artists and arts administrators for a continuous six-month period.

Each Kenan Fellow receives a stipend, and is paired with an individual mentor chosen from LCE's pool of teaching artists and staff. Mentors are chosen to match the specific interest of each Fellow. The Kenan Fellows are involved in all facets of LCE's work, including production, performance, and education. They participate in the planning and implementation of classroom sessions and workshops, and enjoy—along with teachers and their students—the various events and performances that take place daily on the Lincoln Center campus. The fellowship is also a valuable networking opportunity, enabling Fellows to meet with representatives of constituent organizations on campus and key staff at Lincoln Center. Throughout the program, Fellows meet with mentors and LCE staff to discuss the progress of the fellowship.
*****************************
The William R. Kenan, Jr. Charitable Trust supports education and basic human needs. The Kenan Charitable Trust made a generous endowment grant to Lincoln Center Education, the income from which will support the William R. Kenan, Jr. Performing Arts Fellowships at Lincoln Center in perpetuity.

*****************************
Lincoln Center Education (LCE)
Lincoln Center Education is a global leader in arts education and advocacy and the education cornerstone of Lincoln Center, the world's largest performing arts complex. LCE is committed to enriching the lives of students, educators, and lifelong learners by providing opportunities for engagement with the highest-quality arts on the stage, in the classroom, digitally, and within the community. Founded in 1975 as the Lincoln Center Institute, LCE has nearly four decades of unparalleled school and community partnerships, professional development workshops, consulting services, and its very own repertory. LCE has reached more than 20 million students, teachers, school administrators, parents, community members, teaching artists, pre-service teachers, university professors, and artists in New York City, across the nation and around the world.

*********************************
University of North Carolina School of the Arts
Celebrating its 50th anniversary, the University of North Carolina School of the Arts is a unique stand-alone public university of arts conservatories. With a high school component, UNCSA is a degree-granting institution that trains young people of talent in music, dance, drama, filmmaking, and design and production. Established by the N.C. General Assembly in 1963, the School of the Arts opened in Winston-Salem ("The City of Arts and Innovation") in 1965 and became part of the University of North Carolina system in 1972. For more information, visit www.uncsa.edu.

The William R. Kenan, Jr. Fellowships at Lincoln Center provide opportunities for outstanding recent graduates of the University of North Carolina School of the Arts to further develop as artists, leaders and teachers over the course of a one-year fellowship. Kenan Fellows work and learn in the context of top performing arts institutions, while also receiving support to develop their artistry and professional network in one of America's artistic capitals.

The Kenan Fellowships are endowed by The William R. Kenan, Jr. Charitable Trust and administered by UNCSA's Office of Student Affairs in partnership with the Thomas S. Kenan Institute for the Arts.
Photo: Down to the River by Julia Boyes.