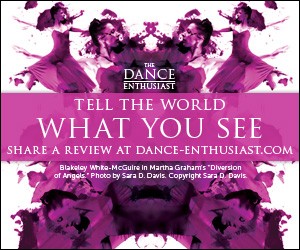 Listings & Critics Performance Mix Festival
April 8-14 at The Flea
New Dance Alliance presents the
27TH ANNUAL PERFORMANCE MIX FESTIVAL
at The Flea Theater on April 8-14, 2013
New Dance Alliance presents the 27th Annual Performance Mix, a weeklong festival with twenty-five outside-the-box performance and video dance artists. Some highlights: we will feature full-length performances by International Artists in Residence Mayday/Melanie Demers presenting Goodbye as seen at the Festival Transamerique in Montreal; from France, the compagnie à contre poil du sens/Matthieu Hocquemillers' Bonne Nouvelles; picking up from last year's festival, Valerie Striar's newly completed work Marguerite and Robert, part 2 (New York City); a sneak peek at Karen Bernard's Suspending and Other Tricks; and many other performance artists on the move from near and far – Robert Tyree ( Portland, Oregon); Michael Samama, Oren Barnoy, Special Projects/Melinda Ring, and Maverick Dance Experience (New York City); video artists Charles Dennis (New York City) and Livia Daza Paris (Quebec); and a closing performance of Rhythm and Schmooze hosted by Jane Goldberg with tap aficionados Roxane Butterfly, Cheryl Johnson and Michela Marino Lerman.

Location: All events take place at The Flea Theater, 41 White Street between Church and Broadway except the Closing Party to be held at NDA's Loft, 182 Duane Street between Hudson and Greenwich
Tickets available at
www.theflea.org
212-352-3101
Performances: 7 PM, April 8-13
Tickets: General 5, Students and Seniors 0
Performance and Closing Night Party: 3 PM, April 14
Tickets: Performance and Party 0, Performance Only 0
Breakfast Mix: 10:30 AM – 12:30 PM, April 11, Thursday
Tickets: Free Event (RSVP info@newdancealliance.org)

April 8-11, 13 at 8pm an International Artist in Residence will be featured. This is included in all ticket purchases, but is also available for free based on availability.
There are a variety of activities through which to experience the work of these emerging and established artists – shoand long works, multiple showings, as well as special events:

Opening Reception: April 8, Monday following performance at The Flea Theater, an artist/audience
gathering to celebrate the Festival.

Breakfast Mix: April 11, Thursday 10:30 AM – 12:30 PM at The Flea Theater. Join us for breakfast and "Out of Town Artists' Forum and Performance Away: Beyond The Site of Production" – The panel will discuss: How does performance circulate? What moves work beyond its site of production? Can work made outside major markets thrive in minor market conditions and what might those conditions look like? For instance, can regional performance circuits counter the sometimes meager incentives of one city, one weekend runs? What good does it do to "leave home?" Following the Panel, we will enjoy a performance of an excerpt from Mayday's Goodbye. Breakfast Mix is hosted by the Cultural Government of Quebec in New York.

Closing Party: Sunday, April 14 following the 3 PM performance at The Flea Theater. Join us at the NDA loft, just a 10- minute walk from The Flea Theater, where we'll share Tapas Españolas and Sangria, with a splash of flamenco performed by La Meira, and our annual silent auction (bring your checkbook, please).