Liz Gerring Peels Away Layers at 92Y Harkness Dance Festival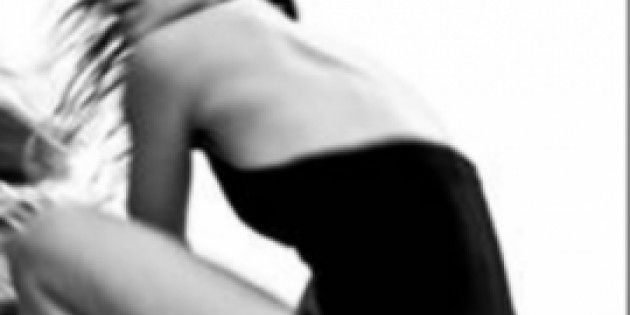 Stripping and Dressing she dreams in code
NEW YORK, NY: January 31—"It takes three hours to make two minutes of dance," choreographer Liz Gerring says. "It's like constructing a building. We lay the cement and the foundation. The dance is one layer. We lay the sound and set and lighting components and they're different layers, combining to form the whole." At the 92nd Street Y Harkness Dance Festival, Gerring will reveal the bones, layers and different possibilities of one particular building – her 2010 dance she dreams in code. She'll present it in the Festival's signature "Stripped/Dressed" format on Friday and Saturday, March 8 and 9, at 8 pm and on Sunday, March 10, at 3 pm.
For Gerring, the music is one of the most crucial layers of a dance. Gerring sometimes starts choreographing to a pop song, with its everyday, accessible energy. But ultimately, her choreography is not simply about responding to a beat and the music that ends up in the piece has a more challenging relationship to the movement. For the Stripped portion of her Festival performances – the first section, where the choreographer provides insight into how she choreographs and presents dance without any theatrical trappings – she plans to show and tell how she and composer Michael Schumacher work together.
In hindsight, Gerring sees she dreams in code as part of a trilogy, along with Montauk and Lichtung / Clearing. she dreams… began with the idea of a relationship between the characters of a man and a woman and drew inspiration from two of the dancers in the piece, Jessica Weiss and Brandin Steffensen, who "work together well, physically," Gerring notes. Though the concept of a relationship became less crucial as the piece developed, the dance features a man and woman couple throughout and has more partnering than most of Gerring's work. The dance doesn't tell a narrative about a couple, but the movement has an emotional impetus. As Gerring says, "What could be more beautiful than body movement? Abstract dance is moving art, subtle art, and it's beautiful because it conveys so much without anyone speaking."
Photo by Miguel Anaya
WHAT: 92nd Street Y Harkness Dance Festival: Stripped/Dressed
Week Three: Liz Gerring: she dreams in code
WHEN: Fri, Mar 8 & Sat, Mar 9 at 8 pm; Sun, Mar 10 at 3 pm
WHERE: 92nd Street Y, 1395 Lexington Ave, New York, NY, 10128
TICKETS: 0 at www.92Y.org/harknessfestival or 212.415.5500.
Press Information: Sarah Morton at smorton@92Y.org or 212.415.5435
Upcoming performances at 92nd Street Y Harkness Dance Festival:
WEEK FOUR
RONALD K. BROWN / EVIDENCE: A DANCE COMPANY: GATEKEEPERS
Fri, Mar 15 & Sat, Mar 16 at 8 pm; Sun, Mar 17 at 3 pm
WEEK FIVE
KATE WEARE COMPANY: GARDEN
Fri, Mar 22 & Sat, Mar 23 at 8 pm; Sun, Mar 24 at 3 pm