Los Angeles, CA: REDCAT Announces Full Winter/Spring 2015 Performing Arts schedule of theater, dance and music events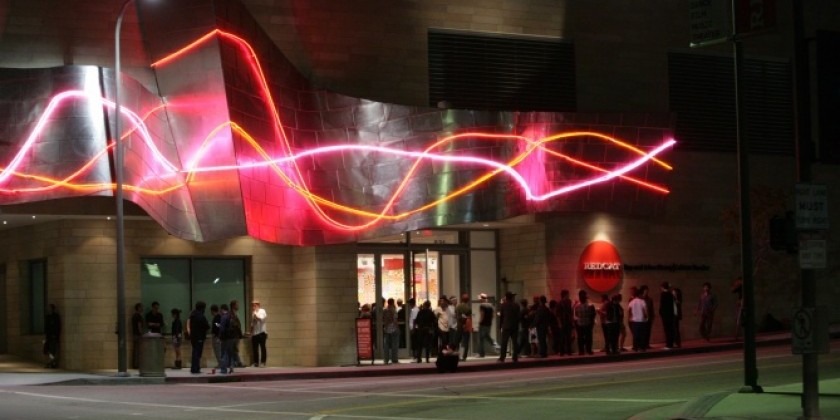 Company:
REDCAT
REDCAT, CalArts' downtown center for contemporary arts,
Announces the Winter/Spring 2015 Performing Arts schedule 
of theater, dance and music events.
(Los Angeles, CA)—Recognized as an important national and international catalyst for the evolution of contemporary culture, and widely respected for innovative programming, REDCAT, CalArts' Downtown Center for Contemporary Arts, will present a wide range of local, national, and international productions between January and June of 2015.
REDCAT continues to introduce influential artists from around the world to Los Angeles audiences, with several world premieres, the return of perennial favorites, and the development of new work by Los Angeles-based artists.
The Winter/Spring 2015 schedule of Theater events begins on January 15th with Los Angeles-based multimedia collective Cloud Eye Control's newest work Half Life, quickly followed by the return of New York's The Wooster Group with Early Shaker Spirituals, directed by Kate Valk and performed by Elizabeth LeCompte, Frances McDormand, Cynthia Hedstrom, and Suzzy Roche. Also returning, after his breakthrough performance at REDCAT's Radar LA Festival in 2013, is Mariano Pensotti with Cineastas. More international artists follow when REDCAT welcomes multimedia theater from Japan's Miwa Yanagi and object theater from Holland'sHotel Modern.
Dance events include the Los Angeles premiere of Seattle based company Zoe | Juniper in March, and Los Angeles Company Poor Dog Group's Murder Ballad (1938) in April.
Music Highlights include compositions by Jani Christou, Robert Ashley, Robert Henke and Harry Partch.
Conversations with Judith Butler, Hector Bourges, and KPCC's The Frame round out the events in the REDCAT auditorium.
REDCAT also has a weekly Film Series. For more information: REDCAT film schedule press release and webpage.
The Gallery at REDCAT schedule of upcoming exhibits and events can be found www.redcat.org/gallery.
More details can be found on our homepage at www.redcat.org
DANCE
Alessandra Belloni: Tarantata Spider Dance
Feb 03
Extraordinary vocalist, hand-percussionist and dancer Alessandra Belloni creates a voluptuous exploration of Tarantella—a€¨the frenzied ritual dances that enact the release of built-up erotic desire— in a contemporary incarnation of the southern Italian folk form.
Studio
Mar 22 to Mar 23
Jun 21 to Jun 22
Each edition of REDCAT's quarterly program of new works and works-in-progress brings together six intriguing investigations in dance, theater, music and multimedia performance.
Zoe | Juniper: BeginAgain 
Mar 26 to Mar 29
In a rich and immersive environment of striking projections and kaleidoscopic paper sculptures, this evocative duet is an intoxicating theatrical adventure juxtaposing Zoe Scofield's supple-edged choreography with artist Juniper Shuey's swirling and lush visuals.
Poor Dog Group: The Murder Ballad (1938)
Apr 23 to Apr 26
With a volatile mix of desire, jealousy and emancipatory yearning, Poor Dog Group's latest movement-based work—first staged at REDCAT's New Original Works Festival—gives forceful physical life to Jelly Roll Morton's legendary 1938 recording.
The Next Dance Company
May 08 to May 09
The Next Dance Company, an ensemble of The Sharon Disney Lund School of Dance at CalArts, draws together the school's most accomplished performers and choreographers from the 2015 graduating class.