Lunar New Year Celebration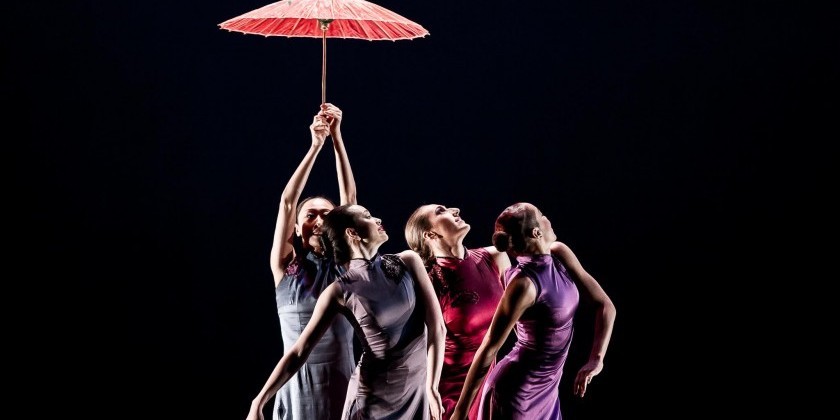 Company:
Nai-Ni Chen Dance Company
Brooklyn Center for the Performing Arts at Brooklyn College continues its 60th Anniversary Season, once again partnering with Nai-Ni Chen Dance Company for its second annual Lunar New Year Celebration, on Sunday, January 25, 2015 at 3pm. Tickets are $25 for adults and $12.50 for children (ages 12 and under) and can be purchased at BrooklynCenter.org or by calling the box office at 718-951-4500 (Tue-Sat, 1pm-6pm).
Recipient of China's prestigious Golden Lotus Award, choreographer Nai-Ni Chen and her company will once again take Brooklyn Center's audiences on a visually delightful, culturally rich tour of the 3,000-year-old Chinese civilization. This year's celebration honors The Year of the Sheep -- a year of peace, love, and woolly gentleness according to the Chinese calendar.
The repertoire for the performance will include "Double Lions Welcoming Spring," a version of the popular Lion Dance; "Gu Ze Yung Ge," a dance from the Han people in Northeast China that incorporates fans, handkerchiefs, and drums in a celebration of the harvest; the rhythmic "Hubei Coin Stick Dance," originally done by street performers in the Hubei province; and the famous "Dragon Dance," symbolizing imperial power and nature's grace. The Company will also perform an excerpt from Peach Flower Landscape, a dance drama portraying a peaceful agricultural community living in perfect harmony with the land, commissioned in 1995 by the Lincoln Center Institute.
The Chinese Music Ensemble of New York, the oldest, largest, and only full-scale Chinese orchestra in the Americas, will once again perform in this year's celebration, accompanying the dancers with traditional instruments such as pear-shaped lute and hammered dulcimer. Musical interludes will include "Song of the Mountains," a solo performed by Yueqin Chen on the ruan, a plucked-string instrument similar to a lute, and "A Parting Tune," an ensemble piece inspired by the poetry of Tang Dynasty poet Wang Wei.
The Company has partnered with the Consulate General of China to bring 10 distinguished guest artists from China to perform, hailing from SiChuan and Beijing.
The Nai-Ni Chen Dance Company includes dancers Tyler Brown, Greta Campo, Chloe Crade, Yoo Sik Kim, Kristen Lau, Kyung Joon Lee, Nijawwon Matthews, Bo Pang, Ying Shi, Yao Zhong Zhang, Guidong Zhou, Min Zhou, and Guixuan Zhuang, along with various guest artists.
 
About Nai-Ni Chen Dance Company
Now in its 26th season, New Jersey's acclaimed Nai-Ni Chen Dance Company seeks to bridge the gap in understanding between cultures by fusing the dynamic freedom of American modern dance with the grace and splendor of Asian art, taking their audiences on journeys beyond cultural boundaries to where tradition meets innovation and freedom arises from discipline. 
Since its inception in 1988, the Company has earned a broad base of public support, becoming the pride and joy of Asian-American communities across the United States with tours to major performing arts centers in more than 30 states.  In 2001, the Company also began touring abroad and has performed in Central America, Korea, China, Germany, Poland, Russia, Lithuania, and Mexico. Having participated in teaching and performance activities at both the Beijing International Dance Festival in China and the Chang Mu International Dance Festival in Seoul, South Korea in 2014, it is one of the most widely toured professional Asian-American companies in the United States, reaching more than 100,000 audience members a year.
In addition to its extensive season of touring and performing, the Company also has developed Arts in Education residency programs in many school districts to bring culture and arts into educational settings.  For three years, the Company conducted the afterschool dance program at Shuang Wen School in New York City and the Poetry Live! Project with Litchfield Performing Arts, Inc. in Connecticut, which reached more than 1,000 children each year.  In New Jersey, Nai-Ni Chen Dance Company has been in residence at Westminster School in Elizabeth for more than 10 years and has successfully integrated dance, music, and poetry with academic disciplines.
Nai-Ni Chen Dance Company has been awarded grants from the National Endowment for the Arts, the New Jersey State Council on the Arts, the Department of State, the Geraldine R. Dodge Foundation, the Fund for US Artists at International Festivals & Exhibitions, the Hyde and Watson Foundation, the Connelly Foundation, the E.J. Grassmann Trust, the Mary Flagler Cary Charitable Trust, the Lillian Pitkin Schenck Fund, the Lower Manhattan Cultural Council, Verizon, Sony, and others.
About the Chinese Music Ensemble of New York
A non-profit organization founded in 1961, the Chinese Music Ensemble is the oldest, largest, and only full-scale Chinese orchestra in the United States and the Americas, with a membership of more than forty musicians. The Ensemble's repertory ranges from ancient classical to modern compositions, spanning some fifteen hundred years of history. With the goal of promoting Chinese music, the Ensemble has performed at major concert halls in New York and at schools, colleges, and venues throughout the Eastern United States.
Brooklyn Center for the Performing Arts' presentation of Nai-Ni Chen Dance Company's Lunar New Year Celebration is made possible, in part, by Macy's, The Harkness Foundation for Dance, and the Mertz Gilmore Foundation. This program is supported, in part, by public funds from the New York City Department of Cultural Affairs in partnership with the City Council.
Multibuy discounts (four or more shows) save 15% off individual ticket prices (not applicable for Target Storybook Series shows). 50% discount for children ages 12 and under for select performances. Discounts also available for seniors, students, Brooklyn College faculty/staff/alumni, and groups. $10 student rush tickets available day-of-show.
Brooklyn Center for the Performing Arts
Whitman Theatre at Brooklyn College
2 train to Brooklyn College/Flatbush Avenue
Online orders: BrooklynCenter.org
Box Office: 718-951-4500, Tue-Sat, 1pm-6pm
About Brooklyn Center for the Performing Arts
Founded in 1954, Brooklyn Center for the Performing Arts at Brooklyn College presents outstanding performing arts and arts education programs, reflective of Brooklyn's diverse communities, at affordable prices. Each season, Brooklyn Center welcomes over 65,000 people to the 2,400 seat Walt Whitman Theatre, including up to 45,000 schoolchildren from over 300 schools who attend their SchoolTime series, one of the largest arts-in-education programs in the borough. In recognition of its commitment to quality family programming, Brooklyn Center for the Performing Arts has been recognized as both Brooklyn's Best Theater or Theater Group for Kids and Brooklyn's Best Place for Family Bonding by ParentsConnect Parents' Picks Awards. In 2014-15, Brooklyn Center celebrates its 60th Anniversary Season of presenting world-class performances on the Brooklyn College campus.
Brooklyn Center for the Performing Arts' programs are supported, in part, by public funding from the New York City Department of Cultural Affairs in partnership with the City Council. Major support for the 2014-15 season is provided by: Brooklyn College, Target, Con Edison, TD Bank, National Grid, Macy's, the Herman Goldman Foundation, The Harkness Foundation for Dance, the Jazz Touring Network, the Alice Lawrence Foundation, the Pierre and Tana Matisse Foundation, the Mertz Gilmore Foundation, the Mid Atlantic Arts Foundation, the Henry and Lucy Moses Fund, Inc., and the TD Charitable Foundation. Additional support provided by CNG Publications, The Brooklyn Eagle, WFUV, and WBGO Jazz 88.3 FM. The Fairfield Inn & Suites by Marriott New York Brooklyn is the official hotel of Brooklyn Center's 60th Anniversary Season. Backstage catering is graciously provided by Applebee's.
Brooklyn Center for the Performing Arts gratefully acknowledges generous support from New York State Assembly members Rhoda Jacobs, Alan Maisel, Félix Ortiz, Annette Robinson, and Helene Weinstein, New York City Council Speaker Melissa Mark-Viverito, and Commissioner of Cultural Affairs Tom Finkelpearl.