MA: New York Theatre Ballet to perform "CINDERELLA" at Jacob's Pillow Dance Festival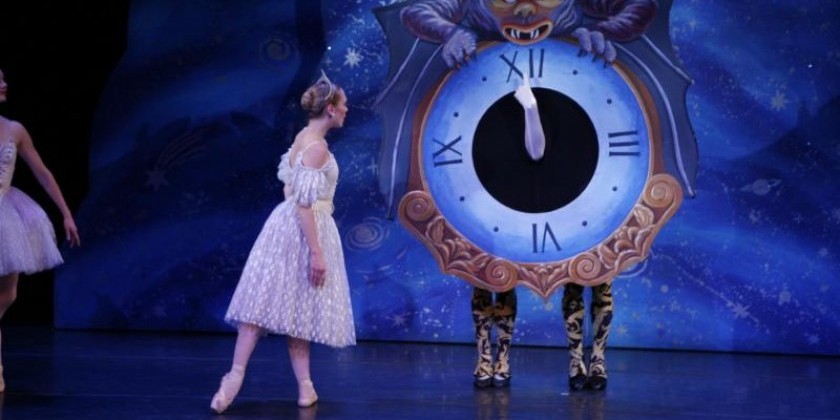 Company:
New York Theatre Ballet
NEW YORK THEATRE BALLET
to perform Cinderella
 at Jacob's Pillow Dance Festival
June 24-28, 2015
New York Theatre Ballet will perform Donald Mahler's Cinderella at Jacob's Pillow Dance Festival in the Doris Duke Theatre from June 24-28, 2015.  Jacob's Pillow, a National Historic Landmark, National Medal of Arts recipient, and home to America's longest-running dance festival, is located at 358 George Carter Road, Becket, MA. Performances: Wednesday, Thursday, Friday and Saturday at 8:15pm, and Saturday and Sunday at 2:15pm. Tickets are $35 and $25, with $10 Youth tickets also available for every performance. Tickets are on sale now online at jacobspillow.org and via phone at 413.243.0745.
A perennial favorite of NYTB audiences across America, Cinderella is one-hour in length with choreography by Donald Mahler, costumes by Sylvia Taalson Nolan, set design by Gillian Bradshaw-Smith. New York Theatre Ballet last performed at the Inside/Out Stage at Jacob's Pillow Dance Festival in July 2008. 
"Gillian Bradshaw-Smith's ingenious scenery included a clock that came alive and danced, and furniture that moved magically about.  And Sylvia Taalsohn Nolan, the imaginative costume designer, created a gasp-producing moment when Cinderella's attire changed miraculously from rags to the riches of a ball gown." -The New York Times
During the week of their engagement, company members of NYTB will also teach a free, all-ages, all-levels ballet class to the Pillow public on Sunday, June 28. Limited space, call 413.243.9919 to register.
 
ABOUT NEW YORK THEATRE BALLET
New York Theatre Ballet (NYTB), founded in 1978 by artistic director Diana Byer, is the most widely seen chamber ballet company in the United States and has been hailed by The New York Times as "an invaluable company." NYTB is dedicated to inspiring a love of dance in diverse audiences through performances of chamber ballet masterpieces and bold new works, as well as innovative one-hour ballets for children, all at affordable prices.
By pairing the ballets of legendary creators with those of contemporary visionaries, NYTB brings a new understanding and appreciation of dance. The approach to live performance for children is groundbreaking and unique. New York Theatre Ballet offers an annual series of hour-long ballets tailored to the attention span of young audience members, while offering high production values and clever choreography sophisticated enough for discerning parents.
NYTB is committed to reaching underserved audiences by performing in small cities throughout the U.S. Its professional school provides ballet training based on the Cecchetti syllabus. Classes are offered at affordable prices. Scholarships are awarded to talented homeless and underserved children along with support for well-rounded learning.
 
ABOUT JACOB'S PILLOW
Jacob's Pillow, celebrating its 83rd Festival in 2015, is a National Historic Landmark, recipient of the National Medal of Arts, and home to America's longest-running international dance festival. Each Festival includes more than 50 national and international dance companies and 350 free and ticketed performances, talks, tours, classes, exhibits, and events. The School at Jacob's Pillow, one of the most prestigious professional dance training centers in the U.S., encompasses the diverse disciplines of Ballet, Cultural Traditions, Contemporary, and Musical Theatre Dance, as well as an Intern Program in various disciplines of arts administration, design, video, and production. The Pillow's extensive Archives, open year-round to the public, chronicle more than a century of dance in photographs, programs, books, costumes, audiotapes, and videos. Year-round Community Programs enrich the lives of children and adults through public classes, residencies in area schools, and an extensive schedule of free public events. Through Jacob's Pillow Curriculum in Motion®, a nationally-recognized program, Artist Educators work with Berkshire County teachers and students grades K-12, transforming curricula such as biology, literature, and history into kinesthetic and creative learning experiences. Creative Development Residencies, in which dance companies are invited to live and work at the Pillow and enjoy unlimited studio time; choreography commissions; and the annual $25,000 Jacob's Pillow Dance Award all support visionary dance artists and choreographers. Virtual Pillow is aimed at expanding global audiences for dance and offers the opportunity to experience dance and Jacob's Pillow from anywhere in the world via online interactive exhibits, global video networks, and social media. As part of the Virtual Pillow initiative, Jacob's Pillow Dance Interactive is a curated online video collection of dance highlights from 1936 to today. On March 2, 2011, President Obama honored Jacob's Pillow with a National Medal of Arts, the highest arts award given by the United States Government, making the Pillow the first dance presenting organization to receive this prestigious award. For more information, visit www.jacobspillow.org.