MARE NOSTRUM ELEMENTS WORKSHOP + AUDITION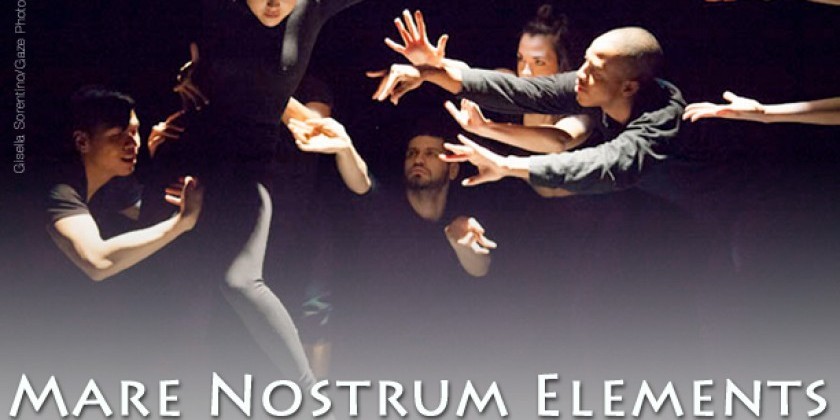 Company:
MARE NOSTRUM
CALLING ALL EMERGING CHOREOGRAPHERS for ECS#3
Workshop/Audition with Mare Nostrum Elements
SUNDAY 27TH SEPTEMBER, 2:30 PM @ PERIDANCE CAPEZIO CENTER
Mare Nostrum Elements is seeking choreographers for the third edition of the EMERGING CHOREOGRAPHER SERIES presented in partnership with LaGuardia Performing Arts Center-CUNY. ECS is a FREE mentoring program aimed at providing choreographers with tools to create, develop and premiere a new work. Selected participants will be asked to attend weekly meetings with MNE's artistic director Nicola Iervasi, in-house director Kevin Albert and fellow participants in order to brainstorm, share and solve issues during the creative process.
Emerging or aspiring choreographers of all ages are welcome!!!          
All dance styles and fusions, including but not limited to Ballet, Modern, Contemporary, Jazz, Musical Theater, Tap, Latin/Ballroom, Hip Hop/Street Dance, African and Ethnic Dancewill be equally considered.
The audition will follow the structure of MNE signature method The Wave Within and will be conducted in an interactive matter, no need to bring a pre-existing work or own dancers. The Workshop/Audition is also open to performers wanting to discover The Wave Withinmethodand be considered for the program by any of the selected choreographers. Auditioning choreographers can also be considered as dancers.
Pre-registration highly recommended.
ECS#3 DETAILS
> 7-WEEK COMMITMENT: January 4 – Feb 23, 2016
> Weekly meetings with MNE's directors and fellow choreographers
> UP TO 60 HOURS of FREE rehearsal space
> Production element consultations with professionals in the field
> Stipend to cover basic expenses (dancers, costumes, props etc)
> 1 informal showing with panel of professionals for feedback and advice
>2 performances at LPAC followed by Q&A
> Opportunities for future commissions, festival participations and more
For more information and/or questions please email workshops@mnelements.org or visit our website http://www.mnelements.org/
Register here 
or call (212) 505-0886
$25 pre-registration, $30 day of  
Watch the Emerging Choreographer Series Promo
https://www.youtube.com/watch?v=5LU_1BzD9g0
A selected number of participants will be invited to a second audition (date/time TBA) – FINAL CALL BACK: Monday, Nov. 9, 2015