Advertise With Us
Make an impression — place an ad on The Dance Enthusiast and receive thousands of eyes on your work every week. Learn more. 
Contribute
Your support helps us cover dance in New York City and beyond! Donate now.
MD: Christal Brown/INSPIRIT and Joe's Movement Emporium present "The Opulence of Integrity"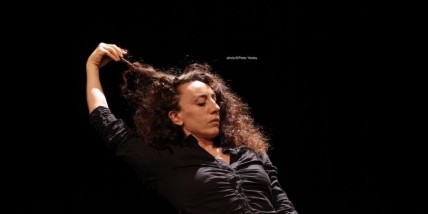 Company:
Christal Brown/INSPIRIT and Joe's Movement Emporium

Christal Brown/INSPIRIT presents The Opulence of Integrity
A Dance Work Inspired by the Life and Legend of Muhammad Ali 

Washington, DC – Choreographer Christal Brown brings her company INSPIRIT to Joe's Movement Emporium for the DC premiere of their latest work The Opulence of Integrity. Inspired by the public life and inner searching of boxing's outspoken superstar, Muhammad Ali, Brown deploys her eclectic movement vernacular to illustrate the turmoil of a life infused by divinity yet misinterpreted by humanity. By using Ali as an archetype, The Opulence of Integrity explores the homogeneous inner struggle for identity as it pertains to men color in the United States. Two performances will take place on Sunday, March 8 at 7pm and Monday, March 9 at 7pm at Joe's Movement Emporium, 3309 Bunker Hill Road, Mount Rainer, MD 20712. 

The Opulence of Integrity is an evening-length work, divided into four movements. The work explores Ali's career as a boxer, and his life as a social activist, public martyr, and human being. It takes an intimate and expansive look at the social, economic, and spiritual trappings that continually prohibit freedom, while drawing clear parallels of war, resistance, and perseverance through a historical lens. 

In The Opulence of Integrity, Brown pours her own experience into the work and dedicates it to her father, brother, and uncle who, in her words, "fought but did not win" and to her son "whose battle has not yet begun." Brown goes on to say that, "To be born branded by history, burdened by responsibility, and inspired towards greatness requires a committed heart and an opulence of integrity."
 
The Opulence of Integrity is performed by six dancers. DC's own Patrick Washington performs his original written invocation for this piece. There is also an element of projection that lays the backdrop for the cultural and social energy of each time period. The music score for the work was created by Zimbabwean composer Farai Malianga, whose contemporary take on the subject matter supports the choreography every step of the way. Lighting design by Nick Hung provides the audience with the feeling of watching history through the frames of old tattered photos while Aya Sibahara's costuming infuses vibrancy and individualism to each character. 

About Christal Brown 
Christal Brown is a choreographer, educator, performer, writer, and activist. She received her BFA in Dance and minor in Business from the University of North Carolina at Greensboro. Upon graduation, Brown has performed with Chuck Davis' African-American Dance Ensemble, Andrea E.Woods/Souloworks, Gesel Mason Performance Projects, the Liz Lerman Dance Exchange, Bill T. Jones/Arnie Zane Dance Company, and Urban Bush Women. Aside from performing, Brown is the Founding Artistic Director of INSPIRIT, a performance ensemble and educational conglomerate dedicated to bringing female choreographers together to collaborate and show new work. The Opulence of Integrity represents a departure from INSPIRIT's usual milieu – it is Brown's first foray into working with an all-male ensemble. Founded in 2000, INSPIRIT has been honored to show work at Aaron Davis Hall, St. Mark's Church, The Joyce SoHo, The Lincoln Theater of Washington, D.C., and various other venues across countries. Brown also launched a nationwide youth initiative for teen girls called "Project: BECOMING" and developed a training module called "Liquid Strength." Brown has been a resident artist of Dance New Amsterdam, Movement Research, and Tribeca Performing Arts Center, and is currently an Assistant Professor and Chair of the Dance Program at Middlebury College. 

About Patrick Washington 
Patrick Washington, a.k.a. Black Picasso, is regarded by many as one of the country's premier performance poets, representing classic poetry for the hip-hop generation for over 20 years. Forged in Washington DC's now legendary U Street Poetry Scene, Washington consistently proves himself a master of genre fusion. As part of The American Poetry Museum, he conducts interactive workshops, spreading his love for the spoken, written & the rhythmic word. As a teaching artist for Words Beats & Life, he utilizes his knowledge & love of hip-hop culture to connect young people to their communities. Washington has worked for several respected organizations: Young Audiences of Maryland, America Scores, Youthbuild, the Gateway Community Development Corporation, and Youthspeaks. As part of the hip-hop/spoken word duo the POEM-CEES, he created poems for the 2007 NFL draft, and wrote a poem dedicating the monument to Rev. Dr. Martin Luther King Jr. on the national mall on October 16th 2011. 

WHAT: Christal Brown/INSPIRIT: The Opulence of Integrity
WHEN: Sunday, March 8 at 7pm and Monday, March 9 at 7pm 
WHERE: Joe's Movement Emporium, 3309 Bunker Hill Road, Mount Rainer, MD 20712 
TICKETS: $25 General Admission, $18 Discounted Admission for Students (with ID) and Seniors 
BOX OFFICE: (301) 699-1819 or www.joesmovement.org