MELT Intensive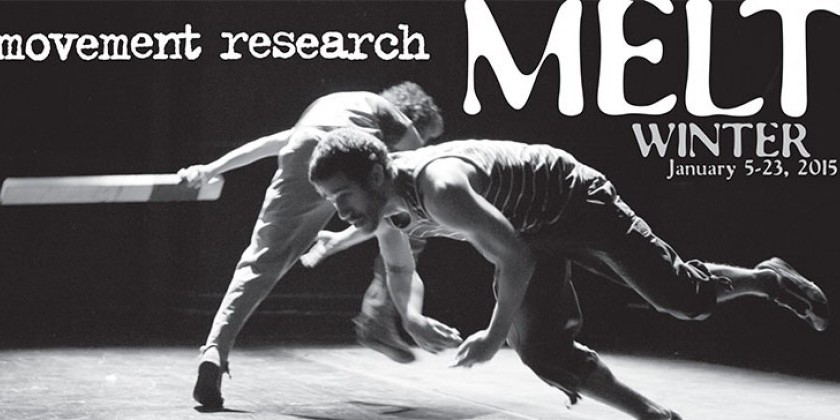 Company:
Movement Research
MELT Intensives are a series of daily workshops in technique, somatics, improvisation, composition and other areas offered each summer (5 weeks) and winter (3 weeks). Taught by Movement Research's internationally recognized faculty as well as acclaimed guest artists, these workshops provide students with the unique opportunity to engage with some of the most highly regarded and innovative artists in the field of dance today.

Registration for Winter 2015 (January 5-23) is now open.

COMPLETE SCHEDULE:
Winter MELT 2015 will run from January 5-23, 2015. 
All workshops take place at Gibney Dance at 890 Broadway.
View location map
View workshop descriptions
week one: january 5-9
10am-12pm Gwen Welliver Morning Class
1-3pm Chris Aiken An Eco-poetic Approach to Dance Improvisation and Performance
3:30-6pm Jeanine Durning before we know: Approaches to Creative Practice, Choreography and Performance
week two: january 12-16
10am-12pm Jennifer Nugent Experiencing Technique
1-3pm DD Dorvillier Studio Practices: Touch Move Talk Write
3:30-6pm Ishmael Houston-Jones Doing It
week three: january 19-23
10am-12pm Miguel Gutierrez WHAT IS THIS CLASS
1-3pm Shelley Senter Alexander Technique: A Critical Practice
3:30-6pm John Jasperse Composition/Physical RelationshipsFees & Registration
$120-$140 for individual workshops.
Discounts are available for full-week and multi-week enrollment: 
3-week enrollment: $925* (save $215)
2-week enrollment: $650* (save $110)
1-week enrollment: $330 (save $50)


To avoid online fees, complete the registration form online and then mail a check to the Movement Research administrative office (55 Avenue C, New York NY 10009). Email melt@movementresearch.org with questions.

PLEASE NOTE: "drop-in" classes are not available.

*A deposit of $400 or full payment reserves your place for 2 or 3-week enrollment status. Balance of tuition is due by Decmeber 15. We accept credit card payment on our website, as well as check or money order payment by mail.