MOCA 2015 Legacy Awards Gala Invitation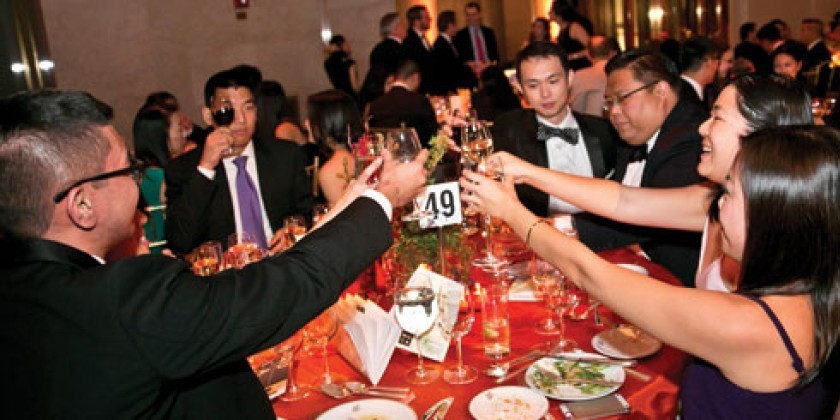 Company:
MUSEUM OF CHINESE IN AMERICA

MUSEUM OF CHINESE IN AMERICA'S ANNUAL LEGACY AWARDS
TO HONOR BENEFACTORS & BUILDERS:
C.V. STARR SCHOLARS, NANCY KWAN, AND WILLIAM C. LOUIE:

Tuesday, November 17, 2015 at 6:00pm 
The Pierre

[New York, NY] October 21, 2015-The Museum of Chinese in America (MOCA) is pleased to announce the program for the MOCA Annual Legacy Awards Gala. This year's benefit pays tribute to Benefactors and Builders for creating the foundations for a better world, celebrating their outstanding achievements and contributions to the ongoing legacy of Chinese in America. Honorees of MOCA's Legacy Awards Gala are the C.V. Starr Scholars (The Starr Foundation with recognition by Savio Tung, Chief Investment Officer of Investcorp), Nancy Kwan (Hong Kong-born, American actress who played a pivotal role in the acceptance of actors of Asian ancestry in major Hollywood film roles), and William C. Louie (Founding Design Partner of the worldwide architectural firm, Kohn Pedersen Fox Associates). The evening's Masters of Ceremony are CNBC's FastMoney and Options Action host, Melissa Lee; and actor, BD Wong.
 
The Gala Co-Chairs are Maurice R. Greenberg; Ambassador Zhang Qiyue; and Kohn Pedersen Fox Associates: James von Klemperer, A. Eugene Kohn, and William Pedersen.
 
Taking place at The Pierre (Two East 61st Street in Manhattan), the event begins with a cocktail reception at 6:00 pm, followed by the dinner and awards program at 7:00 pm. Attire is black tie, festive Chinese dress optional. "The funds raised from the Legacy Awards Gala are crucial in ensuring that the Museum continues to preserve and present the history, heritage, culture and experiences of people of Chinese descent in the United the States," said MOCA President Nancy Yao Maasbach. "The gala will celebrate more than three decades of commitment to the Chinese American community and its future generations."
 
Members of the Gala Host Committee include: Maurice R. Greenberg; Ambassador Zhang Qiyue; Kohn Pedersen Fox Associates: James von Klemperer, A. Eugene Kohn, William Pedersen; Thomas C. and May Ahn; ACE Group; Dr. James Chang; Anla Cheng and Mark Kingdon; Stanley Chiu and Kathryn Stallings; Chu Enterprises; Michelle Koo Hayashi; Fred Hu; Caroline Hyman; June Jee; Sandra K. Lee and Arnold Kawano; Maya Lin and Daniel Wolf; LOUIS XIII; Richard Kibbe & Orbe LLP; George and Barbara Sycip; Patricia P. Tang; Fred Teng; Ted and Clara Wang; and Diane Woo.
 
Members of the Honorary Committee include: David Henry Hwang; Michelle Kwan and Clay Pell; Lucy Liu; and Betty Lee Sung.
 
Individual tickets to the event are $1,000 and $2,500. Table purchases range from $10,000 to $100,000. For information about purchasing tickets and tables to the Annual Legacy Awards Dinner, please contact Gee-Wey Yue at 917.484.4142 or email  gala@mocanyc.org. For updates, please visit the MOCA  website.