MOM: a tangled jaunt through motherhood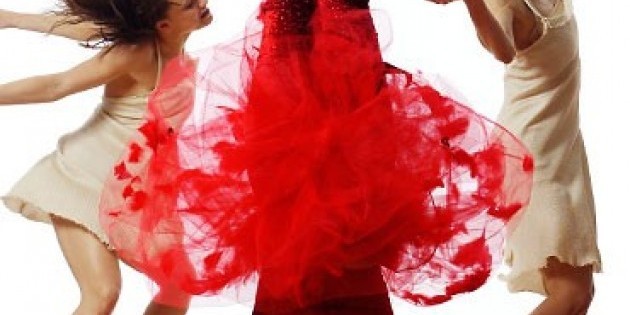 Company:
Ellis Wood Dance
Ellis Wood's newest work, MOM, is an evening-length solo (50 minutes) will be performed at Symphony Space in Manhattan on May 13, 2011 starting at 7:30 pm. The solo explores issues ranging from realization and sense of worth to blankets and labor pains. In MOM, Wood juxtaposes music, video by acclaimed video artist, Robyn Tomlin, and dance – embodying a deeply felt experience that relates in some way to every woman – and man.
After years of creating group work on her company, Ellis Wood Dance, Wood has gone back to her roots as a solo performer. In 1995, she started her choreographic career with a solo, Canary, which depicted a woman that metaphorically was put into a coalmine, as canaries were, to see if there were any gas leaks. If the canary died, there was a leak, if not, it came out alive. Fifteen years later, Wood has taken the plunge deeper into the mine. With a history of creating work about and in support of women and a commitment to empowering women through movement, Wood's solo MOM is a continuation of the tradition.
Wood experiences a myriad of emotions as she journeys through stages of a woman's life. Weddings, funerals, births and sweatshirts are all impetus that springboard Wood down a path of no return and into a state of undeniable realization of what it means to be a mother. Video Artist Robyn Tomlin may be found on www.videosculpture.org.
"Ellis Wood is the Julia Roberts of downtown. She's gorgeous, expressive, luscious, and lit from within. In MOM, an excerpt of a larger solo, she dips and toddles; her deep plié seeps into the floor. Then she suddenly re-arranges as though she just thought of something she'd like her child to take to school. She wallows in her own defiance and then, with a flick of the elbow, lightens up, laughing at herself from within." Wendy Perron, Dance Magazine, December 2010.
ELLIS WOOD is the Founding and Artistic Director of Ellis Wood Dance. She choreographs, teaches and does residencies at schools, universities and festivals both nationally and abroad. Ellis Wood was awarded first place in the DanceNOW(NYC) challenge competing against forty other New York City companies in September 2010 for her work MOM. MOM was also named "Best Choreographer/Dancer Solo in 2010 by Wendy Perron in Dance Magazine. She is a 2007 recipient of Building Up Infrastructure Levels for Dance (BUILD), a program of (con't)
New York Foundation for the Arts. Wood was nominated for a 2006 United States Artists Fellowship and was awarded a 2006 Joyce SoHo Residency, the subsidiary of the Joyce Theater located in New York City. She received a 2002 NYFA Fellowship in choreography, and was one of ten choreographers in NYC nominated for the "Emerging Choreographer Award" given by the Downtown Arts Festival in collaboration with The Colbert Foundation. She has taught for two consecutive spring semesters as a Full Time Visiting Guest Artist at SUNY Brockport and eight years as a Guest Artist at UC Berkeley. Prior to founding Ellis Wood Dance, Wood danced in the companies of Stephen Petronio, Dan Wagoner, Bay Area Repertory Dance, and in the works of various New York City choreographers. She graduated from U.C. Berkeley in Dramatic Art/Dance, where she studied with her parents Marni and David Wood, who both danced with Martha Graham. Wood's community outreach projects and workshops held in conjunction with her own company performances, have crossed cultural, racial, religious, socio-economic, generational, and gender boundaries to bring dance to communities that might not otherwise have this opportunity. Ellis Wood is honored to have been a 2006-2007 Artist in Residence at Dance New Amsterdam and was an eleven-year recipient of the Tribeca Performing Arts Center residency program in New York City. Ellis Wood Dance has been a Company in Residence for the 2007-2011 Tisch Dance Residency Festival at New York University.
ELLIS WOOD DANCE performs, teaches and does residencies both nationally and abroad. The Company has been in residence at various colleges and universities such as UC Berkeley, Rutgers University, SUNY Brockport, New York University and New World School for the Arts as well as at The Yard on Martha's Vineyard. Ellis Wood has been presented at Dance Theater Workshop for eight seasons, Danspace Project at St. Mark's Church, The Martha @ Mother series, Tribeca Performing Arts Center, LMCC Evening Stars Series and other NYC venues. She has traveled to perform in such festivals and theaters as: The Tanzwoche Festival, Germany, The Fringe Festival in Portugal, Tseh School in Moscow, Russia, The Palucca Schule in Dresden, Germany, Overtoom 301 in Amsterdam, Dance Acadamien in Upsala, Sweden, Himeji Festival in Japan, The Fringe Festival in Toronto, Canada, Jacob's Pillow, The New Performance Gallery and Cowell Theater in San Francisco, The Fire Island Festival, The Generation X Festival and Panorama Sesi De Danca, Brazil.
Ellis Wood Dance thanks the following supporters of the company over the years: BUILD, a program of New York Foundation for the Arts. BUILD is a JPMorgan Chase Regrant Program, made possible by The Starry Night Fund of the Tides Foundation. Wood has received seven DTW First Light Commissioning Grants with funds provided by The Joyce Mertz-Gilmore Foundation, the Jerome Foundation and from the New York State Council on the Arts. Ellis Wood has been awarded generous funding from The Jerome Foundation, Altria Group, The Bossak/Heilbron Foundation, Mary Flagler Cary Charitable Trust, LMCC Creative Communities Fund, The Puffin Foundation, New York Foundation for the Arts, The Greenway/Leibowitz Foundation, Salesforce.com and the Asian Pacific Fund.
WWW.WOODDANCE.NET