MOMIX Announces Performances at The Joyce Theater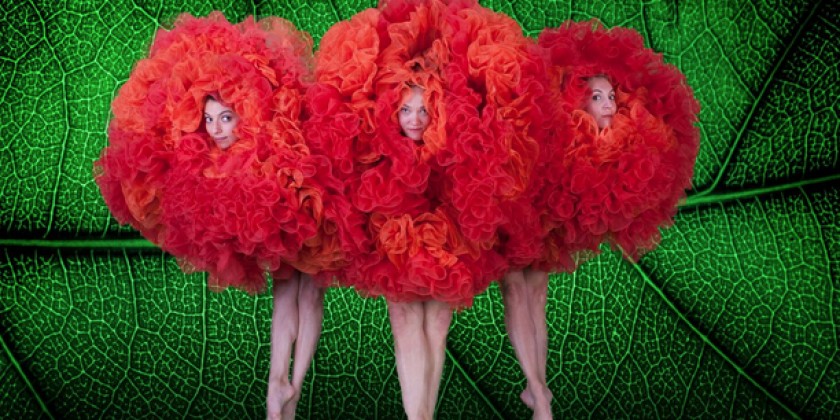 Company:
MOMIX
MOMIX, the company of dance illusionists under the direction of Moses Pendleton, brings its latest mix of multi-media magic to New York this summer at The Joyce Theater in New York City from July 24 – August 12. Known for presenting works of astounding beauty and exceptional invention, MOMIX productions combine the wonders of the human form, nature, music and life; using spectacular lighting effects, outrageous costumes and unbelievable props to enchant audiences of all ages. This season in New York City, the company will show "MOMIX," a self-titled production featuring hits from their expansive repertory, along with the New York City premiere of three works: Daddy Long Leg, Light Reins and  Paper Trails. 
"MOMIX" will feature a mix of the company's most popular works over its almost 40 year history. Acclaimed and visually stunning works such as Marigolds feature dancers transforming into a field of brilliantly colored flowers that dance samba. Snow Geese is an exploration of flight using black lights to combine movement and lighting. A distinctive prop and precise movements capture the imagination in Dream Catcher, where a duo becomes part of a moving sculpture. These and other famed dances have been chosen for this season.

Audiences at The Joyce Theater will also be able to see the New York City premier of three new works. Created for MOMIX's 35th anniversary, these works exemplify the company's unique aesthetic. In Daddy Long Leg, the audience witnesses the high jinks of a comic trio of gauchos with one extended leg from the Pampas plains of Argentina. In Light Reins, rods of shifting light invoke unique patterns that caper amongst the dancers. Paper Trails makes use of paper as both costume and sculpture.

"MOMIX's aesthetic is to make contact, to have the human make contact with the non-human — the plant and animal and the mineral, and seeing what connections the human form has, both emotionally and physically. We combine acrobatics, gymnastics, and highly skilled dancers with costume, lighting, sound and props to create visual and physical theater. The program for this New York City season has several sections; it's kind of like an album with several singles — side A, side B. There is not an overall story so much as an impression, and you don't know what's coming next" says Moses Pendleton, Founder and Artistic Director of MOMIX.
---
MOMIX PROGRAM

**Note: With descriptive notes from Founder and Artistic Director, Moses Pendleton**
"PLEIADES" (MOMIX in Orbit)
The Pleiades were seven sisters from Greek mythology that became stars and were also a notable group of French Renaissance poets. We open with a dreamy female trio and their double-headed batons that bend and spin. It's a dance of light, an invocation.
Choreography: Moses Pendleton
Assisted by: The Company
Music: "El Hadra – The Mystik Dance"
Courtesy of Aquarius International Music

"TUU" (Classics)
This is an intimate duet for a man and a woman becoming one and two. Sans tutus.
Choreography: Moses Pendleton
Assisted by: Tim Acito and Solveig Olsen
Music:  "One Thousand Years," by TUU, from the album One Thousand Years

"MARIGOLDS" (Botanica)
First they are flowers, who become women, who dance samba to the rhythm of a tabla, then fold back into flowers.
Choreography: Moses Pendleton
Assisted by: The Company
Music by: Suphala, "Destination" from the album The Now

"POLE DANCE" (Opus Cactus)
Three men, three poles, strength, and extension that is suggestive of a Native American warrior dance.
Choreography: Moses Pendleton
Assisted by: The Company
Music by: Adam Plack & Johnny (White Ant) Soames, "The Hunt (In Respect for Food)" from the album "Winds of Warning."  Courtesy of Australian Music International. 

"BATHS OF CARACALLA" (ReMIX)
There's a famous painting by Joseph Severn of the poet and writer, Percy Bysshe Shelley entitled Shelley composing 'Prometheus Unbound' in the Baths of Caracalla. We imagined women waving banners that become petals, and even towels, a dance that is more like a three-dimensional painting than a dance.
Choreography: Moses Pendleton
Assisted by: The Company
Music: "Reverence" by David and Steve Gordon on the album Buddha Lounge

"DADDY LONG LEG" (35th Anniversary Creation)
I woke one morning from a dream in which one of my legs was longer than the other. My prosthetic nightmare became a comic trio of gauchos from the Pampas plains of Argentina. The longer leg allows for extra elevation. More levels at which to live.
Choreography: Moses Pendleton and Tim Latta
Assisted by: Jonathan Eden, Steven Ezra, Morgan Hulen, Felicity Jones,
Cynthia Quinn, and Brian Simerson
Music: "Santa Maria" by Gotan Project

"LIGHT REIGNS" (35th Anniversary Creation)
It is a raining of light. How does a firefly make its own light? It's all chemistry.
Choreography: Moses Pendleton
Assisted by: Jennifer Chicheportiche, Amanda Hulen, Nicole Loizides, Sarah Nachbauer, Cynthia Quinn, Rebecca Rasmussen, Heather Magee Spilka, and Jocelyn Wallace
Music: "Alchemy" by Deuter

"PAPER TRAILS" (35th Anniversary Creation)
We wanted to try for the effect of a 3D movie screen; to sculpt with light and with projected images, and to make moving paintings on crumpling paper.
Choreography: Moses Pendleton
Assisted by: The Company
Music: "Good Bye Brother" by Ramin, Djawadi: "Progeny" by Yvonne Moriarty, Gavin Greenway and the Lyndhurst; "Sorrow" by Klaus Badelt and Lisa Gerrard; "Wisdom Work" by Byron Metcalf.

INTERMISSION

"ECHOES OF NARCISSUS" (Botanica)
It was the saintly, mystical voice of Lisa Gerrard that set the mood for this piece. In place of Narcissus we imagined a woman in love with her reflection who is pulled up and away from her own image by "love from above," as the song Space Weaver goes, only to disappear into the pool at the end. This solo from "Botanica" was one of two in the program originally choreographed for the Russian ballerina Diana Vishneva.
Choreography: Moses Pendleton & Cynthia Quinn
Music: "Space Weaver" byLisa Gerrard

"SNOW GEESE" (Lunar Sea)
We found the illusionist possibilities of black light so appealing that we made an entire evening's theater out of them ("Lunar Sea"). This is one section that imagines flight.
Choreography: Moses Pendleton
Performed by: Jennifer Chicheportiche, Seah Hagan, Amanda Hulen,
Heather Magee and Sarah Nachbauer
Assisted by: The Company
Music: "Treasure" by Elliot Morgan Jones and Nick Woolfson from the Waveform release Terra Firma

"DREAM CATCHER" (Opus Cactus)
The sculpture at the center of this dance was created for MOMIX as an evocation of the webs that some Native Americans wove to filter their dreams. It's not a circus act, it's a story about a man and a woman caught in the same dream.
Choreography: Moses Pendleton
Assisted by: Craig Berman and Brian Sanders
Sculpture Design and Construction: Alan Boeding
Music: "Mountain Walk East," by NOMAD from Nomad*
Courtesy of Australian Music International

"SPAWNING" (Classics)
Salmon spawn after fighting their way upstream, where they quietly lay their eggs and soon after die. The eggs become salmon and in their turn, will one day swim up the same stream. Peter Gabriel's "Mercy Street" caught that cycle of life and death for me.
Choreography: Moses Pendleton
Assisted by: Lisa Giobbi, Diana Horvath, and Cynthia Quinn
Music: MERCY STREET by Peter Gabriel
Used with permission of Cliofine Ltd.(PRS)/HIDDEN PUN MUSIC, INC. (BMI)

"TABLE TALK" (Classics)
I wanted to get into the head of the electronic group, Massive Attack, and see if we could make a table talk. Fred Astaire danced with a broomstick. Our dancer partners with a table.
Choreography: Moses Pendleton
Assisted by: Karl Bauman
Music:  "Safe From Harm" R Del Naja, A. Vowles, G. Marshall (KA Massive Attack)

"AQUA FLORA" (Botanica)
Early morning sunlight shining on a dewy cobweb was the inspiration; and in Deval Prema's "Moola Mantra" we found a spiritual voice to express that vision. This is a piece commissioned by ballerina, Diana Vishneva. She danced a version of it along with 50 other ballerinas at the Opening Ceremonies of the 2014 Winter Olympics at Sochi.
Choreography: Moses Pendleton and Cynthia Quinn
Assisted by: Nicole Loizides
Prop by: Michael Curry
Music: "Gayatri Mantra" performed by Deva Premal
*Aqua Flora sponsored in part by Brandon Fradd in honor of Dancers Responding to AIDS*

"IF YOU NEED SOME BODY" (ReMIX)
Bodies come in many styles. We all need one, or two, or ten or twenty. The mannequins allow us to double the size of our company for the final number and they move as quickly as the dancers themselves.
Choreographed by: Moses Pendleton
Assisted by: Sam Beckman, Steven Ezra, Cynthia Quinn, Rebecca Rasmussen, Brian Simerson, and Jared Wootan.
Music: Johann Sebastian Bach
PHOTO: MARIGOLDS. CREDIT: JOHN KANE.
Share Your Audience Review. Your Words Are Valuable to Dance.
Are you going to see this show, or have you seen it? Share "your" review here on The Dance Enthusiast. Your words are valuable. They help artists, educate audiences, and support the dance field in general. There is no need to be a professional critic. Just click through to our Audience Review Section and you will have the option to write free-form, or answer our helpful Enthusiast Review Questionnaire, or if you feel creative, even write a haiku review. So join the conversation.