MOPDC's 6th Annual Free Day of Dance at Gibney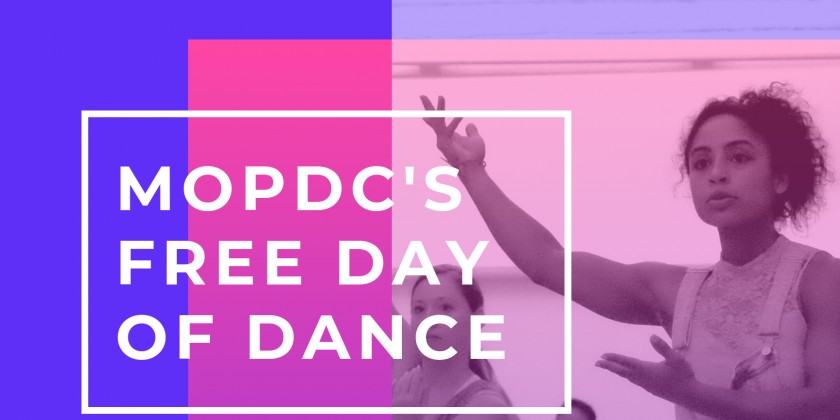 Company:
Movement of the People Dance Company
Movement of the People Dance Company will facilitate FREE Workshops for people of all ages and dance experiences. Participants will release, reflect, and restore through invigorating workshops!

Sunday, October 20th
10am-11am: Contemporary w/ Emily Tellier
11am-12pm: Contemporary meets Capoeira w/ Solana Hoffmann-Carter
12pm-1pm: AfroHouse w/ Brittany Grier
1pm-2pm: Socially Conscious Choreography w/ Megan Minturn + Najla Sims

Workshops at a Glance:
Contemporary -
Playing with texture, dynamic, flow, and tension, Emily's class aims to find genuine awareness in every movement. Through structured improv and phrase work, dancers will challenge their movement boundaries while finding joy and connection with themselves and others.

Contemporary Meets Capoeira -
This class will focus on how Capoeira has the ability to free us physically, mentally and spiritually, while put into a practice of contemporary movement. We will touch on inversions, some basic Capoeira vocabulary and how we can move smoothly through and connect to this martial art. Remembering that Capoeira is a fight, rooted in resistance and a rich history, this class will explore what this means in our bodies as dancers who go through a similar, but different conditioning than a capoeirista. Special focus will be in shifting weight through the floor, our hands and through level changes.

AfroHouse -
AfroHouse is a manifestation of freedom through African diasporic movement , such as West African dance and jazz. This class will utilize polycentrism as well as polyrhythm to emphasize connections in social dance, house vocabulary, and finding our own pulse that enables individuals to share in community.

Socially Conscious Choreography -
This composition workshop addresses ways in which to explore injustices through choreography through research, movement exercises, theater games, and personal reflection. It will focus on tools related to the art of creating and crafting socially conscious choreography in an engaging and approachable fashion. Participants will be encouraged to continually discuss and reflect on their experience throughout the process, and by the end of their experience they will leave with the shared tools of the facilitators, their own tools, as well as their own short collaborative choreographic work.

FREE, space is limited, please RSVP below!

Location: Gibney Dance, 53A Chambers Street between Elk and Broadway

For more information on MOPDC please visit: www.movementofthepeopledance.com. 

Get a glimpse of what we have in store for our annual Winter Intensive: Dance, Choreograph, Envision Jan. 18-20th, 2020!

This initiative was made possible through the Gibney Dance Space Grant.