Making a New American NUTCRACKER on PBS Stations Nationwide in December 2017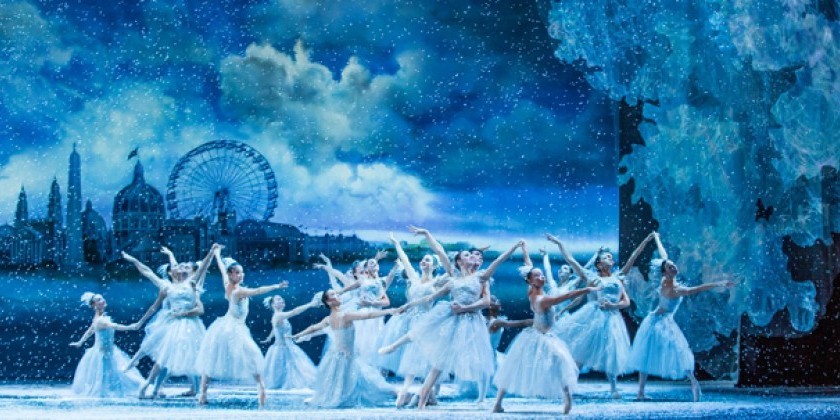 Company:
WTTW Chicago and The Joffrey Ballet Present
WTTW Chicago and The Joffrey Ballet Present
Making A New American NUTCRACKER
on PBS Stations Nationwide in December 2017
New Documentary Follows the Creation of an
Innovative Re-Imagining of the Holiday Classic
CHICAGO – For generations, The Nutcracker has been a holiday tradition for audiences of all ages. In 2016, Chicago's Joffrey Ballet gave the work an ingenious makeover and a fresh new setting: the fairgrounds of Chicago's 1893 World's Columbian Exposition. Produced by WTTW and the Joffrey Ballet, the documentary Making a a New American NUTCRACKER premieres on PBS stations nationwide in December (check local listings), and will stream on pbs.org.
To create this new version of Tchaikovsky's beloved classic, Joffrey Ballet artistic director Ashley Wheater gathered a stellar group of theatre artists — Tony Award®-winning choreographer Christopher Wheeldon; Caldecott Medal-winning author Brian Selznick, writer of the book that inspired the Oscar-winning film Hugo; MacArthur 'Genius Grant' recipient, puppeteer Basil Twist; Tony Award®-nominated scenic designer Julian Crouch; and Tony Award®-winning lighting designer Natasha Katz — to re-imagine the story of Clara, the privileged daughter of a 19th-century German merchant who falls asleep on Christmas Eve and dreams of a world of sweets. In this daring new production, Clara has been transformed into Marie, the daughter of a 19th-century Polish immigrant — a single mother working on a statue for the World's Fair — who falls asleep on Christmas Eve and dreams of a completed and wondrous fairground.
Making a New American NUTCRACKER takes audiences behind the scenes with the dancers and creative visionaries as they bring this strikingly original production to life and transform this European import into a magical and very American story. They share anecdotes about the process — including how Buffalo Bill came to be part of the ballet; why the dancer who portrays the Nutcracker has to play his part mostly blind; choreographer Wheeldon's observation that one part of Tchaikovsky's score is reminiscent of an iconic TV theme song; the salty advice Wheeldon received from Chicago's mayor, Rahm Emanuel, a former dancer himself who is interviewed in the film—and relate their first experiences either seeing or performing in The Nutcracker.
"The inaugural season of Christopher Wheeldon's The Nutcracker was enjoyed by thousands in in attendance at Chicago's Auditorium Theatre last winter," said Wheater. "We're very pleased to now have the opportunity to share his labor of love and the story of its creation with audiences everywhere."
Additional interviews in the film include Joffrey's executive director Greg Cameron; projection designer Benjamin Pearcy; Scott Speck, music director for the Chicago Philharmonic; Joffrey ballet masters Suzanne Lopez and Michael Smith; and dancers Yoshihisa Arai, Amanda Assucena, Jeraldine Mendoza, Dylan Gutierrez and April Daly. Also interviewed are architecture critic and historian Lee Bey, Chicago Sun-Times theater and dance critic Hedy Weiss, and Chicago Tribune theater critic Chris Jones.
Making a New American NUTCRACKER is produced by Daniel Andries and written by Daniel Andries and Liz Reeves. Associate Producers: Tom Orland and Kaitlynn Scannell. Director of Photography: Tom Siegel. Editor: Paul Thornton. Rehearsal and performance footage shot by Big Foot Media. The film is narrated by Neve Campbell.
Making a New American NUTCRACKER is made possible through the generosity of The Grainger Foundation of Lake Forest, Illinois.
About WTTW Chicago
WTTW is a premier public media organization committed to creating and presenting unique television and digital media content across four distinct television channels – WTTW11, WTTW Prime, WTTW Create/WTTW WORLD, and WTTW PBS Kids – and on wttw.com. Recognized for award-winning local and national productions such as Chicago Tonight, Check, Please!, 10 Buildings, Homes, Parks, and Towns That Changed America, and Soundstage, WTTW presents the very best in public affairs, arts and culture, nature and science, history and documentary, and children's programming. Connect with WTTW on Facebook, Twitter, and Instagram.
About The Joffrey Ballet
The Joffrey Ballet is a world-class, Chicago-based ballet company and dance education organization committed to artistic excellence and innovation, presenting a unique repertoire encompassing masterpieces of the past and cutting-edge works. The Joffrey is committed to providing arts education and accessible dance training through its Joffrey Academy of Dance and Community Engagement programs. Connect with the Joffrey on Facebook, Twitter and Instagram.
###