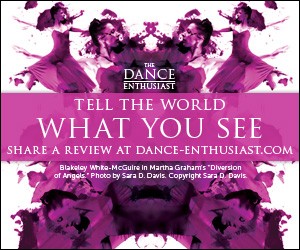 Male & Female Dancer Auditions with Nai-Ni Chen Dance Company
Company:
Nai-Ni Chen Dance Company
The Nai-Ni Chen Dance Company seeks professional Male & Female Dancers with strong performance background, technique and diverse training for its 2017-18 National, International touring & NJ/NY season.  Full-time & part-time positions.  Competitive Pay. 
Female Auditions: July 31, 2-6pm
Male Auditions: August 1, 2-4pm
Call Backs: August 1, 4-6pm
                     August 2, 2-6pm
Location: Gina Gibney Studios, 890 Broadway, NY, NY 10003
RESERVATIONS REQUIRED
Email Resume & Headshot to info@nainichen.org
Questions? Contact us: 800-650-0246; info@nainichen.org
Webpage: http://nainichen.org/?p=3224
Video: https://www.youtube.com/watch?v=cuwuRsI1Gnc
The Nai-Ni Chen Dance Company is an equal opportunity employer.  NNCDC does not discriminate on the basis of race, age, creed, color, religion, national origin or ancestry, sex, gender, disability, veteran status, genetic information, sexual orientation, gender identity or expression, or pregnancy.