Mark Morris' "Acis and Galatea" web site‏
Company:
Mark Morris
Commissioning Partners Announced for New Mark Morris Dance Group Production of Mozart's Arrangement of Handel's Acis and Galatea
Acis and Galatea is a Mark Morris Dance Group / Cal Performances, Berkeley / Celebrity Series of Boston production, in association with Harriman-Jewell Series, Kansas City; Krannert Center for the Performing Arts, University of Illinois at Urbana-Champaign; Lincoln Center for the Performing Arts
World Premiere, Cal Performances, Spring 2014
 
"[Mark Morris is] the most successful and influential choreographer alive, and indisputably the most musical."
—The New York Times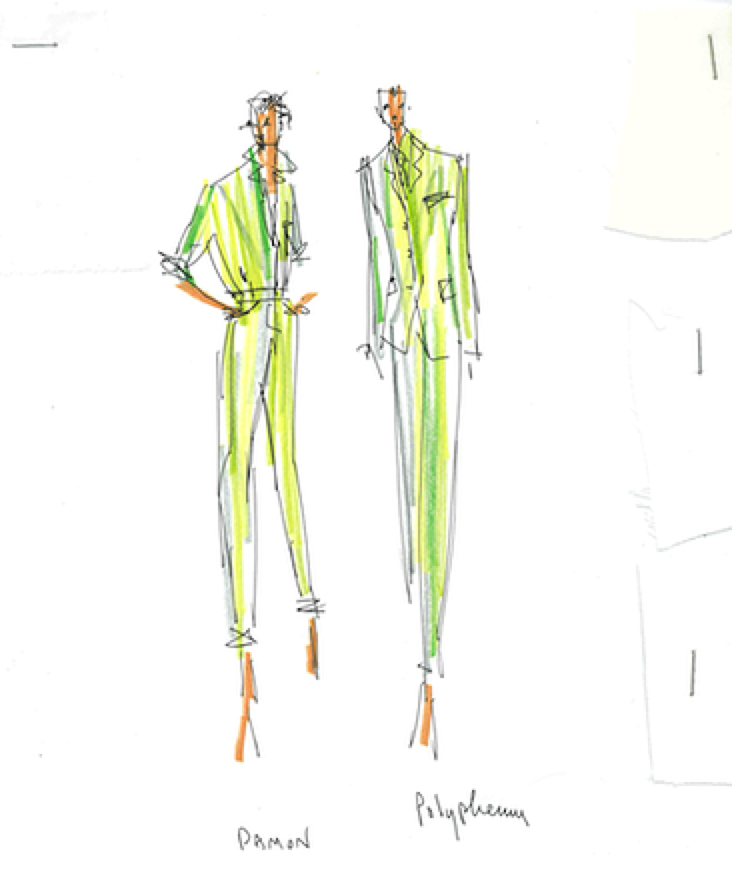 Costume sketches by Isaac Mizrahi
 
(Brooklyn, NY) – The Mark Morris Dance Group (MMDG) announces a new, fully staged opera production of Mozart's arrangement of Handel's Acis and Galatea. Choreographed and directed by Mark Morris, the work will be Morris's 12th opera and will receive its world premiere at Cal Performances, Berkeley, CA on Friday, ­­­­­April 25, 2014 and will then tour to the commissioning partners' cities through 2015.
Acis and Galatea is commissioned by the Mark Morris Dance Group, Brooklyn, NY; Cal Performances, Berkeley, CA; and Celebrity Series, Boston, MA in association with the Harriman-Jewell Series, Kansas City, MO; Krannert Center for the Performing Arts, University of Illinois at Urbana-Champaign, IL; and Lincoln Center for the Performing Arts, New York, NY.
"Acis and Galatea brings together a wonderful group of dedicated commissioning partners, many of whom have invested in Mark's work throughout the years," said Nancy Umanoff, Executive Director, MMDG.  "In these challenging times, their support is essential to produce works of this scale."
Long-time collaborators Nicholas McGegan, will conduct the work and will be joined by visual artist and scenic designer Adrianne Lobel, fashion and costume designer Isaac Mizrahi, and lighting designer Michael Chybowski . Four lead singers will perform the work in English: Thomas Cooley, Acis; Sherezade Panthaki, Galatea; Douglas Williams, Polyphemus; and, Zach Finkelstein, Damon.
The popular Handel opera Acis and Galatea is based on Ovid's Metamorphosis with the libretto written by John Gay in 1739. Mozart's arrangement, written in 1788, broadens Handel's original orchestration through the addition of bassoon, clarinet and horn which allows an expanded range of sound color. A triangle tragically tested by unrequited love, among Acis, an Arcadian shepherd, Galatea, a sea nymph, and the cyclops Polyphemus, who jealously slays Acis, the two act opera is a tale of great tenderness, rivalry and eternal love.
Acis and Galatea's scheduled touring calendar is: Cal Performances, Zellerbach Hall, Berkeley, CA,  April 25 - 27, 2014; Celebrity Series, Citi Shubert Theatre, Boston, MA,  May 15 - 18, 2014; Krannert Center, Champaign-Urbana, IL (exact dates in 2015 TBA); Harriman-Jewell  Series Kansas City, KS, (exact dates in 2015 TBA); and Lincoln Center, New York, NY (exact dates in 2015 TBA). All dates subject to change.
MARK MORRIS was born on August 29, 1956, in Seattle, Washington, where he studied with Verla Flowers and Perry Brunson.  In the early years of his career, he performed with the Koleda Balkan Dance Ensemble, and later with the dance companies of Lar Lubovitch, Hannah Kahn, Laura Dean, and Eliot Feld.  He formed the Mark Morris Dance Group in 1980, and has since created more than 140 works for the company.  From 1988-1991, he was Director of Dance at the Théâtre Royal de la Monnaie in Brussels, the national opera house of Belgium.  Among the works created during this time were three evening-length dances: L'Allegro, il Penseroso ed il Moderato; Dido and Aeneas; and The Hard Nut. In 1990, he founded the White Oak Dance Project with Mikhail Baryshnikov. Morris, much in demand as a ballet choreographer, has created eight works for the San Francisco Ballet since 1994 and received commissions from many others.  Now music director for the 2013 Ojai Music Festival, Morris is  noted for his musicality and has been described as "undeviating in his devotion to music" (The New Yorker). He has conducted performances for the Mark Morris Dance Group since 2006. He has worked extensively in opera, directing and choreographing productions for the Metropolitan Opera, New York City Opera, Gotham Chamber Opera, English National Opera and The Royal Opera, Covent Garden.  In 1991, he was named a Fellow of the MacArthur Foundation.  He has received eleven honorary doctorates to date.  In 2006, Morris received the New York City Department of Cultural Affairs Mayor's Award for Arts & Culture and a WQXR Gramophone Special Recognition Award "for being an American ambassador for classical music at home and abroad."  He is the subject of a biography, Mark Morris, by Joan Acocella (Farrar, Straus & Giroux) and Marlowe & Company published a volume of photographs and critical essays entitled Mark Morris' L'Allegro, il Penseroso ed il Moderato: A Celebration.  Morris is a member of the American Academy of Arts and Sciences and the American Philosophical Society.  In recent years, he has received the Samuel H. Scripps/American Dance Festival Award for Lifetime Achievement (2007), the Leonard Bernstein Lifetime Achievement Award for the Elevation of Music in Society (2010), the Benjamin Franklin Laureate Prize for Creativity (2012) and the Cal Performances Award of Distinction in the Performing Arts (2013).
The MARK MORRIS DANCE GROUP was formed in 1980 and gave its first concert that year in New York City.  The company's touring schedule steadily expanded to include cities in the U.S. and around the world, and in 1986 it made its first national television program for the PBS series Dance in America.  In 1988, MMDG was invited to become the national dance company of Belgium, and spent three years in residence at the Théâtre Royal de la Monnaie in Brussels. The company returned to the United States in 1991 as one of the world's leading dance companies, performing across the U.S. and at major international festivals. Based in Brooklyn, NY, the company maintains strong ties to several cities around the world, most notably its West Coast home, Cal Performances in Berkeley, CA, and its Midwest home, the Krannert Center for the Performing Arts at the University of Illinois at Urbana-Champaign. MMDG also appears regularly in New York City, Boston, MA; Fairfax, VA; and Seattle, WA.  MMDG made its debut at the Mostly Mozart Festival in 2002 and at the Tanglewood Music Festival in 2003 and has since been invited to both festivals annually. From the company's many London seasons, it has garnered two Laurence Olivier Awards. MMDG is noted for its commitment to live music, a feature of every performance on its international touring schedule since 1996. MMDG collaborates with leading orchestras, opera companies, and musicians including cellist Yo-Yo Ma, percussionist and composer Zakir Hussain, jazz trio The Bad Plus, pianists Emanuel Ax, Garrick Ohlsson, as well as with the English National Opera, among others. In September of 2001, the Mark Morris Dance Center opened in Brooklyn, NY, to provide a home for the company, rehearsal space for the dance community, outreach programs for local children and seniors, and a school offering dance classes to students of all ages.  For more information, visit www.mmdg.org.
Acis and Galatea is made possible, in part, by generous support from the National Endowment for the Arts (NEA) and by the Mark Morris Dance Group's New Works Fund.