Martha Hill Dance Fund Awardees announced - NYC Gala on November 24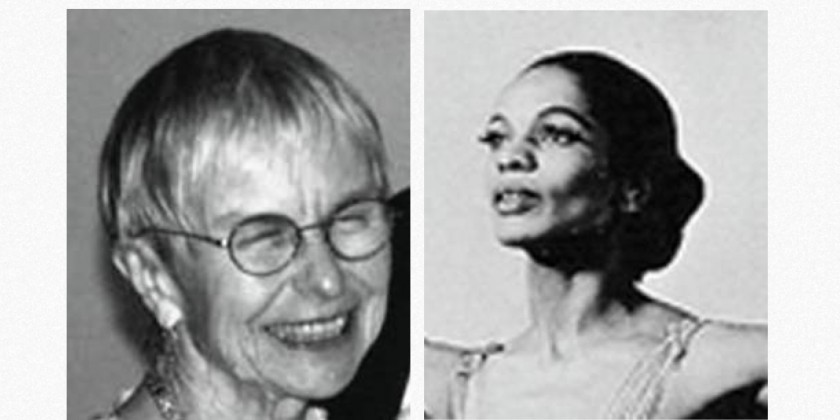 Company:
Martha Hill Dance
MHDF
Is proudly announcing
The Martha Hill Dance Fund Gala 2014
Honoring Mary Hinkson, Martha Myers,
and John-Mario Sevilla
Monday, November 24, 6pm - 10pm
Manhattan Penthouse
80 Fifth Avenue, New York City
This year, we will honor dance legends Mary Hinkson and Martha Myers with our Lifetime Achievement Award, and John-Mario Sevilla with our Mid-Career Award. Our Young Professional Award will also be presented, with the recipient designated by Jacob's Pillow.
Martha Hill's former students, renowned choreographers Henning Rübsam and Mark Haim, are serving as Gala Chair and Master of Ceremonies.
For ticket information: www.marthahilldance.org
The Martha Hill Dance Fund produced the documentary
"MISS HILL: MAKING DANCE MATTER," which opened the 2014 Dance on Camera Film Festival at Lincoln Center in January 2014. The film's distributor First Run Features plans a theatrical release in the spring of 2015.
The mission of the Martha Hill Dance Fund is to honor, perpetuate, and reward Martha Hill's commitment to dance education and performance internationally. It intends to accomplish this mission by awarding the annual Lifetime Achievement Awards to one or more recipients who have demonstrated the qualities for which Martha Hill was most revered as an educator and as a creative force. Also given by the fund are the Young Professional Award and the Mid-Career Award to deserving dance artists. A secondary goal is to preserve the legacy of Martha Hill through archives, published materials, a website, and our recently completed documentary film: Miss Hill, Making Dance Matter.
Born in Philadelphia, Mary Hinkson received her first dance training in a eurhythmics class in high school. She then studied dance with Margaret H'Doubler at the University of Wisconsin at Madison, receiving both her B.S. (1946) and M.S. (1947) degrees in physical education. After graduating, Hinkson moved to New York City where she joined the Martha Graham Dance Company in 1951. She remained a principal dancer until 1973. Martha Graham choreographed several roles for Ms. Hinkson, including those in Canticle for Innocent Comedians (1952), Ardent Song (1955), and Circe (1963). In addition to her work with Graham, Hinkson created the female role in Donald McKayle's Rainbow 'Round My Shoulder (1959) and danced as a guest artist with the New York City Ballet in George Balanchine's Figure in the Carpet (1960). In 1956, she was Alvin Ailey's partner in Harry Belafonte's touring revue Sing Man Sing. A much-loved and influential teacher, Ms. Hinkson taught at the Martha Graham School for decades as well as at the Juilliard School, NYC's High School of Performing Arts, the Dance Theatre of Harlem School, and the Ailey School among many other places. Ms. Hinkson is known for having broken racial boundaries throughout her career in both ballet and modern dance.
American Dance Festival Dean Emeritus Martha Myers has been a teacher, dancer, choreographer, film producer, television personality, and writer. She served as the Director of Women's News for WBNS-TC in Columbus, Ohio, and was co-producer, writer and narrator for a collection of programs called "A Time to Dance" which were extensively used for dance courses in colleges and universities. Ms. Myers joined the dance faculty at Connecticut College in 1967, founded its dance department in 1971, and led the department until 1992. One of her first important moves at Connecticut College (which was all-women when she joined the faculty) was to gather some men from Wesleyan University to join female students in her new ground-breaking initiative The Experimental Movement Lab which focused on improvisation and the idea of "play" through movement. In 1969, she was named Dean of the American Dance Festival School, where she pioneered the study of dance medicine and somatics as well as mentoring literally thousand of dancers. She retired from ADF in 2000. In 2002, she received the Balasaraswati/Joy Ann Dewey Beinecke Endowed Chair for Distinguished Teaching. Ms. Myers received an undergraduate degree from Virginia Commonwealth University and an M.S. from Smith College.
Hailing from Maui, John-Mario Sevilla is the Director of the 92nd StreetY's Harkness Dance Center and a faculty member at New York University's Steinhardt School of Culture, Education, and Human Development. He was previously the director of the Dance Education Laboratory (DEL) at 92Y and the Director of Education for New York City Ballet. Mr. Sevilla has danced in the companies of Pilobolus, Rebecca Stenn, From the Horse's Mouth, Daman Harun, Erin Dudley, Lisa Giobbi, Nikolais/Louis, Shapiro and Smith, Janis Brenner, Anna Sokolow and Bill Cratty. He has also performed with juggler Michael Moschen, film animator Laura Margulies, drag artist Sherry Vine, poet John Unterecker and Navajo sandpainter-healer Walking Thunder.
His choreography has been presented at LaMaMa, Movement Research at Judson Church, 92Y Tribeca, Dance Theatre Workshop, ABC No Rio, the Lower East Side Tenement Museum, The Asia Society, Bronx Academy of Art and Dance, as well as many universities. Mr. Sevilla holds an MA in Dance Education from Teachers College, Columbia University and an MFA from the University of Wisconsin-Milwaukee. He started dancing hula as a toddler with his older sisters as his mentors, then he became a Philippine folk dancer through his teens. A life-long student of Betty Jones and Fritz Ludin, he now studies the hula, formerly with Kumu Hula June Ka'ililani Tanoue and presently with Kumu Hula HAkA«lani Holt.