Massachusetts: JACOB'S PILLOW DANCE FESTIVAL SEASON OPENING GALA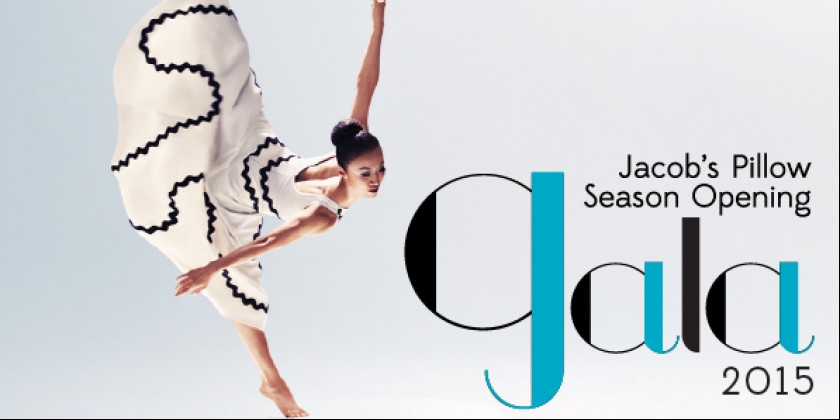 Company:
Jacob's Pillow Dance Festival
JUNE 20: JACOB'S PILLOW DANCE FESTIVAL SEASON OPENING GALA
GALA PROGRAM INCLUDES MARTHA GRAHAM DANCE COMPANY,
LIZ GERRING DANCE COMPANY, AMERICAN BALLET THEATRE'S DANIIL SIMKIN, AND
NEW YORK CITY BALLET'S SARA MEARNS AND RUSSELL JANZEN
LIVE AUCTION FEATURING LUXURY TRIP FOR FOUR TO CUBA LED BY CHRISTIE'S AUCTIONEER
What:              Jacob's Pillow Dance Festival 2015 will officially commence with its 83rd Season Opening Gala on Sat, June 20.
                        The 2015 Season Opening Gala Co-Chairs are Nurit and Rick Amdur and Mark and Liz Williams. The Honorary Chair for the Gala is Janet Eilber, Artistic Director of Martha Graham Dance Company.
A cocktail reception will kick off the event, along with an exclusive preview of two new exhibitions: Blake's Barn's Best, highlighting landmark works by Annie Leibovitz, Jules Feiffer, Lois Greenfield, Al Hirschfeld, and others; and Kyle Froman: Bodies/Buildings, featuring work by New York City Ballet dancer turned professional photographer Kyle Froman that juxtaposes dance and architecture in surprising and original ways. The Gala performance in the historic Ted Shawn Theatre will feature a variety of extraordinary artists and choreographers, as well as a world premiere by BalletX founder Matthew Neenan, performed by the Ballet Program dancers of The School at Jacob's Pillow.
Members of the legendary Martha Graham Dance Company will perform a duet from Graham's classic Errand into the Maze. Daniil Simkin, American Ballet Theatre principal dancer and creator of INTENSIO, will perform the explosive and charming solo Les Bourgeois by Ben Van Cauwenbergh with music by Jacques Brel. New York City Ballet principal dancer Sara Mearns and soloist Russell Janzen will perform Justin Peck's elegant pas de deux The Bright Motion with Mark Danzigers's score played live by pianist Michael Mizrahi. The prestigious 2015 Jacob's Pillow Dance Award will be presented by Executive and Artistic Director Ella Baff to Liz Gerring, artistic director of Liz Gerring Dance Company and members of LGDC will also perform. Students from the Ballet Program of The School at Jacob's Pillow will perform a world premiere created on them in four days by noted choreographer Matthew Neenan.
A live auction featuring an all-inclusive luxury trip for four to Cuba will be led by Christie's Auctioneer  Rachel Orkin-Ramey  in the Ted Shawn Theatre as part of the festive program. The Gala performance will be followed by a three-course dinner by The Old Inn and Moore; a silent auction; and dancing with DJ BFG.
Silent auction items include an exclusive tour and reception of the Clark Institute, original artworks, as well as other one-of-a-kind experiences tailor-made for dance aficionados.
When:             Saturday, June 20 at 5:30pm 
Tickets and Tables:  Tickets and tables are available now. Silver level tickets are $375 with tables at $3,500; Gold level tickets are $575 with tables at $5,500; Platinum level tickets are $775 with tables at $7,500; Diamond level tickets are $1,000 with tables at $10,000. Order online at jacobspillow.org or call 413.243.9919 x123 to place your order by phone. For questions, please email gala@jacobspillow.org.
Where:            Jacob's Pillow Dance Festival, 358 George Carter Road, Becket, MA.
About:            Jacob's Pillow is a National Historic Landmark, recipient of the National Medal of Arts, and home to America's longest running international dance festival. The Festival includes more than 50 national and international dance companies and 350 free and ticketed performances, talks, tours, classes, exhibits, and events. The School at Jacob's Pillow, one of the most prestigious professional dance training centers in the U.S., encompasses the diverse disciplines of Ballet, Cultural Traditions, Contemporary, and Jazz/Musical Theatre Dance, as well as an Intern Program in various disciplines of arts administration, design, video, and production. The Pillow's extensive Archives, open year-round to the public, chronicle more than 80 years of dance in photographs, programs, books, costumes, audiotapes, and video. Year-round Community Programs enrich the lives of children and adults through public classes, residencies in area schools, and more than 200 free public events. Through Jacob's Pillow Curriculum in Motion®, a nationally-recognized program, artist-educators work with Berkshire County teachers and students grades K-12, transforming curricula such as biology, literature, and history into kinesthetic and creative learning experiences. Creative Development Residencies, in which dance companies are invited to live and work at the Pillow and enjoy unlimited studio time; choreography commissions; and the annual $25,000 Jacob's Pillow Dance Award all support visionary dance artists and choreographers. Virtual Pillow is aimed at expanding global audiences for dance and offers the opportunity to experience dance and Jacob's Pillow from anywhere in the world via online interactive exhibits, global video networks, and social media. As part of the Virtual Pillow initiative, Jacob's Pillow Dance Interactive is a curated online video collection of dance highlights from 1936 to today. On March 2, 2011, President Obama honored Jacob's Pillow with a National Medal of Arts, the highest arts award given by the United States Government. Jacob's Pillow is the first dance presenting organization to receive this prestigious award. For more information, visit www.jacobspillow.org.