Matthew Westerby Company New York Season 2014‏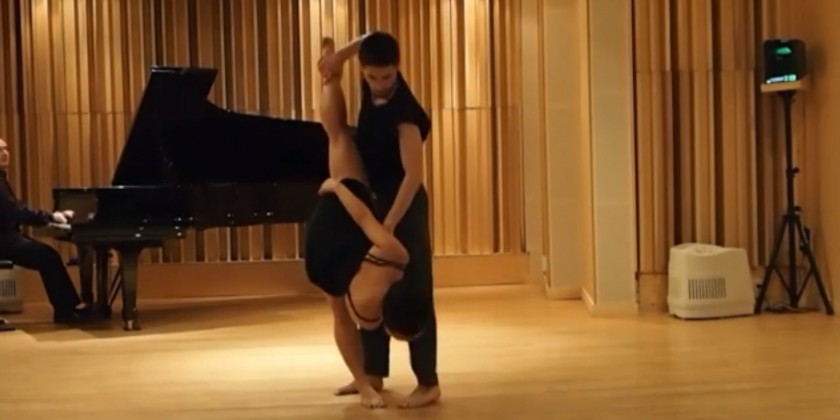 Company:
Matthew Westerby Company

A SWAN LAKE FANTASY: PRESENTED BY MATTHEW WESTERBY COMPANY 
WITH MATT VAN BRINK & MATEI VARGA
2014 NEW YORK SEASON AT THE HUDSON GUILD THEATRE
FRIDAY–SUNDAY, MARCH 28–30, 2014

New York, NY, February 4, 2014 – The 2014 season of the Matthew Westerby Company will take place at the Hudson Guild Theatre, March 28–30, 2014. Featuring three world premieres, the season highlights A Swan Lake Fantasy, created by collaborators Matthew Westerby (choreography), Matt Van Brink (composer/arranger), and Matei Varga (pianist). A 25-minute arrangement of Tchaikovsky's famous score, A Swan Lake Fantasy is a contemporary re-imagining of the classic, reflecting on the notions within the original work of beauty, betrayal and sacrifice, leading to ultimate tragedy. The work encapsulates the harmony and conflict present in the original narrative, and abstractly re-invents a timeless classic. 

Varga, a renowned pianist, will perform live onstage alongside the eight dancers of Matthew Westerby Company. Lighting design is by Mike Riggs.

Making an arrangement of a great piece of music means breaking it apart, inspecting the pieces, and from them, creating something new again…by presenting the themes and dances in a new, perhaps surprising order, an entirely new story emerges out of the old one.
— Matt Van Brink

"Swan Lake" is my favorite piece of music in the entire literature… This may sound like a counterintuitive statement coming from a pianist, but I've always been fascinated with Tchaikovsky's unparalleled ability to tell a story and paint a scene, as well as his endless melodic inventiveness.
— Matei Varga

The 2014 season also features two other world premieres: Duet X, to the music of Ben Frost and Daniel Bjarnason; and an untitled full company work with music by Icelandic composers Jonsi & Alex. 

The Matthew Westerby Company dancers include Dylan Baker, Dina Christophe, Kayla Farrish, Gierre Godley, Nicole Kadar, Alessandra Larson, Kristin Licata, and Matthew Westerby. 

Performances: Friday, March 28 at 8pm, Saturday, March 29 at 2pm & 8pm;
Sunday, March 30 at 3pm. 
 
Location: Hudson Guild Theatre, 441 West Street, New York, NY
Tickets: $20 General Admission, $30 for Friday, March 28 performance and reception. 
Brown Paper Tickets: http://www.brownpapertickets.com/event/573068

Matthew Westerby has been making work in London and New York since 2000, and formed Matthew Westerby Company in 2008 with the aim of combining access to high quality arts education with the performance of innovative yet accessible contemporary dance works. His works have been presented at the The Place (London), Laban (London), the Evolve Festival (Tarrytown, NY), DNA, Naugatuck Valley Community College (Connecticut), BAX, Dixon Place, the DUMBO Dance Festival, the Wave Rising Series, the College of Mount St. Vincent's, Green Space and at the Staten Island Modern Festival. Westerby trained at Laban (UK) and has previously worked as a dancer with Nai-Ni Chen, Risa Jaroslow, Dusan Tynek, Peter Kyle, Bronwen MacArthur, Jessica Gaynor, Sue Hogan, Marla Hirokawa and Tze Chun. 
Matthew Westerby Company has partnered with Litchfield Performing Arts in Connecticut for five cycles of the highly successful Project Poetry Live! which brings dance, creativity and performance to over 1,100 public school children. Matthew Westerby has also created commissioned work for Dancewave Companies II & III, Covenant Ballet Theatre, Evolve Dance Company, the Hudson Guild Theatre Company, Laban, the dance department at Naugatuck Valley Community College and Brass City Ballet.
Matt Van Brink is a composer, lyricist, pianist, accordionist and educator. He is on the piano composition faculty at Concordia Conservatory (Bronxville, New York), which has commissioned many of his new works of chamber music and musical theater for its student performers. He has also been commissioned by San Francisco Choral Artists, Collage New Music, New York Youth Symphony, Celebrity Series of Boston, and Lara St. John, and his compositions and arrangements are published by Schott Music, Tenuto Publications, Hayo Music and by his own Schnitzel Music. Van Brink studied at Indiana University and Boston University, where he earned a doctorate. He lives in Brooklyn. 
Matei Varga has performed at major venues around the world, including New York's Carnegie Hall, Salle Gaveau in Paris, Konzerthaus in Berlin and the Romanian Atheneum in Bucharest. Mr. Varga is a prize winner of the "George Enescu" competition in Bucharest and the "Maria Canals" competition in Barcelona, among many others. He earned his Bachelor's degree from Bucharest's National University of Music in 2004 and went on to receive his Master's degree and Professional Studies Diploma from Mannes College of Music in New York City, where he received a full scholarship and studied with Pavlina Dokovska. Mr. Varga has recorded for Naxos, Coviello Classics and AIX Records. 

For further information, visit www.matthewwesterbycompany.org.