Meredith and Theo in Bang on a Can Marathon
Company:
Meredith Monk & Theo Bleckmann

Meredith Monk with Theo Bleckmann
appearing in
Bang on a Can Marathon
Sunday, June 22, 2014 - 4:00pm - 6:30pm
Brookfield Place, Winter Garden
New York, NY
 
Free Admission
Photo: Bob Shamis                                            Photo:  Susie Knoll
Meredith Monk and Theo Bleckmann will perform when Bang on a Can returns to the Winter Garden at Brookfield Place with its annual incomparable super-mix of boundary-busting music from around the corner and around the world! 
 
Meredith and Theo are slated to close the 4 pm set (start time approx 5 pm) and to open the 6 pm set with several special guests.
 
The 2014 Bang on a Can Marathon will feature 8 hours (2 pm-10 pm) of rare performances by some of the most innovative musicians of our time side-by-side with some of today's most pioneering young artists. For the full lineup and schedule:  click here.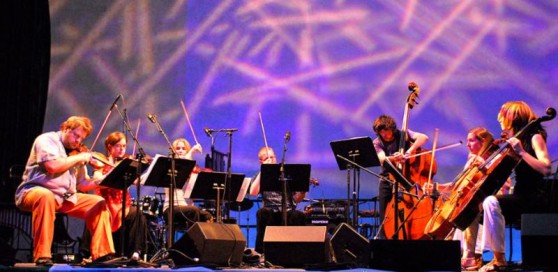 Bang on a Can All-Stars                                         Photo: Stephanie Berger
For directions and other information:  click here