Met Museum Presents Performances: Arvo Pärt at Eighty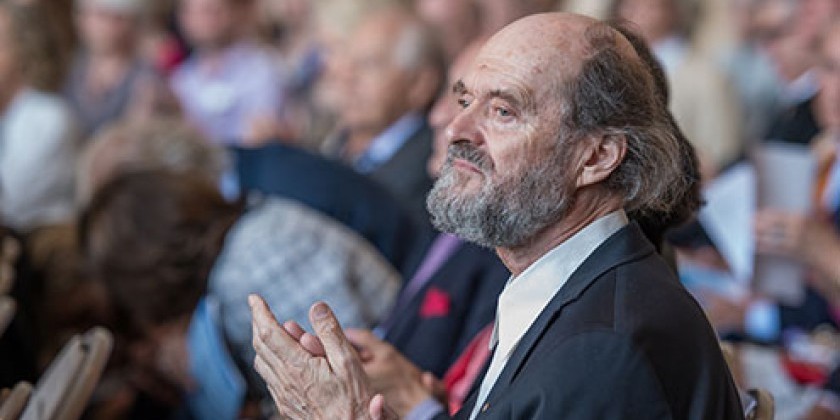 Company:
Arvo Pärt
Friday, September 11, at 7:00 p.m. at The Temple of Dendur in The Sackler Wing
On the occasion of Arvo Pärt's 80th birthday, The Met toasts the composer's health and long life with a concert of his music led by Joel Sachs—world-renowned advocate for the newest of music, who was an important early champion of Pärt's indelible voice in the West—directing the New Juilliard Ensemble. These superb young artists offer an evening of the composer's magnificent chamber music, including works for string quartet, piano, and other solo instruments, as well as voice.
The program culminates with New York City Ballet Principals Amar Ramasar and Rebecca Krohn performing Christopher Wheeldon's "wondrous" (New York Times) Liturgy, set to Pärt's Fratres.
Presented in conjunction with the exhibition Liturgical Textiles of the Post-Byzantine World, on view August 3–November 1, 2015.
Tickets start at $90 [Please note: Limited Availability Remaining]
For tickets, visit www.metmuseum.org/tickets or call 212-570-3949. Tickets are also available at the Great Hall Box Office, which is open Monday-Saturday, 11:00 a.m.–3:30 p.m.

Tickets include admission to the Museum on day of performance.
Prices are subject to change.

Bring the Kids for $1 tickets for children (ages 7-16) are available for select performances when accompanied by an adult with a full-price ticket. For more information, visit www.metmuseum.org/tickets, call 212-570-3949, or visit the box office.
For more information about Met Museum Presents, please visit: http://www.metmuseum.org/tickets
#MetMuseumPresents
 
About Met Museum Presents:
The live arts series at The Metropolitan Museum of Art that explores contemporary innovations through the lens of the Museum's exhibitions and unparalleled gallery spaces with singular performances and talks. Met Museum Presents invites artists, performers, curators, and thought-leaders to explore and collaborate within The Met, leading with groundbreaking commissions, world premieres, and site-specific durational performances.