Contribute
Your support helps us cover dance in New York City and beyond! Donate now.
Mettawee River Theatre Company celebrates "OUT OF THE PAST: Celebrating 40 Years of the Mettawee Journey"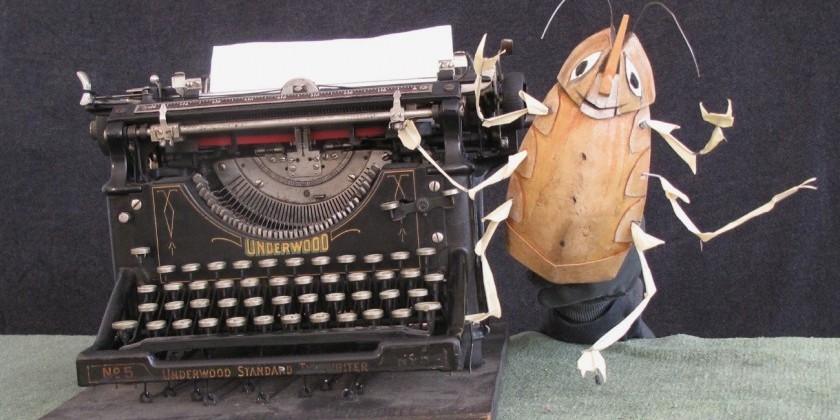 Company:
Mettawee River Theatre Company
Image:
Archie the Cockroach from Ralph Lee's "Communications
From A Cockroach" based on Archie & Mehitabel
"i do not see why men
should be so proud
insects have the more
ancient lineage
according to the scientists
insects were insects
when man was only
a burbling whatsit"
(Archie)
RALPH LEE'S METTAWEE RIVER THEATRE COMPANY
presents
  "OUT OF THE PAST: Celebrating 40 Years of the Mettawee Journey" 
A feast of scenes from past presentations with Mettawee's signature masks, puppets and giant figures

Friday, Saturday & Sunday, September 11, 12 & 13 at 7:30 PM 
Outdoor Garden at the Cathedral of St. John the Divine, 111th Street & Amsterdam Avenue
Tickets: $15; $7 for children
Reservations: 212.929.4777


A company of  Mettawee veterans have come together for this retrospective:
Stephanie Gallas (founding member in 1975), Tom Marion (joined in 1987), Jan-Peter Pedross (joined in 2006), Kristine Lee (joined in 2008), Greg Manley (joined in 2008), Tanya Dougherty (joined in 2011),and Rob McFadyen (joined in 2012)
Production designed and directed by Ralph Lee
Costumes by Casey Compton
Music by Neal Kirkwood, performed by Ed RosenBerg

          "No one can bring a myth to life quite like Ralph Lee, whose giant puppets and masks seem
           to evoke an entirely new world."                                                         The New York Times                

           "In an age of over-priced, high-tech spectacle it is a delight and a charm to come across a
           theatre company that touches our sense of wonder with dazzling modest means, a theatre
           that spins gold from straw."                                                     Ross Wetzsteon, Village Voice

 
Renowned puppet and mask maker Ralph Lee will present his Mettawee River Theatre Company in "OUT OF THE PAST: Celebrating 40 Years of the Mettawee Journey," a feast of excerpts from four decades of Mettawee productions, September 11, 12 & 13 at 7:30 PM in the lovely Outdoor Garden at the Cathedral of St. John the Divine, 111th Street & Amsterdam.   Music is by Neal Kirkwood, who has composed scores for Mettawee since 2001, and will be performed by the multi-talented Ed RosenBerg on alto and bass saxophone, hammered dulcimer, accordion and any number of rattles, bells and drums.  Chairs are provided, and audience members are also invited to bring blankets for seating closer to the stage area. 

According to Ralph Lee: "These headstrong characters have been clamoring to be let out of their boxes for another fling in front of their fans, so I finally decided to let them have their way.  Here goes!   I take no responsibility for their behavior."

The production brings back many alumni of Mettawee for a fast-paced evening of scenes from four decades of Mettawee productions, including
* Peace (premiered 1976), a visit from Aristophanes' gluttonous dung beetle
* The Caucasian Chalk Circle (premiered 2005), adapted from Bertolt Brecht, Grusha and her fiance Simon meet
            unexpectedly after a year's separation
            "...Lee's wonderfully expressive mask creations."                                        American Theater Web
* Voyage of Bran (premiered 1983), The Irish sea god Mannanon declaims the tragedy of Phaedra with fish puppets
* Nanabozho (premiered 1980) Grandmother Earth will send Nanabozho off to get the world ready for humans
                  "...long on charm...the puppets are exquisite."                       Rachel Saltz, The New York Times
                  "Mr. Lee and his troupe appeal to children and the child within all of us with a subtle mastery
                  of stagecraft that keeps the audience wide-eyed and thrilled."  Joel Benjamin, theatrescene.net
* Communications from a Cockroach (premiered 2001), based on Don Marquis's tales of Archy and Mehitabel
                  "...original, laugh-provoking and charming to a fault."   Anita Gates, The New York Times
                  "Immediately you accept these puppets as fully living creatures."  Eva Heinemann, Hi! Drama
* Valentyne and Orson (premiered 2006) from a 15th century French romance
* The Dancing Fox (premiered 2003), wisdom tales of the Middle East, lyrics by Rumi
                  "Is it sacrilege that in the shadow of a church, Lee's idols are so divine?"
                                                                                                                 Alexis Soloski, Village Voice
* The Old Boat Goddess (premiered 2011)
                  "Mettawee employs Ralph Lee's gorgeous puppets to tell traditional stories about the
                   indigenous Ainu people of Japan."                                                         The New Yorker
* Beyond the High Valley (premiered 2009) from Quecha stories and poems collected by Jose Maria Arguedas
                 "At first glance, this may sound like a children's story.  But, like so many folk tales, it
                  has the power to move everyone of every age."               Mona Molarsky, examiner.com
* Taliesin (premiered in 1982)
                 "Ralph Lee employs his majestic puppets to tell a story adapted from a medieval
                 Welsh tale."                                                                                              The New Yorker
*The Woman Who Fell From the Sky (premiered in 1997), from the Iroquois creation story
                  "With simple beauty, gentle humor, beguiling music and considerable ingenuity,
                   imagination, wisdom and charm, the eternal mystery of creation is being explored by
                  the gifted puppet master, designer and director Ralph Lee."
                                                                                             Lawrence Van Gelder, The New York Times
                                                                                     
                 
...and more, all featuring an abundance of Ralph Lee's remarkable masks, puppets and giant figures.

About Ralph Lee
A native of Middlebury, Vermont, Lee graduated from Amherst College in 1957 and studied dance and theater in Europe for two years on a Fulbright Scholarship.  After returning to the U.S., he acted in Broadway and off-Broadway shows, and during that period started creating masks, unusual props, larger-than-life figures, and puppets for theater and dance companies, including the NY Shakespeare Festival, the Living Theatre, Lincoln Center Repertory Theatre, the Metropolitan Opera, and Saturday Night Live (that naughty "land shark").

In 1974 Lee organized the first Greenwich Village Halloween Parade, which he directed through 1985 and for which he received a 1975 Village Voice OBIE Award, a 1985 Citation from the Municipal Arts Society, and induction in 1993 into the City Lore People's Hall of Fame.

Mettawee Theatre Company, under the collaborative leadership of Artistic Director Lee and Managing Director Casey Compton, was founded in 1975 to create original theater productions that incorporate masks, giant figures, puppets and other visual elements with live music, movement and text.  Most shows draw on myths, legends and folklore of the world's many cultures.

Honors for Lee's productions include two American Theatre Wing Design Awards (in 1992 and 1995); a second Village Voice OBIE Award in 1991; two Citations for Excellence from UNIMA, the international puppetry organization; a 1996 Bessie Award for "sustained achievement as a mask maker and theatre designer without equal;" a 1996 NYS Governor's Arts Award in recognition of his many contributions to the artistic and cultural life of New York State.  In 2003, he received a Guggenheim Fellowship, one of the nation's most prestigious honors, and in 2008 Lee served as the Jim Henson Artist-in-Residence at the U of Maryland/College Park.   He is currently on the faculty of New York University.