Michal Samama at The Chocolate Factory‏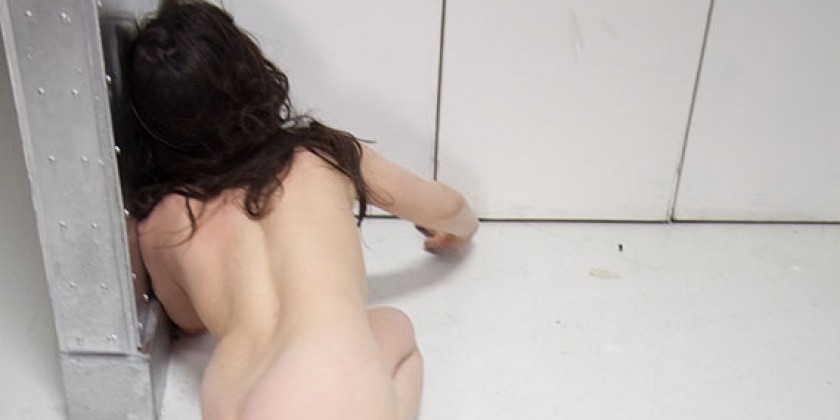 Company:
The Chocolate Factory Theater
THE CHOCOLATE FACTORY PRESENTS
Michal Samama
Background Materials
October 1-4, 2014
@ The Chocolate Factory
5-49 49th Avenue, Long Island City, NY 11101
*7 train to Vernon/Jackson (1st stop in Queens - 5 minutes from Grand Central!)
September 3, 2014 – The Chocolate Factory (www.chocolatefactorytheater.org) continues its Fall 2014 season with Background Materials, a new performance by Michal Samama. Tickets are $15 and may be purchased in advance at (212) 352-3101 or on the web @ www.chocolatefactorytheater.org.
Background Materials is a performance event exploring the temporal and spatial aspects of bodily experience. Its focus, paradoxically, is what could be labeled as 'background experience': the 'background noise' of our daily existence, the sensual data that ties us to the world precisely by not coming under focus.
The work is composed from several vignettes which, in their own self enclosed separateness, offer a series of openings into our 'mute' surrounding (spaces, objects, materials and times). A journey of only missteps and detours, it leads nowhere and everywhere, away from here-and-there, it is absolutely in-between. It invites the viewer not to some realm beyond but to dwell in the very gap that sustains and collapses distance.
Though a visual event, Background Materials asks to highlight an experience of sound and touch. Samama is interested in/ the tension between our sense of sight, that gives us clarity and understanding, yet tends to lay the world in front of us, out there, and the more imprecise senses of hearing and touch, that embed us more directly in our surrounding.
The body in this work, though remarkably composed, is fundamentally beside itself, as it insists on an impossibility: a direct, unmediated encounter with its own 'blind spots', with what falls short of cognition and apprehension whether because it is deemed unremarkable, insignificant, or properly invisible, out of sight.
The mastery and control exhibited by the body in the manipulation and production of visual images is undercut by its exposure and vulnerability to, and dependency on, the materials with which it comes into unmediated contact. Materials that have a strong, yet elusive, presence in our cultural life such as plastic, metal and concrete. The negotiation with those materials within a constant movement brings to light a strange kind of totality in flux that pertains to the body in motion; holding together, though never fully unifying, the body as an organic whole, as well as the multiple ways in which it can be broken into parts, revealing further possibilities and alternative identities.
The movement is an experiment with the loss and gain of sovereignty and agency. In moving constantly between occupying a space and being taken over by its surroundings, between mastering an object and being mastered by it, the body, in its very attempt to master its surroundings and the objects with which it interacts - and without ever losing itself - is revealed to be equally a lens, a frame, a mapping and marking tool, offering itself as an inscription, an imprint of its outside, as it its most intimate kernel.
Created and Performed by Michal Samama. Lighting Design by Madeline Best.
Michal Samama creates body-based art works incorporating movement, sound, objects, text, installation and site-specific practices. Samama is currently an MFA candidate at The School of the Art Institute of Chicago and the recipient of SAIC 2013 New Artist Society Scholarship Award. In Chicago, she recently presented her work at EXPO CHICAGO 2014, 6018 North Gallery, Rapid Pulse Festival 2014 and TBSO3 at Defibrillator Gallery, Mana Contemporary, Links Hall, TRITRIANGLE and Northwestern University. In New York her work has been presented at New York Live Arts, Movement Research at Judson Church, Performance Mix Festival at The Flea Theater, Dixon Place, Joyce SoHo, CPR, Chez Bushwick, Priska C. Juschka Gallery, First Street Green at First Park, Vaudeville Park, AUNTS and the 92nd Street Y, where she also curated Sunday At Three in January 2012. Recent residencies include: 2012-2013 Fresh Tracks Performance and Residency Program, Movement Research 2011-2013 Artist-in-Residence and LiftOff Residency-New Dance Alliance. Samama has performed at the Home Sweet Home Festival, Werkstatt der Kulturen and the Grimmuseum in Berlin, and in Israel in many prominent venues including Suzanne Dellal Center, Tmuna Theater and Tzavta Theater. Her play was presented at Act 2 Festival for Experimental Theater in Haifa. She received her BA in Dance and Choreography from Kibbutzim College of Education in Tel-Aviv and also graduated from Search Engine Contemporary Center for the Performing Arts in Jaffa, where she studied theater, writing and performance art.