Contribute
Your support helps us cover dance in New York City and beyond! Donate now.
Milka Djordjevich + Chris Peck Present World Premiere "MASS" At The Kitchen April 30 - May 2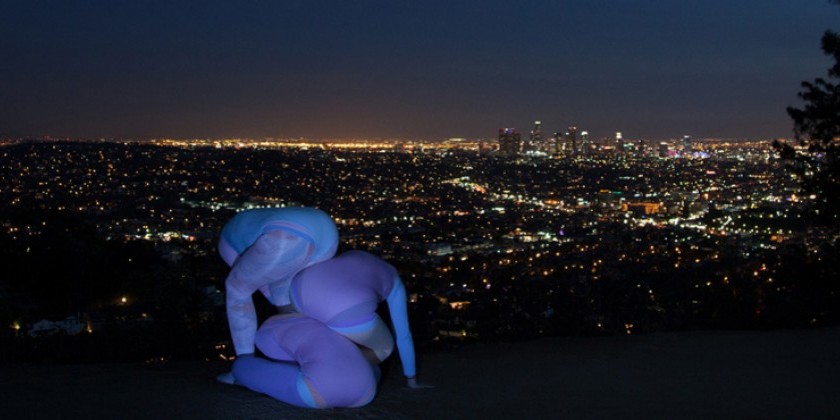 Company:
The Kitchen
THE KITCHEN PRESENTS WORLD PREMIERE OF MILKA DJORDJEVICH + CHRIS PECK'S MASS, APRIL 30–MAY 2
Dance, Sound and Image Merge In Djordjevich's Evening Length Debut at The Kitchen
MASS (World Premiere)
Choreographed by Milka Djordjevich
Featuring Performances by Jessica Cook, Kyli Kleven, and Milka Djordjevich
Music by Chris Peck
Lights by Madeline Best
Scenic Design by Sara C. Walsh
Costumes by Naomi Luppescu

The Kitchen (512 W. 19th Street, Manhattan)
April 9–11 at 8pm; $15 ($12 students, seniors)
thekitchen.org; 212.255.5793 x11
 
The Kitchen presents the world premiere of Milka Djordjevich + Chris Peck's MASS (April 30–May 2), a gradual dance on a pedestal for three women. Created as part of an ongoing collaboration between choreographer Milka Djordjevich and composer Chris Peck, MASS is a new dance work performed by Jessica Cook, Kyli Kleven, and Djordjevich, who execute a co-dependent and intricate score of dancing while singing live. MASS re-frames and fragments the dancers' bodies, they become the sum of their moving parts, moving sculptures within a sea of black. Performers in MASS are deliberately saturated with the task of performing movement and song in an attempt to induce a pre-occupied laborious state that allows space for error.
MASS expands upon themes Djordjevich explored in her earlier work Kinetic Makeover: Both works attempt to alter the perception of the female dancing body in the so-called neutral space of the theater. While Kinetic Makeover was a smoothly perpetual dance solo in (almost) silence, MASS is a bewitching, vocal and bright trio, which stumbles through space.

Performances of MASS will take place April 30–May 2 at 8pm. Tickets are $15 ($12 students, seniors) and available online at.thekitchen.org; by phone at 212.255.5793 x11; and in person at The Kitchen (512 West 19th Street), Tuesdays–Saturdays, 2:00–6:00 P.M.
MASS features Jessica Cook, Kyli Kleven and Djordjevich, lighting by Madeline Best, scenic design by Sara C. Walsh, costumes by Naomi Luppescu and Rebecca Brooks isthe performance advisor.
Milka Djordjevich is a dance artist motivated by a desire to blur the distinction between 'dance' and 'non-dance' by attempting to un-choreograph choreography and choreograph spontaneity. Herwork has been shown at several venues including REDCAT, Pieter and Machine Project (Los Angeles); the 2010 Whitney Biennial, the Chocolate Factory Theater, Danspace Project and AUNTS (New York). She has received funding from NYLA's Suitcase Fund; a commission from the Danspace Project 2010-11 Commissioning Initiative, with support from the Jerome Foundation; and residencies at Fabrik Potsdam, PACT-Zollverein, Workspace Brussels, UCLA Hothouse, LMCC Swingspace, among others. Djordjevich was a 2006-2007 Movement Research Artist-in-Residence and a 2008/2010 danceWEB Europe Scholar. Her other projects include co-curating the Movement Research Spring Festival 2008: Somewhere Out There and serving as guest editor for Critical Correspondence. She has co-authored works with composer Chris Peck and choreographer Dragana Bulut and has performed for Heather Kravas, Jennifer Monson, Elizabeth Ward, Sam Kim, Sasa Asentic and Ana Vujanovic, among others. Djordjevich received a B.A. from UCLA and an M.F.A. from Sarah Lawrence College.
Chris Peck is a composer, computer musician, and improviser who often collaborates with contemporary dance and theater artists, including David Dorfman, John Jasperse, RoseAnne Spradlin, Jeanine Durning, Mark Jarecki, Abby Yager, Ming Yang/Dance Forum Taipei, and Beth Gill. Recently he has collaborated on numerous pieces with choreographer Milka Djordjevich, including her solo at The Chocolate Factory Theater in New York City in April 2013. Peck performs as an improviser and multi-instrumentalist with Crystal Mooncone along with Jon Moniaci and Stephen Rush. The trio recently completed a California tour including performances at CCRMA (Stanford) and the Center for New Music in San Francisco as well as workshops with music and dance students at UC Santa Barbara. Peck collaborated with Deke Weaver and Jennifer Allen on Land of Plenty in 2008-2010, and made music for two installments of Weaver's Unreliable Bestiary: Elephant in 2010-11 (performing in the premiere at the Stock Pavilion in Urbana as well as subsequent iterations at the Sundance Film Festival and Salt Lake Arts Center) and Wolf in 2013. He is also a Ph.D. candidate in Composition and Computer Technologies at the University of Virginia.
About The Kitchen
The Kitchen is one of New York City's most forward-looking nonprofit spaces, showing innovative work by emerging and established artists across disciplines. Our programs range from dance, music, performance, and theater to video, film, and art, in addition to literary events, artists' talks, and lecture series. Since its inception in 1971, The Kitchen has been a powerful force in shaping the cultural landscape of this country, and has helped launch the careers of many artists who have gone on to worldwide prominence.
Facebook: facebook.com/TheKitchenNYC
Twitter: twitter.com/TheKitchen_NYC
Instagram: Instagram.com/TheKitchen_NYC