Contribute
Your support helps us cover dance in New York City and beyond! Donate now.
Mini-Global Mashup: USA Roots Meets Japan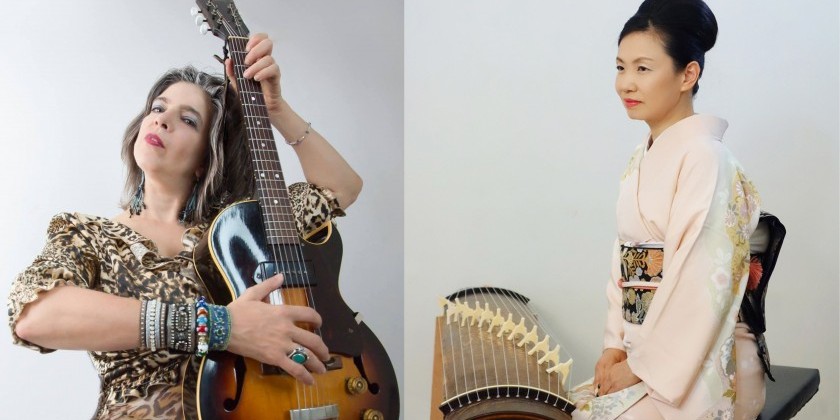 Company:
Flushing Town Hall
The Mini-Global Mashups continue through December 2022! 

Join us on Sunday, November 20th, as we welcome the following artists for our next mashup performance: 

 
Rachelle Garniez (USA Roots) 
 
Rachelle Garniez is a songwriter, singer, composer, producer, and multi-instrumentalist. Born and raised on New York City's 1970s culturally diverse Upper West Side by an American classical pianist and a European professor of French literature, Rachelle was exposed to a singular multiplicity of rich and multi-layered influences, from utopian collective free-schooling and Austrian Expressionism to the roller disco dancers and congueros of Central Park.

In 1982, at age 17, she left home and spent a year making her way around Europe. By default, she picked up a guitar and started playing folk songs on the streets of Venice and Avignon. She wound up on a beach in the south of Spain, where she was adopted by the local Gypsy flamenco singing champion and began to develop a commitment to the visceral and ephemeral mode of live music. After a year, she moved back to New York, gave away all her LPs and lived in a squat on 89th Street before eventually settling in the East Village and being hijacked by an accordion, an instrument that served to connect her with an infinitely expanding motherlode of multi-cultural music.

From her first adventures as a street musician and a fixture in the 80s New York boho scene, Rachelle went on to form a band (The Fortunate Few) and has released seven albums under her own name. In addition, Rachelle's songs have been performed and recorded by jazz artist Catherine Russell, pop singer Karen Elson, and Ingrid Lucia (The Flying Neutrinos). Besides her her own work, Rachelle has performed and collaborated with Jack White, Suzzy Roche, Sven Ratzke, Palmyra Delran, Thomas Dolby's TED House Band, beloved bar band Mumbo Gumbo, roots-world ensemble Hazmat Modine, and sonic sorcerer Sxip Shirey. Together with Terry Radigan and Amanda Homi, she is a member of VickiKristinaBarcelona Band, covering the Tom Waits catalog in three-part harmony.



Masayo Ishigure (Japan) 

Masayo Ishigure began playing the koto and jiuta shamisen at the age of five in Gifu, Japan and has created an extensive multi-faceted career that continues to stretch the limits of the koto while maintaining a strong grasp of the tradition. After initial studies with Tadao and Kazue Sawai, Masayo became a special research student in 1986 at the Sawai Koto Academy of Music -The academy incorporates many influences from classical to jazz and aims to change the perception of the koto from solely as a traditional Japanese instrument to an instrument of universal expressiveness.

Masayo Ishigure became one of a small group of virtuoso disciples of the Sawais and successfully completed the 33rd Ikusei-kai program sponsored by NHK to foster and train aspiring artists in Japanese music. In 1988, Ms.Ishigure received a degree in Japanese Traditional Music from Takasaki Junior Arts College with a concentration on koto and shamisen.
Ms. Isigure moved to New York City in 1992 and has performed at Lincoln Center, Carnegie Hall-Weill Recital Hall, BAM, Merkin Hall, Asia Society, Japan Society, Metropolitan Museum, Symphony Space and other venues in the New York City metropolitan area. She has been invited to perform at Harvard, Yale, Princeton, Columbia, the Smithsonian Institute, and was a guest artist with the San Diego Symphony, New Haven Symphony Orchestra and Seattle Symphony Orchestra.

Masayo Ishigure has appeared in concerts for the World Music Institute, Japan Society, Music from Japan, the China Institute and has participated in music festivals in Japan, Thailand, Brazil, Holland, France, Germany, Mexico, Russia, Belarus, Jamaica, Hawaii and Alaska. Masayo Ishigure also accompanied several performances by New York City Ballet Principal Dancer Mr. Peter Boal.

She has been featured in multiple television broadcasts some of which included music for CBS Master Works used during the 1998 Nagano Winter Olympics. She has also recorded koto music for use in several television commercials.
In 2005, Masayo Ishigure was a recording artist alongside Yitzhak Perlman, Yo-Yo Ma, and others on the Grammy Award-Winning soundtrack from the movie "Memoirs of a Geisha" by John Williams.

She recorded "Tori no Yoni": (Flying Like a Bird) on the CD entitled "The World of Tadao Sawai"; and Hayao Miyazaki's animation songs arranged for koto and shakuhachi on the album "East Wind Ensemble".

In 2001, she released her own solo CD entitled Grace.

In October 2014 she was invited by the Hartford Symphony Orchestra as a featured solo performer.

Masayo Ishigure has taught koto and shamisen at Wesleyan University, CT and Columbia University since 2010 and offers private lessons in New York City, New Jersey and Washington DC. 



Buy your tickets to this exciting mashup today using the link above! 

This program is generously sponsored by the Center for Cultural Vibrancy.