Monte/Buglisi/Muller - 3 female choreographers/5 works/4 shared performances‏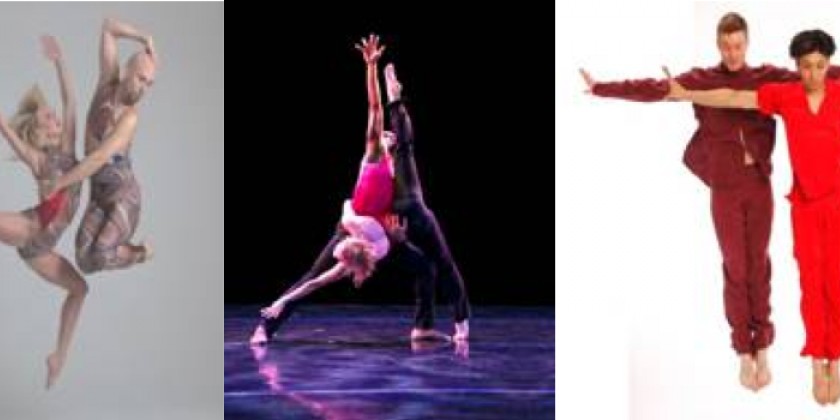 Company:
Elisa Monte Dance, Buglisi Dance Theatre and Jennifer Muller/The Works
MONTE/BUGLISI/MULLER LIVE!
Elisa Monte Dance, Buglisi Dance Theatre and Jennifer Muller/The Works
Three Female Choreographic Voices in Four Shared Performances
NY Live Arts, June 18-21
L-R – Lonely Planet, Elisa Monte Dance; Interplay No. 9-1, Buglisi Dance Theatre; Whew!, Jennifer Muller/The Works*
 
New York, NY, June 11, 2014 - Elisa Monte Dance, Buglisi Dance Theatre and Jennifer Muller/The Works will join forces for an exclusive New York run of Monte/Buglisi/Muller LIVE! Wednesday, June 18 through Saturday, June 21, at NY Live Arts. All performances are at 7:30pm.
Monte/Buglisi /Muller LIVE! will offer a unique opportunity to view three powerful female choreographic voices with careers spanning more than 30 years, together in one production. Five works, which incorporate three world premieres, will be featured each night. Thirty-five dancers will participate.
As choreographers, Elisa Monte, Jacqulyn Buglisi and Jennifer Muller are distinctly different, yet each shares the sensibility of creating work that combines virtuosic movement with an expressive edge that touches the heart – work that dances "full out" yet speaks of individual experiences and shared humanity. Their choreography allows dancers to stand out as individuals, while also allowing them to work in cohesive ensembles.
Each night, Monte/Buglisi/Muller LIVE! at NY Live Arts will present:
·         Butterflies and Demons (Buglisi) is a commission that grew out of Buglisi's ardent concern for issues of social justice and a collaboration with the Coalition Against Trafficking in Women and FBI agent Julian Sher's powerful story Somebody's Daughter. This ballet is humbly dedicated to the 21 million victims of human slavery in our world today.  Music is composed by Daniel Barnard Roumain (DBR), costumes by A. Christina Giannini and lighting design by Jack Mehler.
·         Lonely Planet (Monte) explores the growing isolation that proliferates in contemporary society, which seems to grow, not diminish, despite global inter-connectivity through technology and the ever-expanding communications options available.
·         Miserere Nobis (Muller/World Premiere), set to the incomparable music of the Allegeri: Miserere. Agnus Dei Qui Tollis Peccata Mundi, Miserere Nobis is an entreaty for mercy and grace. In an age of unspeakable conflict and cruelty, each of us asks forgiveness for all of us.
·         Untitled (Buglisi/World Premiere) The young composer Justin Dello Joio approached Buglisi with an interesting proposal that presented her with the idea of exploring a composition by him and one by his father, whose work she knew having performed in Martha Graham's Seraphic Dialogue and Diversion of Angels. 
·         Whew! (Muller/World Premiere) is a look at the value and vagaries of industrious effort. With humor, unexpected shifting moods and unwieldy relationships, the piece comments on the disassociated lifestyle that requires a non-stop 70-hour work week.
Elisa Monte Dance was founded 1981, attempting to bridge cultural barriers through the universal language of dance. From its earliest recognition on the world stage in 1982 as "Best Company" at the International Dance Festival of Paris, the company has succeeded for more than three decades. The work of Elisa Monte, a former principal dancer with Martha Graham Dance Company, Lar Lubovitch, and Pilobolus, is widely recognized for its highly athletic and sensual style, as well as its technical and physical acuity, exploring a multitude of topics and themes.
Buglisi Dance Theater is hailed for its passionate dancers, stunning theatricality and cutting-edge collaborations exploring issues of social relevance. Founded in 1993 by Buglisi and three fellow principal dancers of the Martha Graham Dance Company, BDT celebrated its 20th anniversary at The Joyce Theater.  BDT tours worldwide from Jacob's Pillow Dance Festival to the Melbourne State Theater. BDT inspires students through its arts-in-education programs in the NYC public schools, Michelle Obama's Let's Move initiative, and university residencies.  See Buglisi's Table of Silence Project at Lincoln Center on 9/11/2014, viewed via live stream 45 states and 82 countries since 2011. 
Jennifer Muller/The Works celebrates 39 years of presenting Muller's visionary approach to dance theater, creating pieces that illuminate the human spirit. The Works has electrified world audiences in 39 countries on four continents, 30 States US and 23 NYC Seasons. Known for its passion and excellence, The Works was one of the first American companies to perform in Beijing at the National Center for the Performing Arts. An award-winning choreographer, Jennifer Muller has created over 100 pieces, working with 30 international dance, theater and opera companies. In 2013, The Works presented three shared programs in collaboration with Elisa Monte Dance.
Monte/Buglisi/Muller LIVE!
Wednesday, June 18 through Saturday, June 21
New York Live Arts
219 W 19th Street
New York, NY 10011
Tel: 212.691.6500
TICKETS:
$40 (limited seats at $20)
Early Bird Tickets at $32 if purchased before May 16
Online: http://www.newyorklivearts.org/event/monte_buglisi_muller
Box Office: Tel: 212.924.0077. Monday - Saturday: 1pm - 9pm. Sunday: 1pm - 8pm
More about Buglisi Dance Theatre
More about Jennifer Muller/The Works!
Monte/Buglisi/Muller LIVE! at New York Live Arts is made possible through New York Live Arts' Theater Access Program. The Theater Access program is a comprehensive subsidized rental program benefiting a diverse group of dance and theater companies and producing organizations.
* Photo credits, L-R: ©Roy Volkmaan; Kristin Lodoen Linder; Carol Rosegg.