Monte/Buglisi/Muller LIVE! returns to New York Live Arts
Company:
Elisa Monte, Jacqulyn Buglisi and Jennifer Muller

THREE ACCLAIMED CHOREOGRAPHERS REUNITE IN
MONTE/BUGLISI/MULLER LIVE!
 "Reflections on Water"

Five Shared Performances/Four Works/Two Premieres
New York Live Arts, June 16-20 – 7:30pm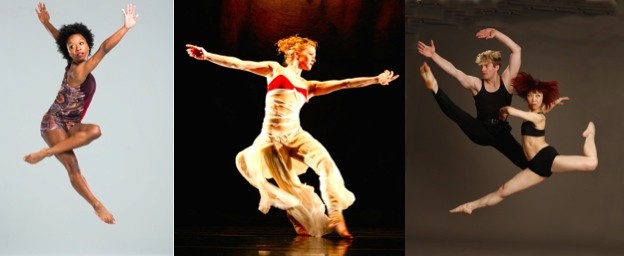 L-R – Elisa Monte Dance; Buglisi Dance Theatre; Jennifer Muller/The Works*


New York, NY, May 4, 2015 – Elisa Monte, Jacqulyn Buglisi and Jennifer Muller, three acclaimed contemporary dance choreographers whose careers span between two to four decades, will again join forces to present Monte/Buglisi/Muller LIVE! at New York Live Arts, June 16 through June 20.

This year's collaboration, Reflections on Water, comes on the heels of last year's successful Monte/Buglisi/Muller co-production at New York Live Arts (June, 2014). The upcoming performances will be the second time the three are presenting together on one stage. (Two of the companies, Elisa Monte Dance and Jennifer Muller/The Works, performed together at New York Live Arts in 2013.)

Reflections on Water will include four diverse works portraying water as, "the source of life/the destruction of life." Two of this year's dance works are premieres, with twenty-six dancers participating in five-shared performances.

As choreographers, Elisa Monte, Jacqulyn Buglisi and Jennifer Muller create work from unique points of view, yet share a sensibility that combines virtuosic movement with an expressive edge that moves minds and hearts. Their work dances "full out" yet speaks of both individual experiences and shared humanity. Their dancers push physical capability and stand out as individuals, while working in cohesive ensembles.

Each night, Monte/Buglisi/Muller LIVE! at New York Live Arts will present:
 
Alchemy (Muller/World Premiere), a piece about the crucible of change. Originally a forerunner of chemistry, alchemy concerned itself with transformation. The physical transmutation of matter became an analogy for the internal alchemy of spiritual revelation. Just as new growth forests are created by controlled burning, personal evolution often needs a violent catalyst to create a glimmer of enlightenment. Alchemy is a cutting-edge collaboration with immersive projection designer Mark Bolotin of Hyphen-Hub and Tony award-winning lighting designer Jeff Croiter; innovative costume design will enhance the work's visual impact.
Hurricane Deck (Monte) is, according to Elisa Monte, "a piece on conflict and turmoil, emotional upheaval and love gone wrong. The four couples embrace and combat simultaneously, seeking the truth and trying to regain trust.  Alternative endings have been created; the performers choose the ending at the conclusion of the piece, unique to each performance. Will trust and love, or doubt and enmity be that evenings outcome?" Music by Pulitzer Prize winner David Lang, one of the most highly-esteemed and performed American composers writing today. His works have been performed around the world and in many of the great concert halls.
Sand (Buglisi) is the first work of Jacqulyn Buglisi's environmental trilogy. Set to Philip Glass' brilliant and beautiful string quartet, the ballet is inspired by the beauty of the desert and the soil of the earth, both of which we cherish for our existence.
Sacred Landscapes 5 (Buglisi/World Premiere) - In a world in upheaval by climate change and economic turmoil, where the teachings of religion and science collide, we seek to rediscover and restore our ancient connection to the sacred landscapes that have grounded and inspired us.  Set to a commissioned score by the visionary composer Paola Prestini performed live, and with set design by Jack Mehler, this new work, dedicated to the boundless flow of our planet's water, explores the belief that sacred landscapes are passageways that facilitate access to a higher realm.  
Monte/Buglisi/Muller LIVE!
Reflections on Water
Tuesday, June 16 through Saturday, June 20
All Performances at 7:30pm.

New York Live Arts
219 W 19th Street
New York, NY 10011
Tel: 212.691.6500
info@newyorklivearts.org

FOR TICKETS CLICK HERE
June 16 - 20    7:30 pm
$40 (limited seats at $20)
Box Office: Tel: 212.924.0077. Monday - Saturday: 1pm - 9pm. Sunday: 1pm - 8pm

Elisa Monte Dance Founded in 1981, Elisa Monte Dance is hailed around the world for its visceral and sensual style and embodiment of diverse cultural influences. The company has toured throughout the United States and in more than 40 countries. EMD has been a featured performer at such prestigious festivals as Jacob's Pillow, Lincoln Center Out of Doors, BAM's Next Wave Festival and the Spoleto Festival (US and Italy). Monte has choreographed more than 50 works many seen in the repertoire of Boston Ballet, Alvin Ailey American Dance Theater, San Francisco Ballet, Teatro alla Scala Ballet, and Philadanco, among others. The company's eight dancers rise to the creative challenge in an ecstatic display of physical prowess that gives life to an intense array of emotions. At once true to its own distinctive style and eager to encompass diverse cultural influences, Monte's choreography takes a global view of movement that puts the world of dance within her audience's grasp. 

Buglisi Dance Theatre is acclaimed for its magnificent dancers, sublime theatricality and cutting-edge collaborations. Using literature, poetry, and heroic archetypes, Artistic Director Jacqulyn Buglisi crafts dances that promote awareness of global issues and the human condition.  Founded in 1993, BDT performs worldwide including The Joyce Theater, Kennedy Center, Jacob's Pillow Dance Festival and the River to River Festival to the Melbourne State Theater. Its repertoire of over 100 works is archived in the Jerome Robbins Dance Division of the NYPL, and is seen on the companies of Alvin Ailey American Dance Theater, The Richmond Ballet, Ice Theatre of New York, among others. BDT inspires students through its programs in the NYC public schools, Michelle Obama's Let's Move initiative, and university residencies. Committed to empowering community through art, BDT embraces 100 + dancers in The Table of Silence Project 9/11, a multi-cultural tribute for peace at Lincoln Center, and seen by 30,000+ viewers in 82 countries via live stream.

Jennifer Muller/The Works celebrates 40 years of presenting Muller's visionary approach to dance theater, creating pieces that illuminate the human spirit. The Works has electrified world audiences with its passionate work and extraordinary dancers in 39 countries on four continents, 30 states in the US, and at 25 NYC Seasons. Venues include Lincoln and Kennedy Centers, The Joyce, City Center and David H. Koch Theaters; Bryant and Central Parks and the United Nations. The Works' outreach programs reach 4,000 youth and mentor 50 choreographers annually. Muller has created over 115 pieces, working with 30 international dance, theater and opera companies and collaborating with such artists as Keith Haring, Keith Jarrett and Yoko Ono. Her prolific career has led to honors: Forteleza's Trophy of Cultural Responsibility, an American Masterpieces: Artistic Genius Grant and the publications: Tanz-Plan Berlin's Tanztechcik 2010 and Transformation & Continuance: Jennifer Muller and the Reshaping of American Modern Dance, 1959 to Present.

Find out more:
Elisa Monte Dance
Buglisi Dance Theatre
Jennifer Muller/The Works!

Monte/Buglisi/Muller LIVE! at New York Live Arts is made possible through New York Live Arts' Theater Access Program. The Theater Access program is a comprehensive subsidized rental program benefiting a diverse group of dance and theater companies and producing organizations.

* Photo credit, L-R: JoVonna Parks ©Matthew Murphy – Elisa Monte Dance; Helen Hansen French © Kristin Lodoen Linder - Buglisi Dance Theatre; Michael Tomlinson and Seiko Fujita ©Carol Rosegg – Jennifer Muller/The Works.