Montréal-based Contemporary Flamenco Company LA OTRA ORILLA performs at Jacob's Pillow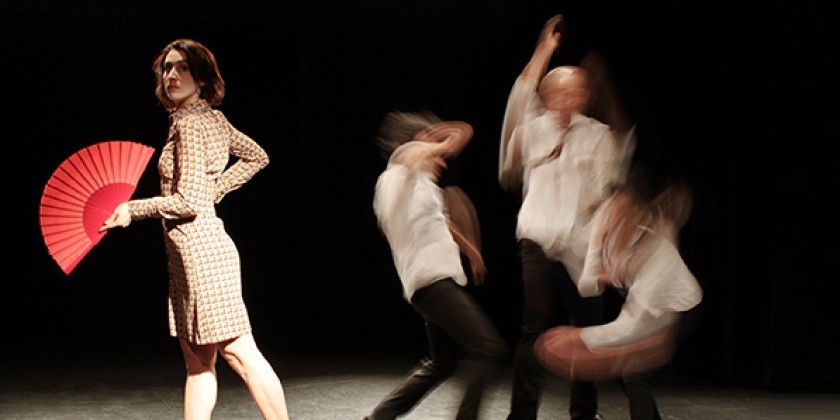 Company:
LA OTRA ORILLA
MONTRÉAL-BASED CONTEMPORARY FLAMENCO COMPANY LA OTRA ORILLA PERFORMS WORLD PREMIERE AT JACOB'S PILLOW, AUGUST 12-16
August 6, 2015 – (Becket, MA) Returning to Jacob's Pillow after its popular 2013 U.S. debut, innovative flamenco company La Otra Orilla will perform the world premiere of Moi&lesAutres August 12-16 in the Doris Duke Theatre. Founded in 2006 by dancer and choreographer Myriam Allard and singer-director Hedi "el Moro" Graja, La Otra Orilla merges traditional flamenco dance with a rebellious contemporary twist and "magnetic energy that heats up the stage" (Aline Apostolska, La Presse). Moi&lesAutres features live music performed by Graja, composer and guitarist Caroline Planté, and percussionist Miguel Medina, as well as intricate costumes created by Canadian designer Marianne Thériault, and lighting by Étienne Boucher.   
Moi&lesAutres, which directly translates as "Me and the Others," explores the often complicated art of relating to one another. Allard's theatrical solo work draws on the close connection and communication between the musicians who are actively involved in the production. Moi&lesAutres demonstrates La Otra Orilla's signature blend of flamenco language that is revolutionary, poetic, and deeply rooted in the present. Allard, "a true agent provocateur, pushing flamenco forward to achieve creative goals," (Kaija Pepper, The Dance Current) is accompanied by an original score composed by Planté with Graja's husky vocals. Planté has more than 20 years of musical experience and is the co-director and artistic director of the Montréal Flamenco Festival. She has worked with La Otra Orilla since 2009, composing music for previous works including El12, Unplugged, and HomoBLABLAtus.
Dancer, choreographer, and co-artistic director Allard moved to Spain at age 21 and studied with flamenco masters Manolo Marin, Ciro, Andrés Marin, Rafaela Carrasco, and Israel Galvan, and later performed in traditional tablaos flamencos in Spain, Germany, France, and Japan. After six years of training and performing in Europe, Allard moved to Montréal and founded La Otra Orilla (The Other Shore) with Graja in 2006. Montréal's La Presse praised Allard as "a magnificent flamenco dancer — energetic, magnetic, respectful of formal purism, and completely free in reinterpreting tradition with her resolutely contemporary vision" (Aline Apostolska).
Co-founder and self-taught vocalist Graja is "a passionate singer, a low baritone, and not the traditional flamenco tenor" (Paula Citron, Globe and Mail) whose unconventional flamenco career began in Seville, Spain where he listened to the great cantaores (flamenco singers) and participated in local "fiestas" before co-founding La Otra Orilla with Allard. Together Allard and Graja create radical flamenco works with a theatrical modern approach, often incorporating multimedia elements into their performances, while still honoring the timeless, universal appeal of this art form that is deeply rooted in tradition.
PILLOW CONNECTIONS
La Otra Orilla had its U.S. debut in 2013 in the Doris Duke Theatre with performances of El12, a production created in 2010 that fused flamenco dance with contemporary elements, theatrical video production, and live music.
Allard and Graja will hold an all-ages and all-levels flamenco class, where participants will learn the basic elements of flamenco, on Sunday, August 16 from 10-11:30am. $15 per person, free to observe; call 413.243.9919 to register.
PERFORMANCE AND TICKET INFORMATION

LA OTRA ORILLA
Doris Duke Theatre
Wednesday, August 12 through Saturday, August 15 at 8:15pm
Saturday, August 15 and Sunday, August 16 at 2:15pm