Contribute
Your support helps us cover dance in New York City and beyond! Donate now.
Moon Festival in Harlem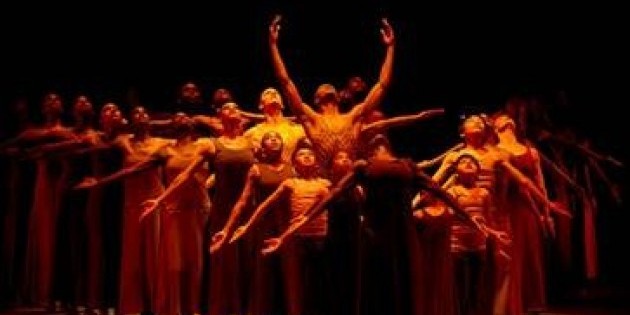 Company:
Nai-NI Chen Dance Compan
NAI-NI CHEN DANCE COMPANY
'MOON FESTIVAL in HARLEM'
October 15-17 (Friday & Saturday at 8 PM; Sunday at 3 PM)
Harlem School of the Arts, 645 Saint Nicholas Avenue at 141 Street
(by subway: A train to 145th St. station - HSA is one block South of station, on
Tickets: 5; 0 for seniors & children 12 and under
"A choreographer of often sumptuously theatrical visions."
(The New Yorker, March 2009)
The Nai-Ni Chen Dance Company will present a delightful program of company highlights to celebrate the Mid-Autumn Moon Festival, one of the most important holidays on the Asian calendar, at the Harlem School of the Arts, October 15-17. A day rich in myth and history, the full moon is often associated with family, unity, art and immortality. Each dance on the program is infused with the energy Ms. Chen has acquired in residence since 1997 at the Harlem School of the Arts, and reflects her background as an immigrant artist who continually incorporates new and diverse ideas into her work.
The program will include the delicious Raindrops and The Way of Five -- Fire, set to music by Tan Dun. When presented in 2008, Robert Johnson remarked on that program's "broad, dynamic range, from the delicacy of Raindrops, where hands extended to catch the spattering rain....to the impassioned duel that comes at the center of The Way of Five -- Fire." (Star-Ledger, April 21, 2008)
Incense is set to music by Chen's frequent collaborator, the unique composer/performer Joan La Barbara. This exploration of faith is informed by the choreographer's experience of witnessing the daily prayers and offerings in Chinese temples in her native Taiwan.
The Peacock Dance imitates the movements of the exotic bird as it runs, walks, drinks water, and grooms. The peacock is considered particularly sacred among the Dai people in the Yunnan province of China.
Premiered in 2009, Mirage is inspired by the unique rhythms and dance movements of the Uyghur people of Xinjiang, China. Music is by another frequent Chen collaborator, the superb percussionist Glen Velez, and was commissioned by the American Music Center. Critic Sasha Deveaux found that "the driving score of Glen Velez has many layers, and the dancers animate each one beautifully." (www.idanz.com, March 14, 2009)
The celebratory finale is Festival, where "the whole company joined in a procession of dancing, tumbling, flag dances and a calligraphic extravaganza of long silk scarves in bright colors, foaming and spurting above the stage." (Marcia Siegel, The Phoenix, May 13, 2008).