Contribute
Your support helps us cover dance in New York City and beyond! Donate now.
Moscow City Ballet's "Don Quixote"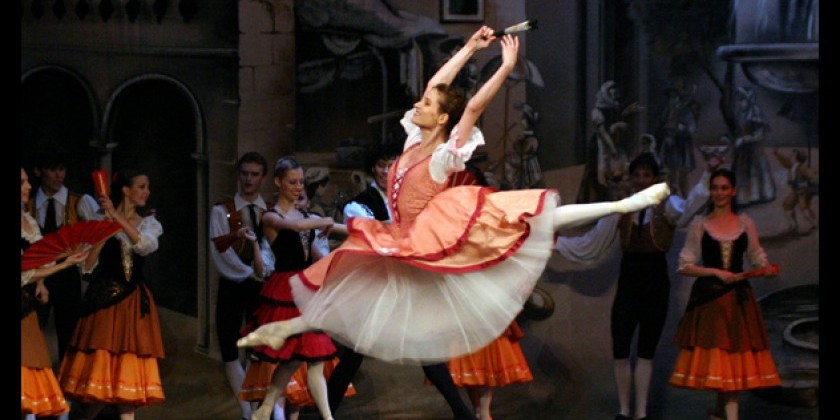 Company:
Brooklyn Center for the Performing Arts
Brooklyn Center for the Performing Arts at Brooklyn College continues its 60th Anniversary Season with Moscow City Ballet's Don Quixote, inspired by Miguel de Cervantes' classic story of valiant knights and old-fashioned romance, on Sunday, March 15, 2015 at 3pm. Tickets are $36-45 and can be purchased at BrooklynCenter.org or by calling the box office at 718-951-4500 (Tue-Sat, 1pm-6pm).
Based on an episode from Cervantes' famous novel, Marius Petipa's whimsical and romantic Don Quixote follows its title hero as he travels to Barcelona in pursuit of honor and the lovely Dulcinea. Accompanied by Ludwig Minkus' colorful score, the world-touring company led by Ludmila Nerubachtchenko, vividly depicts the joyous and comedic adventures of Don Quixote and his squire Sancho Panza.
The performance will feature Yulia Zhuravleva as Kitri, Talgat Kozhabaev as Basil, and Alexander Gavrilov as Don Quixote, along with Valerii Kravtsov (Sancho Panza), Sergey Saliev (Espada, Fandango), Alevtina Kasatkina (Street Dancer), Anna Ivanova (Kitri's Friend, Grand Pas Variations), Kateryna Tokareva (Kitri's Friend, Grand Pas Variations), Yaroslav Alekhnovich (Kitri's Father), Sofia Antonyants (Maid), Dmitriy Trukhachev (Gamash), Liliya Orekhova (Queen of Dryads), Maria Khrapova (Cupid), Luidmila Titova (Gypsy, Fandango), Anastasiya Shiladjan (Mercedes), Elena Kotelkina (Carmencita), Albina Golikova (Guitar Dance), and Liubov Lysak (Guitar Dance).
The return of the Moscow City Ballet to the United States in March, 2015 is a tribute to the founding artistic director and choreographer Victor Smirnov-Golovanov, who passed away in April, 2013.
About Moscow City Ballet
The Moscow City Ballet was founded in 1988 by distinguished Russian choreographer Victor Smirnov-Golovanov and his wife, Ludmila Nerubachtchenko. The company was the outcome of the reforms in post-Soviet Russia of that time. It is a private enterprise, and is not subsidized by the government. The company's first international tour appearance was in 1989 in Seoul, Korea. Its success outside of Russia makes it one of Russia's most extensively touring ballet companies. Since 1988, Moscow City Ballet has appeared in Belgium, Cyprus, Egypt, Holland, Hong-Kong, Ireland, Israel, Japan, Estonia, Peoples Republic of China, Philippines, Republic Korea, R.O.C. Taiwan, Singapore, United Kingdom, United States, and, naturally, in Russia itself.
The company's greatest success has been in the United Kingdom where it has given more than 1000 performances since 1991, accompanied by the National Ballet Orchestra. Considering classical ballet to be an important part of the national heritage of Russia, Victor Smirnov-Golovanov aimed to bring the company's performances to as wide a public as possible, especially the new generation of ballet-going youngsters.
Smirnov-Golovanov's own productions, as well as older versions of the classical ballets, all share a clearly-defined style, ideas and choreographic integrity, setting high performance standards for himself, and the company. Moscow City Ballet is renowned for the perfection of its corps de ballet in the best traditions of the Russian school of classical ballet. The company's unique style is ensured by the unceasing efforts, both in production and rehearsal, of its new artistic director, Ludmila Nerubachtchenko.
Brooklyn Center for the Performing Arts' presentation of Moscow City Ballet's Don Quixote is supported by Macy's.
Brooklyn Center for the Performing Arts
Whitman Theatre at Brooklyn College
2 train to Brooklyn College/Flatbush Avenue
Online orders: BrooklynCenter.org
Box Office: 718-951-4500, Tue-Sat, 1pm-6pm
About Brooklyn Center for the Performing Arts
Founded in 1954, Brooklyn Center for the Performing Arts at Brooklyn College presents outstanding performing arts and arts education programs, reflective of Brooklyn's diverse communities, at affordable prices. Each season, Brooklyn Center welcomes over 65,000 people to the 2,400 seat Walt Whitman Theatre, including up to 45,000 schoolchildren from over 300 schools who attend their SchoolTime series, one of the largest arts-in-education programs in the borough. In recognition of its commitment to quality family programming, Brooklyn Center for the Performing Arts has been recognized as both Brooklyn's Best Theater or Theater Group for Kids and Brooklyn's Best Place for Family Bonding by ParentsConnect Parents' Picks Awards. In 2014-15, Brooklyn Center celebrates its 60th Anniversary Season of presenting world-class performances on the Brooklyn College campus.
Brooklyn Center for the Performing Arts' programs are supported, in part, by public funding from the New York City Department of Cultural Affairs in partnership with the City Council. Brooklyn Center's 60th Anniversary Season is made possible by the New York State Council on the Arts with the support of Governor Andrew Cuomo and the New York State Legislature. Major support for the 2014-15 season is provided by: Brooklyn College, Target, Con Edison, TD Bank, National Grid, Macy's, Shanachie Entertainment Corp, The Sadkhin Complex, Inc., the Herman Goldman Foundation, The Harkness Foundation for Dance, the Jazz Touring Network, the Alice Lawrence Foundation, the Pierre and Tana Matisse Foundation, the Mertz Gilmore Foundation, the Mid Atlantic Arts Foundation, the Henry and Lucy Moses Fund, Inc., and the TD Charitable Foundation. Additional support provided by CNG Publications, The Brooklyn Eagle, WFUV, and WBGO Jazz 88.3 FM. The Fairfield Inn & Suites by Marriott New York Brooklyn is the official hotel of Brooklyn Center's 60th Anniversary Season. Backstage catering is graciously provided by Applebee's.
Brooklyn Center for the Performing Arts gratefully acknowledges generous support from New York State Assembly members Rhoda Jacobs, Alan Maisel, Félix Ortiz, Annette Robinson, and Helene Weinstein, New York City Council Speaker Melissa Mark-Viverito, and Commissioner of Cultural Affairs Tom Finkelpearl.