Mount Tremper Arts Summer Festival, Jun 15 - Aug 24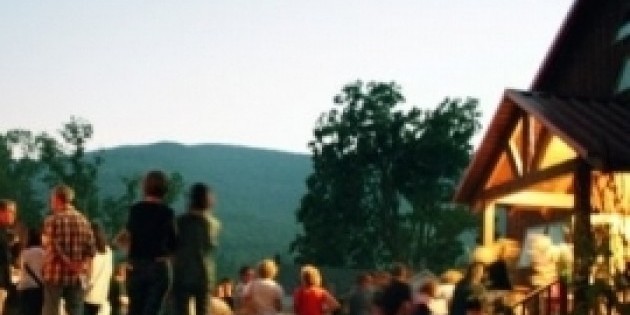 Sixth Annual Festival Features Adventurous Artists, Intimate Audience Experiences and Unique 'Art-B-Qs,' All Nestled in the Catskill Mountains
MOUNT TREMPER ARTS SUMMER FESTIVAL 2013 TO FEATURE CONTEMPORARY DANCE, MUSIC, PERFORMANCE AND SPOKEN WORD, JUNE 15 – AUGUST 24
Sixth Annual Festival Features Adventurous Artists, Intimate Audience Experiences and Unique "Art-B-Qs," All Nestled in the Catskill Mountains
"If your summer has room for only one quick dance getaway, you won't do better than this interdisciplinary, artist-run festival in the Catskills." –
The New York Times
Mount Tremper Arts has quickly established itself as an innovative arts center that supports and presents leading contemporary artists in the remarkable setting of the Catskill Mountains. Its 6th annual Summer Festival not only showcases risk-taking work, but also fosters an environment where audiences and artists can come together to form a community that values dialogue and experimentation. Inspired in part by the locavore movement, Mount Tremper Arts is itself an experiment—one rooted in the idea that place and context matter.
The organization is pleased to announce the lineup for the sixth annual Mount Tremper Arts Summer Festival, 11 weeks of programming where art can be a radical adventure and audiences, along with artists, can have a relaxing environment for nourishing their shared curiosity.
This year's programming features:
Groundbreaking Music Events
• The award-winning International Contemporary Ensemble (ICE) and The Troupe perform the world premiere of Mesh, about vulnerability, connection and fundamental aspects of shared experience.
• ICE Flutist and MacArthur Fellow Claire Chase and percussionist Svet Stoyanov explore facets of loneliness in composer Marcos Balter's Poe, a world premiere music drama based on Edgar Allen Poe's "Alone."
• A daylong, site-specific performance of Robert Ashley's landmark Perfect Lives, adapted by composer-performer collective Varispeed and staged throughout the Catskills in a market, bank, church and other locales.
• Varispeed attempts to perform composer Art Jarvinen's "unperformable" Adult Party Games from the Leisure Planet, a collection of wild performance pieces, text scores and musical activities.
• Dancer Michelle Boulé and cellist Okkyung Lee push sonic and choreographic boundaries to the edge in BREAK>Urge>Imprint, an atmospheric work rooted in improvisation.
• Performed in darkness, lit only by moving LED candles, choreographer Abigail Levine's Distance Measures borrows elements from mathematical models of chaotic systems.
• Bessie Award-winner Karinne Keithley Syers's interdisciplinary solo Another Tree Dance is a serene, yet demanding, meditation on a life and the creative practice.
• Born in Burkina Faso, Souleymane Badolo explores his African heritage and traces the journey of his great-great grandfather in the powerful solo Buudou, BADOO, BADOLO.
Boundary-Pushing Performance and Spoken Word Events
• Actor Paul Lazar channels artist Suzanne Bocanegra in a unique work that's part artist's talk, part performance, part cultural history and part sound installation.
• Poets Craig Dworkin and Mónica de la Torre premiere new work in Pork and Poetry!
• The beloved and irreverent CATCH curates a special edition of their multi-disciplinary performance series.
This year's festival includes three Art-B-Qs (June 29, August 17 and 24), signature events that best capture the essence of Mount Tremper Arts. In these hybrid evenings, artists share their work with audiences, and then all feast together on produce harvested from the Mount Tremper Arts garden along with meats provided courtesy of Fleisher's Grass-fed & Organic Meats. Dinner is prepared by Mount Tremper Arts Artistic Director and Co-Founder Mathew Pokoik.
Pokoik commented, "In subtle, but important ways, Mount Tremper Arts offers an alternative to the prevailing model of creating and experiencing art—an antidote to spectacle. A necessary and fun alternative based on the beliefs that art can truly be transformative for all, that a question can offer insight, and that a simple conversation can be a doorway."
Individual tickets for all performances, except Perfect Lives, and Art-B-Qs (including dinner and performance) are 0, and are available at mounttremperarts.org, 866-811-4111 and in-person at the box office (one hour before the event begins). All events, except Perfect Lives, begin at 8pm. Season tickets, priced at 5, provide access to all events including the Art-B-Qs.
Mount Tremper Arts is located at 647 South Plank Rd in Mount Tremper, NY near the towns of Phoenicia and Woodstock, approximately two hours from New York City. Shuttle vans from Williamsburg, Brooklyn will be available on June 22, July 13, August 17 and 24. Priced at 5, these tickets include round-trip transportation and admission for one.
Visit mounttremperarts.org or call 845-688-9893 for more information.