Contribute
Your support helps us cover dance in New York City and beyond! Donate now.
Movement Research Spring Workshops: Register Now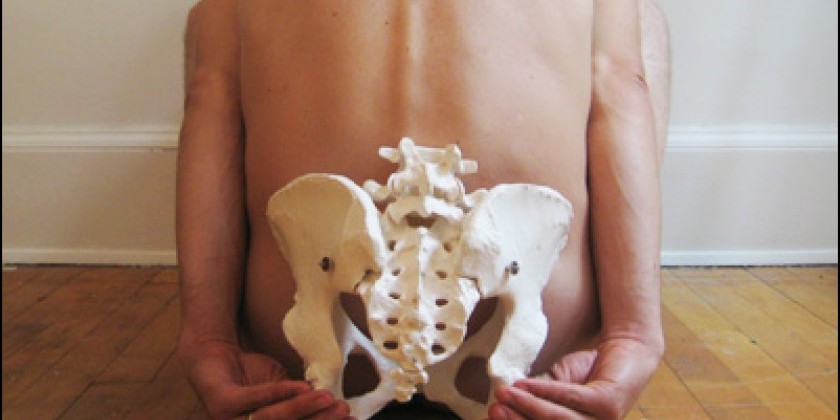 Company:
Movement Research
Image © BodyCartography Project
 
Movement Research is excited to announce the workshop lineup for the Spring 2015 Season. 

Olive Bieringa and Otto Ramstad lead "Pelvis: Motility and Mobility" for one weekend March 21-22. For four Saturdays in April, a workshop with Susan Rethorst "A Choreographic Mind", and in May a one-day workshop with Melinda Ring "Composing Relationships." 

Janet Panetta's International Dance Dialogues program resumes in June with two workshops with Chrysa Parkinson, and one with Antwerp-based choreographers Claire Croizé and Étienne Guilloteau. 

The Sunday Process Labs series continues on Sunday evenings and includes artists from a variety of backgrounds who will share their practices; drop in anytime for only $5.

Online registration is now open on www.movementresearch.org. We highly recommend registering in advance; all workshops have limited capacity.

WORKSHOPS
Olive Bieringa and Otto Ramstad
March 21-22 SAT SUN 4:30-8:30pm $80
Movement Research at Eden's Expressway

REGISTER
Pelvis: Motility & Mobility
This workshop will focus on the pelvis: embryology, bones, muscles, organs and glands and how we can utilize our embodied anatomy in our practice of moving. Through hands on practice we will dive into the systems of the body and create a deep foundation from which to expand our physical potential, and heighten our sensory awareness. Workshop is for anyone who wants to feel great and learn more about their pelvis and its contents.
Olive Bieringa and Otto Ramstad are choreographers and certified teachers of Body-Mind Centering®. They teach BMC trainings internationally at Movement Research, Impulstanz, Vienna, Institut del Teatre, Barcelona, Lyon Opera Ballet amongst others. Over their sixteen year collaboration as the BodyCartography Project they have created performances, films and installations around the world and in New York at PS122, Danspace, DTW and American Realness.
Susan Rethorst
April 4-25 SAT 4:30-7:30pm $120
Movement Research at Eden's Expressway
A Choreographic Mind
I teach from the point of view that making is an endless quest with ever shifting ground. I encourage an attitude of fueling work with one's questions, not regarding plans or themes as prerequisites. I regard teaching as a conversational mode; my exercises are proposals in action. I am interested in giving students the ability to recognize and access states necessary to making work; intuition, perception, cognition, interiority, emotional distance, spontaneity, pleasure, will, reflection, humor.

Since 1975, Susan Rethorst has created dances out of New York City. Rethorst's work has been presented by The Museum of Modern Art, The Kitchen, Dance Theater Workshop, Danspace Project, The Downtown Whitney Museum, among others, as well as at various dance theaters, universities, and festivals throughout the U.S. Internationally her work has been produced by The Holland Festival, Spazio Zero Rome, The Kunsthalle Basel, The Aix-en-Provence Festival, among others. 

Melinda Ring
May 2 SAT 4:30-7:30pm $30
Eden's Expressway, 537 Broadway
REGISTER
 
Composing Relationships
Not as beginners, but with a beginner's mind, we'll examine and question the relationships (actual and conceptual) that we want to manifest in our dances. We'll work through a variety of exercises to gather compositional tools in how to extend movement from one person to another. Please note: we'll be working in a territory where lifts occur by happenstance, not design, and in a world where contact improvisation has yet to be invented.

Melinda Ring is an artist exploring a liberal definition of choreography, creating dances, performance pieces, videos and installations. Recent works have been commissioned and presented by The Kitchen, Danspace Project, The Box L.A., and Headlands Center for the Arts. She is a 2014 Movement Research AIR and currently a critic in sculpture at Yale School of Art.
SUNDAY PROCESS LABS

Select Sundays 5-8pm
Eden's Expressway, 537 Broadway
$5 each

Sunday Process Labs are a series of three-hour, low-cost sessions on Sunday evenings, providing an opportunity for a dynamic exchange amongst peers in a lab-type setting. Sessions are facilitated by movement-based artists who will share their individual creative practices and process.

March 1 Will Rawls

The focus of this interdisciplinary lab will be how rhythm functions as a device for marking time, shaping movement and establishing relations among ideas. The participants will explore a series of compositional exercises in speech and movement, embodying a set of personally motivated ideas and creating material that might be useful for further development beyond the workshop. Please bring 1-2 texts that are particularly inspirational or relevant to you at this moment. We will start with a group warm up geared to engage the voice and the body. Open to all skill levels.
March 15  Kim Brandt
Makers of all kinds will be guided through a process of identifying habits, assumptions and expectations in our artistic practice. Through personal writing and group discussion, we will explore new approaches to our own modes of creation. Bringing clarity to our artistic interests and approaches, and finding comfort with unknown outcomes, we will begin developing new pieces with the main objective to surprise ourselves in an open and non-judgmental environment. Participants must bring notebook and writing utensils and/or laptop; additional art materials welcome but not necessary (non toxic materials only). 
March 29 Stanley Love
The exact structure of this lab will depend on how many participants are present. Each person should bring a piece of music they love very much (bring more than one if you can't decide) and we will be starting with the emotional life-force of the song that moves you, a channeling place of freedom. Once we have something that is connected to the creator we will work on using logic, technique and structure to come up with a phrase that embodies the soul of the song and yourself, and also has a designed container that is not restrictive.
May 3 Aretha Aoki
The Dancer is a Haunted House I would like to share some improvisation structures and containers for research that I have found fruitful in making and performing. We will invite the seen and unseen murmurings of past, present, and future to surface in spontaneous dancing, writing, sounding, and speaking--using the principles of automatic writing to structure improvisations that move between language and body mind. We will use our imaginations to extend the boundaries of the self into the unknown so as to be more weathervane than conductor: pointing the direction of the wind, not making the wind happen. Participants of any movement background or experience level welcome.
May 17 Courtney Krantz & Tara O'Con
In this process lab we will look at various clips of influential film and video works that span from the dawn of the moving image to the present day. Our interests will be focused on the uses of cinematography and editing as unique types of physical explorations as well as documents of time. Along with watching clips, we will engage in some group exercises to further activate ourselves within the space and with one another (no dancing experience necessary - all abilities welcome!).
INTERNATIONAL DANCE DIALOGUES
Chrysa Parkinson
TWO WORKSHOPS, $60 each
Avenue C Studio, 55 Avenue C
June 3-5 WED THU FRI 12-2:30pm
Dancers: Comprehension and Constitution
Being Understood and Making Things Up

June 10-12 WED THU FRI 12-2:30pm
Dancers: Looking Forward to Looking Back
Documenting Embodied Enactment
 
Chrysa Parkinson is a dancer living in Brussels, Belgium and Berkeley, California. She lived in New York for many years and performed with Tere O'Connor Dance, Irene Hultman, Mia Lawrence, Jennifer Monson and Mark Dendy, among others. She began traveling to Belgium in 2000 to work on improvisational performance with Zoo/Thomas Hauert and David Zambrano. Since then she has also performed with: Veli Lehtovaara, Remy Heritier, Boris Charmatz, Andros Zins-Browne, Rosas/Anne Teresa De Keersmaeker, Jonathan Burrows, Mette Ingvartsen, Philip Gehmacher, Eszter Salomon, John Jasperse, Deborah Hay, Alix Euynadi, Meg Stuart and Joaquim Koester. She has taught in the US, Europe and Australia, and yearly at P.A.R.T.S. (be) since 1998. Chrysa's writing and films have been published and distributed internationally. Her most recent documentation is available at Oralsite.be The Dancer as Agent Collection. She is the Director of the New Performative Practices MFA program at DOCH in Stockholm.Not as beginners, but with a beginner's mind, we'll examine and question the relationships (actual and conceptual) that we want to manifest in our dances. We'll work through a variety of exercises to gather compositional tools in how to extend movement from one person to another. Please note: we'll be working in a territory where lifts occur by happenstance, not design, and in a world where contact improvisation has yet to be invented.

Workshop descriptions coming soon.

Check the International Dance Dialogues website in a few weeks.
Claire Croizé and Étienne Guilloteau 
June 3-5 WED THU FRI 12:00pm-2:30pm 
Avenue C Studio, 55 Avenue C
$75 full workshop, $18 single day

REGISTER
 
Recomposition

During our last creation, "Synopsis of a Battle", we developed a physicality based on decomposition and articulation of shapes drawn from different dance styles we knew from our own physical experience (ballet, Cunningham, release technique, modern, etc.) as well as "cheap imitations" of various techniques, movements and forms that we've seen that remain in our memory or imagination. We will play and recompose at will with all those facets lying within ourselves and give shape to them. It is a work with the body that tries to make visible the various layers that compose one body history. Every individual story is the proof that all those disparate elements can find a coherence in the body and its representation. Facing it is an attempt to find a coherence for oneself.

Claire Croizé (Fr) graduated from P.A.R.T.S. in 2000 and has been active since as a choreographer and dancer, developing an artistic practice strongly based on the relationship between movement and music. Her solo, The Farewell, was awarded the Prix Jardin d'Europe. Her last production Primitive is an open air creation made with three young talented dancers, that premièred in June 2014 in Paris at the Atelier de Paris/Carolyn Carlson during the June Events Festival and toured extensively in Europe.

Étienne Guilloteau (Fr) graduated from P.A.R.T.S. (Brussels) in 2002. His choreographic work focuses on the dramaturgical relationship between dance, music, poetry and light. His work was presented in many theaters and international festivals in Europe. In 2013, he was invited by C.House/Toronto Dance Theatre to create a work for the company, as well as premiered Synopsis of a Battle in Kaaitheater in the context of La Biennale of Charleroi Danses.
Together with Nada Gambier, Claire and Etienne created the company Action Scénique in 2008. www.actionscenique.be