Movement Research Studies Project Events Winter/Spring 2015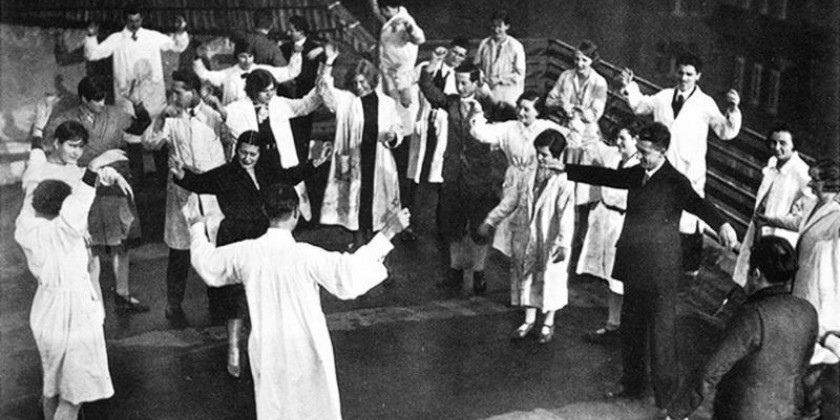 Company:
Movement Research
Studies Project Series
Winter / Spring 2015

January 20: The Role of Class in Current Dance Practices
February 3:  Artists in K-12 Schools
March 3: Dance and Publish
April 7: being a body out loud
May 5: Dance and Labor


All events take place at 6:15pm
Gibney Dance Choreographic Center at 890 Broadway, 5th Floor (between 19th & 20th Streets) New York, NY 10003
 
RESERVATIONS NOT REQUIRED and ADMISSION IS FREE

Morning exercises on the roof of Itten College, 1931,
from: "Design and Form: The Basic Course at the Bauhaus and later" by Johannes Itten
About Studies Project

Studies Project is series of artist-instigated panel discussions, roundtables, performances and/or other formats that engage issues of aesthetics, philosophy and social politics relevant to the dance and performance community. All Studies Project events are free and open to the public.


January 20
The Role of Class in Current Dance Practices

Conceived in conversation with MR Faculty
Organized by MR in collaboration with 
Beth Gill, Lance Gries, Eva Karczag and Gwen Welliver 
Come listen in on a series of brief and intimate discussions with various teaching artists, addressing questions and ideas about dance and movement-based class through their own practices and histories. Afterwards, everyone present is invited to actively participate in smaller group conversations with an opportunity to share insights and proposals with the larger group. Participating speakers include Julian Barnett, Michelle Boulé, Wendell Cooper, Jeanine Durning, Barbara Forbes, Zvi Gotheiner, K.J. Holmes, John Jasperse, Joanna Kotze, Nia Love, Juliette Mapp, Cori Olinghouse, Janet Panetta, Shelley Senter, Vicky Shick, RoseAnne Spradlin, Karinne Keithley Syers and Jesse Zaritt.

What role does "class" play in current dance practices? As contemporary teaching artists attempt to articulate new methods of transmitting knowledge through the body, so too are performers of contemporary dance and performance work drifting away from relying exclusively on traditional and codifiable techniques. How can we get the most out of the structures that exist and/or create new ones as we relate these models to the way people make work now? This conversation with teaching artists and practitioners will engage these seemingly intangible questions with concrete practices and proposals. 
February 3
Artists in K-12 Schools 
Conceived by Diana Crum 
Panelists include Lynn Brown, Donna Costello, Jessica Nicoll, Jules Skloot
and more 
What is the role of the dance teaching artist in schools? Many artists make a living by teaching grades K-12 in the NYC school system. Is their goal to share their artistic practice, the ideology behind their aesthetic, tools for making art, historical reference points, movement skills, or something else? Hear experienced voices from different arenas of dance-in-education and share your own questions and ideas. Reflect on your own practice and how the work of teaching artists impacts education and culture in this city.
March 3
Dance and Publish 
 
Hosted by Biba Bell, Moriah Evans and Will Rawls
How can Movement Research's two publications, the Movement Research Performance Journal and Critical Correspondence, collaborate and extend their reach? This Studies Project will examine the role of both print and digital publishing at MR, and then invite public discussion about how to analyze and optimize the circulation of dance ideas within artist networks, academic curricula, arts publishing and cultural discourse.
April 7
being a body out loud
Conceived by Ni'Ja Whitson Adebanjo, Tara Aisha Willis, and more 
Living a body that shouts through the underbelly, a protested or protesting body, a black body, a body of the multitudes, a body of color, a body no one believes, a body of rage or exhaustion, a body on the ground outlined in chalk. Our current moment's choreographies and vocabularies - gestures, chants, dances, collective actions - reveal (and disrupt) practices of living. What experiences do we hold in memory and body, and how do we hold them? With reverence? Power? Performers and writers respond with you.
May 5
Dance and Labor

Organized in dialogue with Movement Research, luciana achugar, Abigail Levine and Kathy Westwater
 
How is dance labor valued? How has it been valued? How might it be? And how can we affect the value assigned to this labor? These questions will be considered across a spectrum of contexts, including individual and institutional, organized and spontaneous, and historical and anecdotal to explore how performance and dance function within our current artistic, economic and labor realities.
STUDIES PROJECT
A series of free artist-instigated panel discussions, roundtables, performances and/or other formats that engage issues of aesthetics, philosophy and social politics relevant to the dance and performance community. 
Contact us to discuss your ideas for a Studies Project. Proposals for the Studies Project series are accepted and reviewed on an ongoing basis. Please include a description of the issues to be investigated, the format (panel discussion, film screening, etc), and a list of potential artists involved.
MOVEMENT RESEARCH MISSION STATEMENT   
Movement Research is one of the world's leading laboratories for the investigation of dance and movement-based forms. Valuing the individual artist, their creative process and their vital role within society, Movement Research is dedicated to the creation and implementation of free and low-cost programs that nurture and instigate discourse and experimentation. Movement Research strives to reflect the cultural, political and economic diversity of its moving community, including artists and audiences alike.
 
Movement Research accomplishes its mission through a range of programs including ongoing classes and workshops taught by artist educators and innovators; creative residencies offered for choreographers and movement-based artists; twice-annual festivals bringing together leaders in the field; and publications and public events providing artists with forums for discourse on a broad range of issues.
ACKNOWLEDGEMENTS
Movement Research gratefully acknowledges public support from the National Endowment for the Arts (a federal agency); the New York State Council on the Arts with the support of Governor Andrew Cuomo and the New York State Legislature; the New York City Department of Cultural Affairs in partnership with the City Council as well as City Council Member Rosie Mendez; and Materials for the Arts, (a program of NYC Department of Cultural Affairs, NYC Department of Sanitation, and NYC Department of Education). Movement Research also gratefully acknowledges the generous contributions of private support from the Andrew W. Mellon Foundation; Arthur B. Monroe Family Fund; Davis/Dauray Family Fund; Harkness Foundation for Dance; James E. Robison Foundation; Jerome Foundation 50th Anniversary Grant; Lambent Foundation; Mertz Gilmore Foundation; New York University Community Fund; Shapiro Family Fund; Trust for Mutual Understanding; William & Karen Tell Foundation; from MRX partners Austrian Cultural Forum New York and Konstnärsnämnden/The Swedish Arts Grants Committee; and from all of the dear Friends of Movement Research, who contribute financial support, labor and love.

Thanks always to the clergy, staff and congregation of Judson Church; Judson continues to be a beacon for free spirits in the arts and politics and a leader among progressive faith communities in the city and nation for over 100 years. Enormous gratitude to Frances Alenikoff (1920-2012), founder of Eden's Expressway, and to her daughter Francesca Rheannon and family, for their continuing belief in the mission of Movement Research and for keeping alive Frances' spirited example of what lifelong artistry is. Many thanks to Gibney Dance Center for its partnership in hosting the Studies Project series, classes and workshops; and to Danspace Project for hosting classes. Special thanks to East Village Dance Project and GOH Productions, owners and operators of Avenue C Studio.