Movement Without Borders: Open-Level Workshops with Kimberly Bartosik & Roderi at PS21 Chatham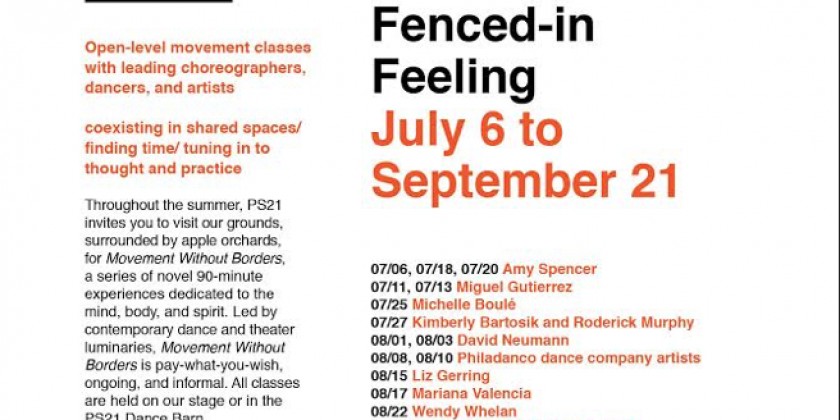 Company:
PS21
Throughout the summer, PS21 invites you to visit our grounds, surrounded by apple orchards in the Berkshire foothills, for Movement Without Borders, a series of novel 90-minute experiences dedicated to the mind, body, and spirit. Led by contemporary dance and theater luminaries, Movement Without Borders is pay-what-you-wish, ongoing, and informal. All classes are held on the theater's stage or in the PS21 Dance Barn. 
Choreographer Kimberly Bartosik and Light Designer Roderick Murphy, will offer Light & Body Workshop
This workshop is based loosely on ideas that Merce Cunningham and Robert Rauschenberg used to create Winterbranch (1964) and gives people the chance to be both movers and designers in a very rogue, experimental way. It is perfect for a community that is interested in being creative but not necessarily focusing on technique.
Bessie Award-winning performer Kimberly Bartosik's work has been commissioned and presented by BAM Next Wave Festival,  Wexner Arts Center, American Dance Festival, Dance Theater Workshop, French Institute Alliance Française's Crossing the Line Festival, Festival Rencontres Chorégraphique Inter-nationales de Seine-Saint Denis (France), Artdanthe Festival (France), BEAT Festival, The Kitchen, La MaMa, Mount Tremper Arts, and Movement Research.
Bartosik is a 2017—19 New York Live Arts Live Feed Residency Artist where she is developing I hunger, the sister piece to I hunger for you, for a December 2019 premiere.Bartosik was a member of the Merce Cun-ningham Dance Company for nine years and received a Bessie Award for artistic excellence in his work.