NEW JERSEY: Bill T. Jones's "Analogy/Dora: Tramontane," A Stirring Tribute To His Mother-In-Law, Dora Amelan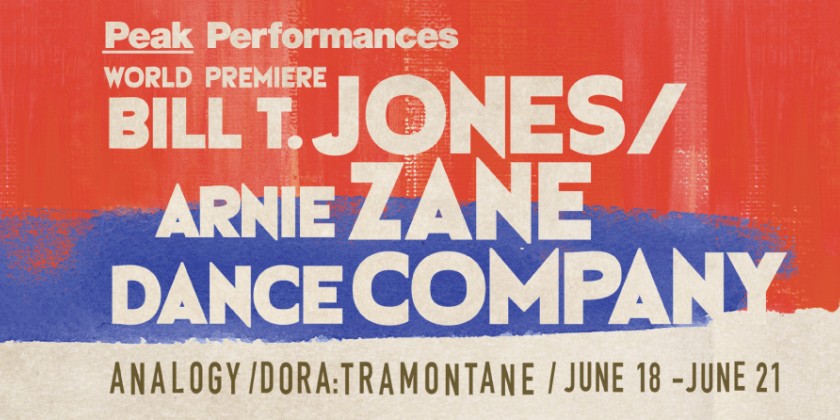 Company:
Bill T. Jones/Arnie Zane Dance Company

Bill T. Jones/Arnie Zane Dance Company's Analogy/Dora: Tramontane World Premiere
June 18th through 21st at Peak Performances' Alexander Kasser Theater
Jones' First New Work Since 2013

 
tra-mon-tane adjective \trə-'män-. tān, . tra-mən-'\ 1. Traveling to, situated on, or living on the other side of a  mountain; latin transmontanus "beyond the mountains"
 
Analogy/Dora: Tramontane is based on an oral history Bill T. Jones conducted with 94-year-old Dora Amelan, a French Jewish nurse and social worker during World War II.  Analogy began twelve years ago, simply, as a gift Jones created for his longtime partner and collaborator, Bjorn Amelan and his family.  Dora Amelan's harrowing, touching and inspirational story is broken into 25 episodes that become the basis for choreography, narrative and music.  These episodes chronicle her early family life, her mother's death as the Germans were marching into Belgium, her journey onwards to France and the loss of further family members during the war.  Arriving in Vichy France she encounters the internment camps of Gurs and Rivesaltes, where she devotes herself to working for a Jewish underground organization.  Dora currently lives in Paris and will attend the premiere.
 
Analogy/Dora: Tramontane uses the interview format between Jones and Dora as a springboard to multiple levels of transformation.  The nine dancers of the Bill T. Jones/Arnie Zane Dance Company move seamlessly between dancing, speaking and singing in the evening length work.  The simple passing of a microphone signals taking on one of the roles of the "interview."  Analogy/Dora: Tramontane is a meditation on the spirit of service, the call of duty and the amorphous nature of memory. What, for any of us, constitutes a life well lived?
 
Bjorn Amelan's decor is constructed and de-constructed by the company to suggest a hotel, a railway station, barracks and less easily defined spaces.  Musical accompaniment features haunting songs of the wartime era, from the quietly beautiful words of Charles Trenet's song Le Soleil et la Lune, and the evergreen Parlez-moi d'amour, to some of Schubert's most evocative lieder, Nachstück, Alinde and Nähe des Geliebten.  Original music composed and performed live by Nick Hallett adds additional dimension to the work.
 
Two-time Tony winner and National Medal of Arts recipient Bill T. Jones' long affiliation with Peak Performances has produced some of his most profoundly moving works, including Blind Date (2005), A Quarreling Pair (2007), and Story/Time (2011).  This is his first new work since 2013.

Analogy/Dora: Tramontane is the first part of a trilogy.  Part II, titled Analogy/Lance: Bad Boy aka The Escape Artist will premiere in Summer 2016.  Part III, titled Analogy/Ambros: The Emigrant will premiere the following year, in 2017.

Analogy/Dora: Tramontane
Conceived and Directed by Bill T. Jones
Choreographed by Bill T. Jones with Janet Wong and the Company
Original Score Composed by Nick Hallett
Decor by Bjorn Amelan
Lighting Design by Robert Wierzel
Costumes by Liz Prince
Sound Design by Sam Crawford
Associate Set Design by Solomon Weisbard

WHERE TO GO
The performances are June 18, 19 at 7:30pm; June 20 at 8:00 pm; June 21 at 3:00pm.
 
The Alexander Kasser Theater at Montclair State University is located at 1 Normal Avenue, Montclair, New Jersey 07043. Tickets are $20, and are available at the box office, www.peakperfs.org, or by calling 973-655-6112.

Charter bus service is provided from New York Live Arts at 219 West 19th Street between 7th and 8th Avenues to the Alexander Kasser Theater ($10 per person, round trip) for all Saturday and Sunday performances. Bus reservations may be made by calling 973-655-5112 or by visiting www.peakperfs.org.
 
For restaurants close to the Alexander Kasser Theater, visit www.destinationmontclair.com.
 
ABOUT THE BILL T. JONES/ARNIE ZANE DANCE COMPANY
Over the past 33 years, the Bill T. Jones/Arnie Zane Dance Company has shaped the evolution of contemporary dance through the creation and performance of over 140 works.  Founded as a multicultural dance company in 1982, the company was born of an 11-year artistic collaboration between Bill T. Jones and Arnie Zane.  Today, the company is recognized as one of the most innovative and powerful forces in the modern dance world.  The company has performed its ever-enlarging repertoire worldwide in over 200 cities in 30 countries on every major continent.  In 2011, the Bill T. Jones/Arnie Zane Dance Company merged with Dance Theater Workshop to form New York Live Arts, of which Bill T. Jones is the Artistic Director.
 
The repertory of the Bill T. Jones/Arnie Zane Dance Company is widely varied in its subject matter, visual imagery and stylistic approach to movement, voice and stagecraft and includes musically driven works as well as works using a variety of texts.  Some of its most celebrated creations are evening length works, including Last Supper at Uncle Tom's Cabin/The Promised Land (1990, Next Wave Festival at the Brooklyn Academy of Music); Still/Here (1994, Biennale de la Danse in Lyon, France); We Set Out Early… Visibility Was Poor (1996, Hancher Auditorium, Iowa City, IA); You Walk? (2000, European Capital of Culture 2000, Bologna, Italy); Blind Date (2006, Peak Performances at Montclair State University); Chapel/Chapter (2006, Harlem Stage Gatehouse); Fondly Do We Hope… Fervently Do We Pray (2009, Ravinia Festival, Highland Park, IL); Another Evening: Venice/Arsenale (2010, La Biennale di Venezia, Venice, Italy); Story/Time (2012, Peak Performances); and A Rite (2013, Carolina Performing Arts at the University of North Carolina-Chapel Hill).  The Company is currently touring Play and Play: an evening of movement and music, two repertory programs featuring music-inspired works; Body Against Body, an intimate and focused collection of duet works drawn from the Company's 32-year history; A Rite, a dance-theater collaboration with Anne Bogart and SITI Company and Story/Time, a work inspired by John Cage's Indeterminacy.

The Bill T. Jones/Arnie Zane Dance Company consists of dancers Antonio Brown, Rena Butler, Talli Jackson, Shayla-Vie Jenkins, Cain Coleman, Jr., I-Ling Liu, Erick Montes Chavero, Joseph Poulson and Jenna Riegel.  Bjorn Amelan serves as the Creative Director for the Bill T. Jones/Arnie Zane Dance Company, and Janet Wong serves as Associate Artistic Director. 

FUNDING SUPPORT FOR THE BILL T. JONES/ARNIE ZANE DANCE COMPANY
Analogy/Dora: Tramontane is commissioned by Peak Performances at Montclair State University, Co-Commissioned by Dancers' Workshop and Yerba Buena Center for the Arts.

Analogy: A Trilogy is produced by New York Live Arts, an internationally recognized destination for innovative movement-based artistry.  The development of new works by the Bill T. Jones/Arnie Zane Dance Company is made possible by the Company's Partners in Creation: Ellen Poss, Jane Bovingdon Semel & Terry Semel, Anne Delaney, Stephen & Ruth Hendel, Eleanor Friedman and Zoe Eskin.  Support is also provided by the O'Donnell-Greene Music and Dance Foundation, the MAP Fund, a program of Creative Capital supported by The Doris Duke Charitable Foundation and The Andrew W. Mellon Foundation, the National Endowment for the Arts, The New York City Department of Cultural Affairs and the New York State Council on the Arts.

FUNDING SUPPORT FOR PEAK PERFORMANCES
Programs in this season are made possible in part by funds from the New Jersey State Council on the Arts/Dept. of State, a Partner Agency of the National Endowment for the Arts; The Andrew W. Mellon Foundation; and the National Dance Project (NDP) of New England Foundation for the Arts.