NEW JERSEY: DANCE/10 Hairy Legs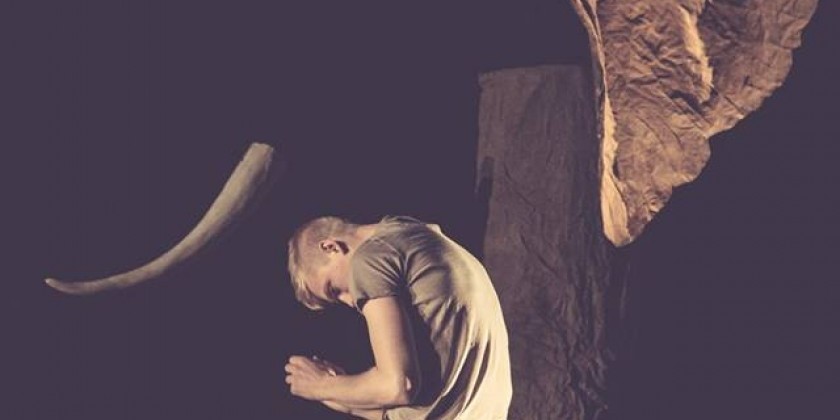 Company:
Crossroads Theatre
AFTERNOON DELIGHT AT CROSSROADS THEATRE
New Brunswick Premieres by
Seàn Curran, Heidi Latsky, Cleo Mack, David Parker and Claire Porter
Highland Park, New Jersey --- Randy James' all male dance company, 10 Hairy Legs, returns to Crossroads Theatre, New Brunswick for its third consecutive appearance on Sunday, March 29 at 3:00 pm.   Continuing to showcase the company's expanded repertory that explores the range of the male dancer, the performance will be followed by a Panel Discussion on the stage with Artistic Director Randy James, New Jersey choreographer Cleo Mack and Company Member Kyle Marshall.  Tickets are $25 for Premium Seating Center Section and $22.50 for Seniors, $20 Adult Side Seating and $15 for students and children.

About the Works and the Choreographers:
Seàn Curran created "St. Petersburg Waltz" for Danspace Project's gala honoring Meredith Monk in 2012.  The solo reflects her imaginings of her Grandfather's life in Russia during the tumultuous years between World War I and World War II.  A devout Cantor, it reflects his unshakeable faith despite overwhelming repression.  "There's no fresher, more invigorating American dance now than the choreography of Seán Curran." – Lewis Segal, The Los Angeles Times.
Curran was a leading dancer with the Bill T. Jones/Arnie Zane Dance Company and an original member of the New York cast of "STOMP!" He currently serves as Chair of the Department of Dance at Tisch School of the Arts/New York University. The Seán Curran Company has appeared at such venues as the Duke on 42nd St, the Joyce Theatre, Jacob's Pillow, and Dance Theatre Workshop. Curran has choreographed and/or directed for Metropolitan Opera, New York City Opera, and on Broadway. In 2012, Seán Curran Company was chosen by DanceMotion USA (produced by the Brooklyn Academy of Music) to perform and teach throughout Central Asia as cultural ambassadors of the US State Department. Seán was awarded a New York Dance and Performance "Bessie" Award as a performer, and was recently nominated as a choreographer.
Heidi Latsky's "Solo 1" is a sinuous and riveting study in spirals set to an original score by Chris Brierly.
Heidi Latsky first received recognition as a principal dancer for the Bill T. Jones/Arnie Zane Dance Company (1987-1993). She has toured extensively throughout the United States and Europe with her own company and as part of Goldhuber & Latsky. The Cannes International Dance Festival, American Dance Festival, Whitney Museum of Art, and Joyce Theater are among those who have commissioned her choreography.  Latsky developed her teaching practice as head of the Movement Department at The School for Film and Television (1998-2005). She currently teaches performance skills workshops at STEPS. The GIMP Project, begun in 2006, is a body of work featuring disabled and nondisabled dancers. The critically acclaimed GIMP (2008) was the first evening length work of this series. Highlights include Abrons Arts Center (NYC), Institute of Contemporary Art (Boston), The Kennedy Center (DC), CAP Awards (The Netherlands), The Reelabilities Film Festival (NYC), Dublin Dance Festival, DaDaFest in Liverpool, Chicago Humanities Festival, CREA Conference in Kathmandu, and Crossing Borders Festival in Dusseldorf. GIMP is the subject of Richard Move's documentary which premiered at Lincoln Center Febuary, 2014, AP and NY Times multi-media pieces, and features on CNN, NET and NPR. A profile on GIMP was nominated for an Emmy Award in 2010. As part of the 2013/14 New York State Presenters Network tour, HLD was presented at Rochester University and the Orpheum Theater in Tannersville. She was recently selected as the first participant to create a film for the Mellon Dance Film Project at Montclair State University. Upcoming venues include Columbia College (Chicago), Syracuse University, Peak Performances at Montclair University and the American Dance Festival.
Cleo Mack's "Bath Tub Trio for Three Men," set to music of Wofgang Amadeus Mozart, premiered in 2002.  Critic Robert Johnson noted, "Mack originally made her "Bathtub Trio" for three women, and it's fascinating to see the work performed by men. The choreography isolates small gestures that might be drawn from fashion photography; and attitudes that seemed naturally feminine — the relaxed slope of a shoulder, or the inward twist of a knee — are revealed to be social constructs. Mack underscores the shared condition (plight?) of her characters when they line up next to one another to let a hand slide suggestively up someone's back, or to guard themselves by drawing up an elbow. The dancers seem to know they're being watched."
Cleo Mack was selected by Dance Magazine as one of the "25 to Watch in 2002."  She began her dance training at the Purpich School of the Arts and earned her BFA in dance from Mason Gross School of the Arts, where she was the recipient of ACDFA/Dance Magazine Award for Outstanding Student Choreography.  Ms. Mack has received grants and fellowships from the Middlesex County Cultural and Heritage Commission, The Gerladine R. Dodge Foundation, and the New Jersey State Council on the Arts in honor of her high artistic merit. Her work has been performed extensively through out New York and New Jersey for the past ten years, including performances at Steel Stacks, Kennedy Center, DTW, Joyce Soho, Triskelion Arts, George Street Playhouse, and P.S.1. She has been commissioned to create new work for Purpich School of the Arts, Quad Cities Ballet and DeSales University.  Ms. Mack has been a teaching artist for the American Repertory Ballet Institute, Rutgers University, DeSale University, Muhlenberg University and the University of Iowa. She is currently Director of Dance at the Middlesex County Vocational and Technical School of the Performing Arts and the Artistic Director of Washington Rock Ballet and Modern Companies.
David Parker has reimagined his duet "Friends of Dorothy" for 10 Hairy Legs that was originally created in 2003 for Jeff Kazin and Parker for their company The Bang Group.   It features a musical score with selections from the Barn-Raising from "Seven Brides for Seven Brothers" (MGM 1954) by Gene de Paul; "Why Not Me" sung by Debbie Reynolds, music by Jay Livingston and lyrics by Ray Evans; and "Somewhere Over the Rainbow" sung by Jane Powell music by Harold Arlen and lyrics by E.Y. Harbur.
Parker stated, "Working with Randy James' excellent company, 10 Hairy Legs, has felt to me like coming home.  Randy has cultivated a creative community that prizes generosity, virtuosity, wit, theatrical savvy and a sense of adventure.  Over the past two years, Randy has allowed me to translate and reimagine two of my most cherished works.  'Friends of Dorothy' is my second work for the company after my resetting of 'Bang' last season.  Both of these works were created for myself and my dance partner and muse, Jeffrey Kazin and have been defining works for my company, The Bang Group. I was immediately struck by the technical finesse, rhythmic acuity and comic timing of the cast members.  Therefore, I created a new piece on the foundations of the old in order to highlight these dancers in the prime of their artistry.  Unlike most dances for men, this one requires a kind of intimacy and detailed partnering that male dancers rarely use with one another.  The men of 10 Hairy Legs have the skill and the chemistry to pull the whole thing off with aplomb."
David Parker is a 2013 Guggenheim fellow for choreography. In 1995 Parker founded The Bang Group, a company devoted to his love of rhythmic form and the humor and connection it brings to artists and audiences alike. TBG has toured extensively though the U.S. and Europe. In addition to his work with The Bang Group, he has created over 30 commissioned works for dance companies, universities, festivals and soloists both here and abroad. He has won awards for his work in The Netherlands, Germany and Monaco and has won community awards from Dancers Responding to AIDS, Dance Theater Workshop and The Gibney Dance Center. His notorious Velcro duet was given a New York Dance and Performance Award for Design in 2002. Mr. Parker teaches dance composition at The Juilliard School, Barnard College, Hunter College and The Alvin Ailey School and was visiting professor at Princeton University and SUNY Purchase. He writes regularly about dance for Dance Magazine and The Brooklyn Rail and has served as an artist/curator for Danspace Project's Platform Series (Rhythm and Humor), Gotham Arts Focus Dance, 92nd Street Y's Fridays at Noon and, for the past three seasons, at The Yard's annual Tap the Yard Festival on Martha's Vineyard.
Claire Porter's "Piano" pulls apart what seems to be normal and then puts it all back together in funny, absurd, touching solo of spoken word and movement. "Piano" is a slyly witty take on the egotistical world of the concert pianist when confronted with a problem – his grand piano has not arrived in time for his performance.
Claire Porter, known for her smart comedic work mixing language and movement, has performed Claire Porter / PORTABLES internationally with appearances in India, Scotland, Germany, Holland, England, Latvia, and Korea. In the New York City area her work has been produced at Dance Theater Workshop, Danspace St. Mark's Church, PS 122, Joe's Pub, The Kitchen, The Joyce Theater, Joyce SOHO, 92nd Street Y, Town Hall, The Bottom Line, The New York Horticulture Society, Liberty Science Center, and The New Jersey Performing Arts Center. PORTABLES has also showcased at the American Dance Festival, The Lucille Ball Festival of Comedy, Bates Dance Festival, Jacob's Pillow Dance Festival, Florida Dance Festival, The Kennedy Center, Woolly Mammoth Theater (Washington, D.C.), Tampa Bay Off Center Theater, Duncan Theater (Palm Beach, Florida), Center Stage (Raleigh, North Carolina), The Southern Theater (Minneapolis), The Yard on Martha's Vineyard, among others.
Porter's work has highlighted special events, including a performance introducing the Peter Eisenman Building at the University of Cincinnati, performing as hostess-comedienne-scene-changer for the Minnesota Composers Forum's New Music Concert, and performing in Mikhail Baryshnikov's 2009 GALA. She has also appeared on staircases, boats, backyards, gyms, classrooms, airports, humor festivals, museums, and soapboxes. Porter has performed her Namely, Muscles, an enactment of all the major muscles of the body in poetry, and recipient of the NYC Fringe Festival 2010's Overall Excellence Award, at festivals, body conferences, theaters, medical schools, and universities around the U.S.
Porter was a Resident Artist at The Baryshnikov Art Center and has received several National Endowment for the Arts Choreography Fellowships, New Jersey State Council for the Arts Choreography Fellowships, Mid Atlantic Arts Foundation Awards, a Live Music for Dance Award and Commissions from Dance Theater Workshop's First Light Project, The 92nd Street Y Harkness Dance Festival, Art Matters, Meet The Composer, Vogue Magazine, University Dance Companies, including Purchase College 2013, and Domino's Pizza Company. Porter has taught Laban Movement Analysis and/or Choreography for NYU Steinhardt School, Hope College (Michigan), Columbia Teachers College, Case Western Reserve University, Grand Valley State College, Connecticut College, and Manhattanville College. She teaches her Dancing Workout in Bergen County, New Jersey, and serves on the Board of DanceNJ. Porter has an M.A. in Dance from Ohio State, a B.A. in Mathematics from The College of New Rochelle, and is a Laban Movement Analyst.  Porter is a 2013 Guggenheim Fellowship Award Winner for choreography.
Tickets may be purchased through Brown Paper Tickets at http://bpt.me/1224306.  Patrons with Visual Disabilities may request a Large Print Program by contacting Executive Director Elizabeth Shaff Sobo at bsobo@10hl.org by March 22, 2015.  This performance is a Jersey Arts Membership Event.  Jersey Arts members may purchase tickets directly through them.  Grant funding for this performance has been provided by the Middlesex County Cultural & Heritage Commission, Middlesex County Board of Chosen Freeholders, and the New Jersey State Council on the Arts. 
About 10 Hairy Legs
10 Hairy Legs, founded by Randy James in 2012, is a dance company – comprised entirely of men – of James' work as well as existing and new works by significant choreographers.  10 HL does not reflect a specific point of view about the male experience, but rather celebrates and explores the tremendous technical and emotional range of the male dancer.  Randy James, at the forefront of this generation's choreographers, educators and arts advocates, is the driving force of 10 Hairy Legs, serving as its Artistic Director.  James was awarded his third Choreographic Fellowship from the New Jersey State Council on the Arts in 2014. 
Following our 2014 New York Season, Robert Johnson, Dance Critic for The Star-Ledger noted "…since its formation in 2012, its rapid growth has been astonishing…The diversity of this programming is a treat for audiences…this company has also become a welcome source of choreographic commissions."
Our Artistic Collaborators are choreographers Julie Bour, Sean Curran, David Dorfman, Dan Froot, Doug Elkins, Heidi Latsky, Cleo Mack, Tiffany Mills, David Parker, Stephen Petronio, Claire Porter, Niv Sheinfeld and Oren Laor, Manuel Vignoulle, Christopher Williams and Megan Williams; musicians Tigger Benford, Sarah Biber, Jane Chung, Lachlen Glen, Kyle Olson, Robert Maggio, Kyle Olson and Michael Wall; and designers Abraham Cruz, Oana Botez, Cindy Capraro, Benjamin Heller, John Lasiter, Mary Kokie McNaugher, Lauren Parrish, Amanda Ringger, Amanda Shafran and Olivier Theyskens.
In addition to their work with 10 Hairy Legs, our company members are currently featured artists with The Bang Group, Stephen Petronio Company, Doug Elkins Choreography, Etc., Tiffany Mills Company, Zvi Dance, and in the hit Off-Broadway show Sleep No More, among others.  Education is an important component of our work.  We provide a wide range of programs suitable for all ages, whether for the aspiring professional, novice beginner or artist citizen, focusing on the many facets of maleness as expressed through dance.  Since our founding, we have served more than 20,000 patrons, students, artists and educators with our programs of performance and education throughout the NY/NJ region, in New York City at New York Live Arts, Dixon Place, Joe's Pub, The West End Theatre as part of the Soaking Wet Festival, Dance at Socrates, and on tour in The Cayman Islands and New England.

Leadership funding for the company has been provided by The Geraldine R. Dodge Foundation, New Music USA's Live Music for Dance Program, The Frank & Lydia Bergen Foundation, The Blanche and Irving Laurie Foundation, The O'Donnell Green Music & Dance Foundation, Middlesex County Cultural and Heritage Commission, with assistance provided by the New Jersey State Council on the Arts/Dept. of State, and The Hyde & Watson Foundation.
Randy James, founding Artistic Director of 10 Hairy Legs, has significantly impacted the field of dance for more than three decades locally, regionally, nationally and internationally as a highly regarded dancer, choreographer, teacher, guest lecturer, panelist and staunch advocate of the arts.  In 2010 the The Geraldine R. Dodge Foundation cited him as "The Patron Saint of New Jersey dance."  As a choreographer, James has created more than 40 works on his own companies and on 16 other professional companies throughout the United States, garnering positive reviews from The New York Times and The Village Voice.  The New Jersey State Council on the Arts/Department of State honored him three times with Choreography Fellowships in 1995, 2002 and 2014 in recognition of his artistic excellence and named him "Distinguished Teaching Artist."  As an Associate Professor of Dance, James has been a member of the dance faculty at Mason Gross School of the Arts, Rutgers University, since 1998.