NEW YORK LIVE ARTS PRESENTS Hiroaki Umeda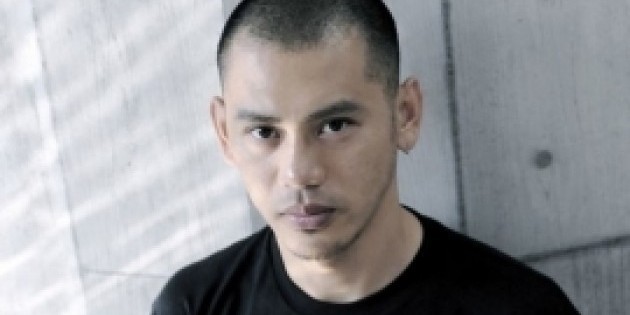 2 dances: "Haptic" and "Holistic Strata"
Haptic
and

Holistic Strata
New York, NY, February 13, 2013 – New York Live Arts will present Hiroaki Umeda's

Haptic

and

Holistic Strata, March 7 – 9 at 7:30pm. Described by

The New York Times

as "a tin man with oil flowing freely through his veins…starting with his feet and rising gradually to overtake his buckling legs and rubbery torso," the Tokyo-based performance artist, who was presented at Dance Theater Workshop in 2005 and last performed in New York City in 2009, returns with two visually atmospheric works.
Haptic
concentrates on the effects of light and color, investigating the physical aspect of the chromatic prism and its physiological stimuli. Saturating the stage in layers of red, blue and purple,

Haptic

plays with sensations of color, movement and light, highlighting Umeda's distinctive dance style that draws from the vocabularies of butoh, street dance, hip-hop and ballet.
Created at and in collaboration with Japan's Yamaguchi Center for Arts and Media (YCAM), renowned as one of the most important new media arts centers in the world,

Holistic Strata

is a kinetic installation examining visual recognition and the border between dance and video. Using images as light, the work creates a stereoscopic experience for the audience.
"There's a long line of choreographers who have used technology to redesign the body…" says

The Guardian's Judith Mackrell. "But such projects appear quaintly old school compared to Hiroaki Umeda, who immerses himself in such a perfect storm of light, video and sound that his body rarely looks human."
Performances will take place in New York Live Arts' Theater.
Come Early Conversations
and
Stay Late Discussions
will also be featured with two shows (see complete schedule below). Tickets are 0 and 5. Tickets may be purchased online at

tickets.newyorklivearts.org, by phone at 212-924-0077 and in person at the box office. Box office hours are Monday to Friday from 1 to 9pm, and Saturday and Sunday from 12 to 8pm.
Haptic
and

Holistic Strata

were made possible, in part, with support from the New York State Council on the Arts, Bloomberg Philanthropies and the Shubert Foundation. S20 is supported by EU Japan Fest.
Haptic
and

Holistic Strata
New York Live Arts Theater, New York Live Arts
219 W 19th

Street, New York, NY 10011
Monday-Friday 1 - 9pm | Saturday-Sunday 12 - 8pm
Schedule of Related Events:
Mar 7 at 6:30
Come Early Conversation
:
The Visual Atmosphere in Dance
Mar 8
Stay Late Discussion
:

The Process of Creating Haptic and Holistic Strata

with Carla Peterson (Artistic Director, New York Live Arts)
About Hiroaki Umeda:
Hiroaki Umeda was born in 1977 and currently lives and works in Tokyo. He studied photography at the Nihon University (Japan), and decided to start dancing at the age of 20. He is deeply interested in dance (classical and hip-hop) and has since created his own style, influenced by high-tech and visual art.
In 2000 Hiroaki Umeda founded his own company, S20, and has made the following pieces since: Ni (2001), while going to a condition (2002), Looming (2003) and Finore (2003), which have all been presented at cutting-edge international dance festivals such as Japan Dance festival (Korea), Yokohama Dance Collection (Japan), Uovo e Contemporanea (Italy) and FIND Festival (Canada).
While going to a condition was presented at the Rencontres Chorégraphiques Internationales (France) and was hailed as "a visual and sensorial experience…The discovery of a young artist, both original and promising." After a residency at the Chaufferie (Philippe Decouflé's rehearsal space), Umeda performed the new work Accumulated Layout in 2007 at the Théâtre National de Chaillot, Paris.
In 2007 Umeda also presented a new version of Duo at the International Festival Via in Maubeuge, a solo performance where the dancer confronts their own image. Accustomed to international events, Umeda performed in TorinoDanza, Culturgeist à Lisbonne, Kunsten, la Biennale de danse de Lyon RomaEuropa and Festival d'Automne à Paris in 2008. Invited in an artist residency by the Théâtre de Nîmes and the Scene nationale de Maubeuge, he created two new performances, Haptic and Adapting for Distortion, where he continued his exploration of visual perceptions. Since his first group piece project with Finnish dancers in 2008, he has started choreographing for other dancers, as well as started working on a video piece, sound piece and installations as an extension of his solo project. Umeda is a multidisciplinary artist: choreographer, dancer, sound, image and lighting designer. His work is minimal and radical, subtle and violent, and very much in touch with his contemporary Japanese roots.
New York Live Arts is a reserved seating house.

FEE-FREE tickets are available for purchase by calling the box office at 212-924-0077
and will be available online at newyorklivearts.org.
New York Live Arts Members, Associated Artists, Students, and Seniors are eligible for
20% discounts to theater performances.
Box Office hours:
Monday – Friday 1 - 9pm and Saturday-Sunday 12 - 8pm.

Unless otherwise noted, performances take place at New York Live Arts located at
219 West 19th Street, between 7th and 8th Avenues.