NEW YORK LIVE ARTS announces Digital Dance Festival 2015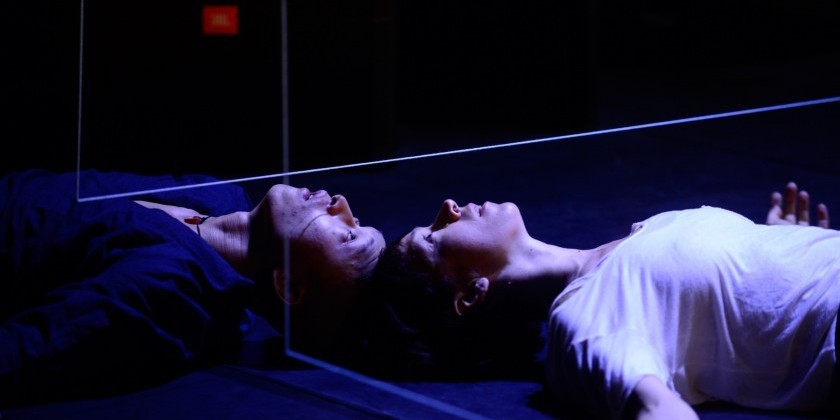 Company:
NEW YORK LIVE ARTS
NEW YORK LIVE ARTS
announces
Digital Dance Festival 2015
February 23–28
New York, NY, January 14, 2015 – New York Live Arts today announced the featured artists for 2015's first Digital Dance Festival, taking place February 23-28, 2015 and presented in partnership with 2ndLine.tv. Participating artists include niv Acosta; the Bill T. Jones/Arnie Zane Dance Company and Elena Demyanenko and Dai Jian.
Live Arts' Digital Dance Festival (DDF) began in 2014 as a continued way to challenge how audiences view and interpret live performance. Pulling from their archive of past seasons, the DDF presents screenings of performances that provoke and intrigue the ever-growing dance public. Past participants have included Steven Reker/People Get Ready, Donna Uchizono Company, Jen Rosenblit and Live Arts' resident dance company, the Bill T. Jones/Arnie Zane Dance Company. Performances are viewed online and tickets are pay what you wish.
This year's DDF lineup includes the following works:
niv Acosta: i shot denzel (2014)
Former New York Live Arts Fresh Tracks artist (2011), Acosta's i shot denzel is the sixth incarnation of a three-year series of "denzels." This multidisciplinary work explores black masculinity within the context of contemporary or "classical" movement.
Bill T. Jones/Arnie Zane Dance Company: A Quarreling Pair (2007)
In A Quarreling Pair, Jones explores the dualities present between any two people, including the struggle to co-habitate and live together against all odds. The work was inspired in part by Jane Bowles' play of the same name: an absurdist meditation written for two puppets that explores the relationship of two middle-aged sisters who sit in separate rooms and quarrel endlessly about trivial tasks, the futility of life and their inextricable bond. The New York Times described it as a "richly textured and layered theatrical adventure."
Elena Demyanenko and Dai Jian: Blue Room (2014)
A duet replete with "silky fluidity: movement that emanates from deep under the skin, where joints are loose, and the spine is airy" (The New York Times), Blue Room is a collaboration between Chinese artist Dai Jian and Russian-born Elena Demyanenko, recent alumni of Trisha Brown Dance Company. The performance features individual and paired works that explore relationship and unfold as a dialogue through myriad possible intricate and detailed existences. Two independent mind-bodies with different backgrounds, behaviors, languages and cultures are sutured together.
Performances can be viewed at 2ndline.tv. Tickets are pay what you wish. Tickets may be purchased online at newyorklivearts/season. Questions can be addressed by phone at 212-924-0077 and in person at the box office. Box office hours are Monday to Friday from 1 to 9pm, and Saturday and Sunday from 10am to 9pm.
Listing info:
Digital Dance Festival 2015
Feb 23-28
niv Acosta
Feb 23 & 26 at 7:30pm
Bill T. Jones/Arnie Zane Dance Company
Feb 24 & 27 at 7:30pm
Elena Demyanenko and Dai Jian
Feb 25 & 28 at 7:30pm
About the Artists:
niv Acosta is a dance artist, educator, black Dominican, transexual, queer native New Yorker. He attended the Martha Graham School of Contemporary Dance (NYC), American Dance Festival (Duke Univ.) and CalArts (Dance B.F.A.). Acosta has shown his work at various events/spaces including Pieter Performance Space, Human Resources in Los Angeles, The Community Education Center, Studio 34, and Vox Populi in Philadelphia, New York Live Arts, The Kitchen, Studio Museum of Harlem, MoMA PS1, Abrons Art Center, The Tank, New Museum, Danspace Project and at Brooklyn Arts Exchange. Acosta has collaborated with artists Malik Gaines, Alexandro Segade, Andrea Geyer, A.K. Burns and Ralph Lemon. Acosta will be in residence at the New Museum and will present DISCOTROPIC, a new dance work, during the 2015 New Museum Triennial.
Over the past 32 years, the Bill T. Jones/Arnie Zane Dance Company has shaped the evolution of contemporary dance through the creation and performance of over 140 works. Founded as a multicultural dance company in 1982, the company was born of an 11-year artistic collaboration between Bill T. Jones and Arnie Zane. Today, the company is recognized as one of the most innovative and powerful forces in the modern dance world. The company has performed its ever-enlarging repertoire worldwide in over 200 cities in 30 countries on every major continent. In 2011, the Bill T. Jones/Arnie Zane Dance Company merged with Dance Theater Workshop to form New York Live Arts, of which Bill T. Jones is the Artistic Director.
The repertory of the Bill T. Jones/Arnie Zane Dance Company is widely varied in its subject matter, visual imagery and stylistic approach to movement, voice and stagecraft and includes musically-driven works as well as works using a variety of texts. Some of its most celebrated creations are evening length works, including Last Supper at Uncle Tom's Cabin/The Promised Land (1990, Next Wave Festival at the Brooklyn Academy of Music); Still/Here (1994, Biennale de la Danse in Lyon, France); We Set Out Early… Visibility Was Poor (1996, Hancher Auditorium, Iowa City, IA); You Walk? (2000, European Capital of Culture 2000, Bologna, Italy); Blind Date (2006, Peak Performances at Montclair State University); Chapel/Chapter (2006, Harlem Stage Gatehouse); Fondly Do We Hope… Fervently Do We Pray (2009, Ravinia Festival, Highland Park, IL); Another Evening: Venice/Arsenale (2010, La Biennale di Venezia, Venice, Italy); Story/Time (2012, Peak Performances); and A Rite (2013, Carolina Performing Arts at the University of North Carolina-Chapel Hill). The Company is currently touring Play and Play: an evening of movement and music, two repertory programs featuring music-inspired works; Body Against Body, an intimate and focused collection of duet works drawn from the Company's 32-year history; A Rite, a dance-theater collaboration with Anne Bogart and SITI Company and Story/Time, a work inspired by John Cage's Indeterminacy.
Russian-born Elena Demyanenko is a former member of both Stephen Petronio Company (2003-2008) and Trisha Brown Dance Company (2009-2012). She has been performing, teaching and choreographing in NYC since 2001. Her additional performance credits include Martha Clarke's Garden of Earthly Delights and Continuous Replay with the Bill T. Jones/Arnie Zane Company. A graduate of the Academy of Theatrical Arts (Moscow), Demyanenko currently teaches at Bennington College.
Demyanenko was the recipient of an EMPAC Dance Movies Commission and was nominated for the Dance on Camera Jury Prize for her work on Kino Eye. As a recipient of a Jerome Robbins Fellowship for the creation of new work, Demyanenko premiered Disparate Bodies with Joe Poulson at Baryshnikov Arts Center (2011). Other works have been shown at many venues including New York Live Arts, Movement Research at Judson Church, Dance New Amsterdam, Dixon Place and Architecture of Movement Festival, Yaroslavl, Russia.
Dai Jian, born in Hunan, China, combines his roots in both contemporary and classical movement forms from Eastern and Western practices, including martial arts, dance, improvisation, installation and visual arts. At the age of 18, Dai Jian received a Performance Award at the National Dance Competition in China, and won the New Stars Award in Performance and Choreography in Guangzhou city with his first solo creation. This solo work was later selected by the Boston International Ballet Competition as the Male Solo Compulsory Piece in 2012. Dai Jian joined Shen Wei Dance Arts in New York City in 2005, and assisted Shen Wei with the Beijing Olympics Opening Ceremony in 2008. Dai Jian was a company member of Trisha Brown Dance Company from 2008 to 2012. Among other choreographic experiences, he created One is 1 or Not (2012), an audience interactive experimental piece with/for the Guangdong Modern Dance Company, and Non Space Restriction (2009), a full-length multi-media performance using internet live chat feeds with installations. He has collaborated with Kimerbly Mayhorn (visual artist); Mimi Gerrard (video artist); Kirstie Simson (improvisational artist); Michael Shumaker (improvisational artist); Katrina McPherson (filmmaker); and the choreographers Yin Mei and Hou Young. Dai Jian is an artist-in-residence at CUNY's Queens College Dance Department (Queens, NY); the Carolina Friends School in (Durham, NC); The Chinese Cultural Center and The Puffin Room (New York, NY). He has received a grant from the Asian Cultural Council and a fellowship from the American Dance Festival.
ABOUT NEW YORK LIVE ARTS
New York Live Arts is an internationally recognized destination for innovative movement-based artistry offering audiences access to art and artists notable for their conceptual rigor, formal experimentation and active engagement with the social, political and cultural currents of our times. At the center of this identity is Bill T. Jones, Artistic Director, a world-renowned choreographer, dancer, theater director and writer.
We commission, produce and present performances in our 20,000 square foot home, which includes a 184-seat theater and two 1,200 square foot studios that can be combined into one large studio. New York Live Arts serves as home base for the Bill T. Jones/Arnie Zane Dance Company, provides an extensive range of participatory programs for adults and young people and supports the continuing professional development of artists.
Funding Support
Major support for New York Live Arts is provided by: The Brownstone Foundation; Con Edison; The Joseph and Joan Cullman Foundation for the Arts; Cultural Services of the French Embassy; Doris Duke Charitable Foundation; The Ford Foundation; The Fan Fox and Leslie R. Samuels Foundation; French American Cultural Exchange (FACE); The Howard Gilman Foundation; The Grand Marnier Foundation; Jerome Foundation; Lambent Foundation; MAP Fund, a program of Creative Capital; The Andrew W. Mellon Foundation; Mertz Gilmore Foundation; Mid-Atlantic Arts Foundation; New England Foundation for the Arts; The Jerome Robbins Foundation; The Scherman Foundation; The Shubert Foundation. New York Live Arts is supported by public funds administered by the New York City Department of Cultural Affairs, the New York State Council on the Arts and the National Endowment for the Arts.
Photo courtesy of Elena Demyanenko.