NEW YORK LIVE ARTS presents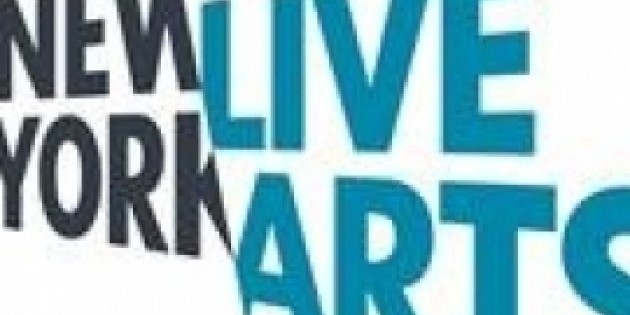 People Get Ready/Steven Reker Specific Ocean
People Get Ready/Steven Reker

New York, NY, September 20

,

2012 – New York Live Arts will present People Get Ready/Steven Reker's

Specific Ocean

on October 18th

– 20th

at 7:30p.

Performances will take place at New York Live Arts' Bessie Schönberg Theater.

People Get Ready make multi-sensory mixtapes that are a "melding of independent music and contemporary dance" (New York Times) inspired by memory, dreams, cultural debris and PLEASURE. The band creates immense sonic landscapes through the interaction of bodies and analog technology. They also generate choreography based on their songs, including selections from their self-titled debut album set for release on October 16th (digitally) and October 22nd (physically) by Brassland Records.

Their performance of "Specific Ocean" at New York Live Arts will showcase People Get Ready's unique blend of choreographed performance, indie rock and visual immersion.

Come Early Conversations

and

Stay Late Dance Parties

will also be featured with two shows (see complete schedule below). Tickets are 0. Tickets may be purchased online at

tickets.newyorklivearts.org

, by phone at

212-924-0077

and in person at the box office. Box office hours are Monday to Friday from 1 to 9pm, and Saturday and Sunday from 12 to 8pm.

Specific Ocean

is commissioned by New York Live Arts and made possible, in part, by the National Endowment for the Arts and the Jerome Foundation. Additional support is given by contributors to the Dance Theater Workshop Commissioning Fund at New York Live Arts.

People Get Ready/Steven Reker


Specific Ocean

Bessie Schönberg Theater, New York Live Arts

219 W 19th

Street, New York, NY 10011

Monday – Friday 1 - 9pm | Saturday-Sunday 12 - 8pm

Schedule of Related Humanities Events:


Oct 18 at 6:30

Come Early Conversation:

Where Contemporary Dance & Pop Music Intersect in NYC Today

Moderated by Michael Azerrad

Oct 19

Stay Late Dance Party with Live DJ

Featuring performances by Kayvon Pourazar and special guest

People Get Ready/Steven Reker




People Get Ready

- is Steven Reker, Luke Fasano, James Rickman, and Jen Goma. Reker moved to New York in 2006 from Arizona working mainly as a dancer or musician for folks such as Yasuko Yokoshi, David Byrne, Miguel Gutierrez, Miranda July, John Jesurun, Jodi Melnick, Robert Wilson, Yoshiko Chuma, Jeff McMahon, Fred Thomas and other artists. Fasano and Reker's first construction of the band was a performance at The Kitchen's Dance and Process series in 2009 - soon after Rickman and Goma completed the ensemble. They have presented their performance work and music in places like Watermill Center, The Kitchen, New York Live Arts, Baryshnikov Arts Center, BAM, Glasslands Gallery, Death By Audio and Le Poison Rouge.

New York Live Arts is a reserved seating house.



FEE-FREE tickets

are available for purchase by calling the box office at

212-924-0077


and will be available online at

newyorklivearts.org.

New York Live Arts

Members,

Associated Artists,

Students, and

Seniors

are eligible for


20% discounts

to theater performances.





Box Office hours:


Monday – Friday 1 - 9pm and Saturday-Sunday 12 - 8pm.

Unless otherwise noted, performances take place at

New York Live Arts located at


219 West 19th

Street, between 7th

and 8th

Avenues.

New York Live Arts strives to create a robust framework in support of the nation's dance and movement-based artists through new approaches to producing, presenting and educating. In addition to our deep commitment to individual artists at all stages of their careers, we strive to create rich, meaningful experiences for our audiences by engaging them in ways that are intimate and thought-provoking. With our audience, we seek to become a place for dance that is vital to the fabric of social and cultural life in New York, the United States and beyond.

Formed in February 2011 by a merger of Dance Theater Workshop and the Bill T. Jones/Arnie Zane Dance Company, New York Live Arts is a re-imagining of the legacies of these two extraordinary organizations. New York Live Arts is located at 219 West 19th Street in New York City and is led by Bill T. Jones as Executive Artistic Director, Carla Peterson as Artistic Director, and Jean Davidson as Executive Director and CEO.

Major support for New York Live Arts is provided by: Bloomberg Philanthropies, The Robert Sterling Clark Foundation, Con Edison, The Joseph and Joan Cullman Foundation for the Arts, Doris Duke Charitable Foundation, The Ford Foundation, The Fan Fox and Leslie R. Samuels Foundation, Japan Foundation, Jerome Foundation, Lambent Foundation, MAP Fund, a program of Creative Capital, The Andrew W. Mellon Foundation, Mertz Gilmore Foundation, MetLife Foundation, The New York Community Trust, The Shubert Foundation, The Jerome Robbins Foundation, The Scherman Foundation and the Trust for Mutual Understanding. New York Live Arts is supported by public funds administered by the New York City Department of Cultural Affairs, the New York State Council on the Arts and the National Endowment for the Arts.