NEW YORK LIVE ARTS presents the Replay Series of Jennifer Monson's "Live Dancing Archive"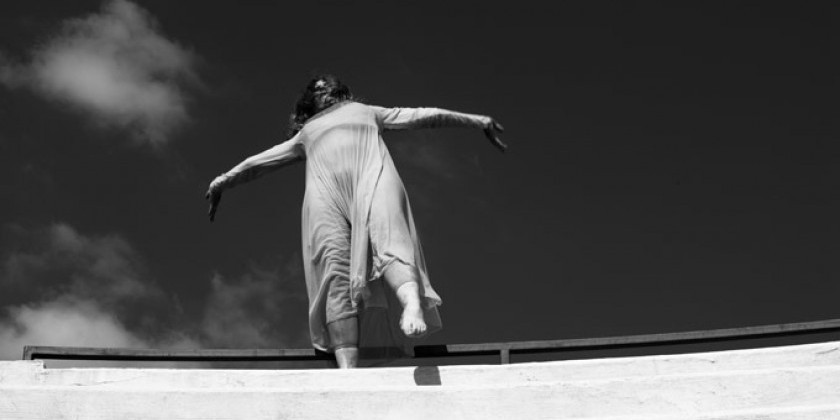 Company:
New York Live Arts
NEW YORK LIVE ARTS
presents
the Replay Series of
Jennifer Monson's
Live Dancing Archive
October 15 – 18 at 7:30pm
VIDEO INSTALLATION ON VIEW
Oct 16 – 18, 11am – 5pm
New York, NY, September 8, 2014 – New York Live Arts presents Jennifer Monson's Live Dancing Archive, October 15 – 18 at 7:30pm in the New York Live Arts Theater as part of the Replay Series. Gia Kourlas of The New York Times has stated: "Watching this rigorous improviser perform in theaters and in nature over time…one point is made clear: dancing with integrity isn't something she does but something she lives."
Originally premiered at The Kitchen in 2012 as a solo called "a work delivered with supreme elegance" (The New York Times) Jennifer Monson's Live Dancing Archive is an evening-length performance featuring an exploration of the dancing body as a physical archive of experience and place. Drawing from more than a decade of dance-based environmental research, Live Dancing Archive was choreographed using material from video documentation of The BIRD BRAIN Osprey Migration (2002)—an 8-week dance project along the Atlantic Flyway—as well as improvised movement scores accumulated over the past decade. Featuring an indeterminate score performed live by Chicago-based audio artist Jeff Kolar, the sound design for Live Dancing Archive responds directly to the surrounding environment and changes with each performance. Utilizing field experiments in an array of radio spectrums and an instrument arrangement of hand-built radio transmitters and receivers, Kolar's score is informed by spatial characteristics including the audience, the performers' dancing bodies and the weather (among other things). For the newly remounted Live Arts iteration, Monson will be joined by an array of collaborators both onstage and off, including Davison Scandrett (production manager and creative advisor) and performers Niall Jones and Tatyana Tenenbaum (dance), Kolar (music), Joe Levasseur (lighting) and Valerie Oliveiro (lighting and creative advisor). The work will feature costumes designed by Susan Becker. The addition of the new collaborators highlights the infinite possibilities of archiving indeterminate systems and explores creation of novel ecosystems (a term borrowed from environmental science), which "differ in composition and/or function from present and past systems."[1]
Forming a three part approach to archiving the ephemeral nature of dance and environmental phenomena, the performance will include two additional components. A free video installation by Robin Vachal (on view in the New York Live Arts Theater October 16 – 18 from 11am - 5pm) will give audience members an opportunity to view a chronological 160 minute loop of original footage from The BIRD BRAIN Osprey Migration, a dance project that followed the migratory journey of ospreys from Maine through Cuba to Venezuela; and a digital archive (livedancingarchive.org) by Josephine Young Jae Bae will feature additional documentation including photos, journal entries and other research materials. Together, the three approaches offer a comprehensive query into the process of archiving the complex nature of dance and other indeterminate systems such as bird migration.
All performances and the corresponding free video installation will take place in New York Live Arts' Theater. Come Early Conversations and Stay Late Discussions will also be featured with two shows. For details, see complete schedule below. Tickets start at $30 with select $15 seats available. Tickets may be purchased online at newyorklivearts/season, by phone at 212-924-0077 and in person at the box office. Box office hours are Monday to Friday from 1 to 9pm, and Saturday and Sunday from 10am to 9pm.
Listing info:
Jennifer Monson
Live Dancing Archive
Oct 15 – 18 at 7:30pm
Video Installation
Oct 16 - 18, 11am – 5pm
New York Live Arts Theater
Tickets: $15, $30
T: 212-924-0077 | www.newyorklivearts.org
219 W 19th Street, New York, NY 10011
Box Office hours:
Monday-Friday 1 - 9pm | Saturday-Sunday 10am to 9pm
Schedule of Related Events:
Oct 16 – 18, 11am – 5pm Video Archive: Jennifer Monson's BIRD BRAIN Osprey Migration. Edited by Robin Vachal from 50 hours of documentation. Free, 160 minute loop, come and go as you please.
Oct 16 at 6:30pm Come Early Conversation: The Body as Archive, Travis Chamberlain, Associate Curator of Performance at the New Museum discusses the work of Jennifer Monson.
Oct 17 Stay Late Discussion: Environment of Self in Time, Jennifer Monson in Conversation with La MaMa ETC Archivist, Rachel Mattson, PhD.

Shared Practice Workshop
Oct 18, 1:00-4:00pm, $20
In this Shared Practice workshop, Monson and her collaborators will share some of the methods and practices they have developed in Live Dancing Archive and the BIRD BRAIN Migration Project. Using specific sensory perceptual exercises and improvisational strategies, students will investigate the kinds of spaces and landscapes that are archived in each individual's body. How can we use choreography to generate a system of space, time and ecological frameworks to document and archive the landscapes we hold in our moving bodies? We will access the live dancing archive in each of us and look at the power of bodies to shape, respond to and activate the relational spaces we inhabit.
About Jennifer Monson:
Jennifer Monson is a choreographer, performer and teacher. Since 1983, she has explored strategies in choreography, improvisation and collaboration in experimental dance. In 2000, her work took a radical new trajectory towards investigating the relationship between movement and environment. This ongoing research has led her into inquiries of cultural and scientific understandings of large-scale phenomena such as animal navigation and migration, geological formations such as aquifers and re-functioned sites such as the abandoned Ridgewood Reservoir. These studies provide the means to unearth and inquire into choreographed and embodied ways of knowing and re-imagining our relationship to the environments and spaces humans/all beings inhabit. Her projects BIRD BRAIN (2000-2005), iMAP/Ridgewood Reservoir (2007) and the Mahomet Aquifer Project (2008-2010), SIP (sustained immersive process)/watershed are investigations that have radically reframed the role dance plays in our cultural understandings of nature and wilderness. Her current work Live Dancing Archive proposes that choreography itself is an archival practice for environmental phenomena. Her early choreography has been performed in a diverse array of recognized national and international venues in addition to noted New York City venues including: The Kitchen, Performance Space 122 and Danspace Project at St. Mark's Church. She has collaborated with Zeena Parkins, DD Dorvillier, Yvonne Meier, David Zambrano and other interdisciplinary artists. Her multi-year project BIRD BRAIN received funding from MAP Fund, New York Foundation for the Arts BUILD grant, Creative Capital Foundation, Geraldine R. Dodge Foundation, Jerome Foundation, New England LEF Foundation, Altria Group, Inc., National Dance Project, National Performance Network, the National Endowment for the Arts and a Guggenheim Fellowship. She has received fellowships from the NEA, New York Foundation for the Arts and The Lambent Foundation and the Foundation for Contemporary Art. She has received two New York Dance and Performance "Bessie" Awards—one for sustained achievement in the field and one for BIRD BRAIN. Monson was also an inaugural recipient of the Doris Duke Impact Award.
In 2004, Monson incorporated under the name iLAND—Interdisciplinary Laboratory for Art, Nature and Dance. iLAND explores the power of dance in collaboration with other fields to illuminate a kinetic understanding of the world. This dance research organization upholds a fundamental commitment to environmental sustainability as it relates to art and the urban context and cultivates cross-disciplinary research among the arts, environmental science, urban design and other related fields. In addition to serving as Artistic Director of iLAND, Monson is currently a Professor at the University of Illinois Urbana-Champaign as part of a new initiative of the Environmental Council. Monson is also a Professor at Large at the University of Vermont, a six-year term in collaboration with the Dance, Environmental Studies and Library Departments.
New York Live Arts is a reserved seating house.

Tickets are available for purchase by calling the box office at 212-924-0077
and will be available online at newyorklivearts.org.
New York Live Arts Members, Associated Artists, Students, and Seniors are eligible for
20% discounts to theater performances.
Box Office hours:
Monday – Friday 1 - 9pm and Saturday-Sunday 10am - 9pm.

Unless otherwise noted, performances take place at New York Live Arts located at 219 West 19th Street, between 7th and 8th Avenues.

ABOUT NEW YORK LIVE ARTS
New York Live Arts is an internationally recognized destination for innovative movement-based artistry offering audiences access to art and artists notable for their conceptual rigor, formal experimentation and active engagement with the social, political and cultural currents of our times. At the center of this identity is Bill T. Jones, Artistic Director, a world-renowned choreographer, dancer, theater director and writer.
We commission, produce and present performances in our 20,000 square foot home, which includes a 184-seat theater and two 1,200 square foot studios that can be combined into one large studio. New York Live Arts serves as home base for the Bill T. Jones/Arnie Zane Dance Company, provides an extensive range of participatory programs for adults and young people and supports the continuing professional development of artists.

Funding Support
Major support for New York Live Arts is provided by: The Brownstone Foundation; Con Edison; The Joseph and Joan Cullman Foundation for the Arts; Cultural Services of the French Embassy; Doris Duke Charitable Foundation; The Ford Foundation; The Fan Fox and Leslie R. Samuels Foundation; French American Cultural Exchange (FACE); The Howard Gilman Foundation; The Grand Marnier Foundation; Jerome Foundation; Lambent Foundation; MAP Fund, a program of Creative Capital; The Andrew W. Mellon Foundation; Mertz Gilmore Foundation; Mid-Atlantic Arts Foundation; New England Foundation for the Arts; The Jerome Robbins Foundation; The Scherman Foundation; The Shubert Foundation; and the Trust for Mutual Understanding. New York Live Arts is supported by public funds administered by the New York City Department of Cultural Affairs, the New York State Council on the Arts and the National Endowment for the Arts.