Contribute
Your support helps us cover dance in New York City and beyond! Donate now.
NEW YORK LIVE ARTS presents the world premiere of Rashaun Mitchell's "Light Years,"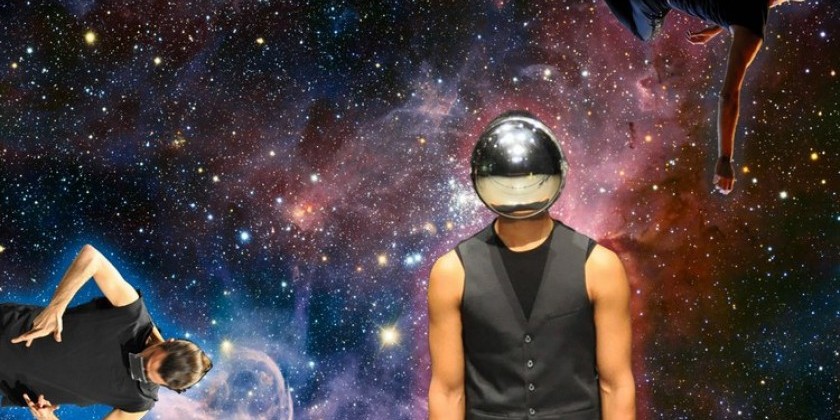 Company:
Rashaun Mitchell
NEW YORK LIVE ARTS
presents
the world premiere of
Rashaun Mitchell's
Light Years
April 1 – 4, 2015 at 7:30pm
New York, NY, February 17, 2015 – New York Live Arts presents the world premiere of Rashaun Mitchell's Light Years, April 1 – 4 at 7:30pm in the New York Live Arts Theater. Described by The New York Times as "continually intriguing" and "supremely talented," Mitchell's newest work explores the myriad ways in which the body absorbs and translates information.
Featuring performers Hiroki Ichinose, Cori Kresge, Silas Riener and Melissa Toogood, Light Years is Mitchell's newest work to date. Light Years includes an electronic soundscore (by Michael Beharie and Corwin Lamm), graphic costumes (by Mitchell and Riener) and bold lighting (by Davison Scandrett).
Concerned with identifying intimate nuances of presence and instinct, Mitchell conceived of the group work as combined individual solos. The dance aims to expose the years of information that a movement can hold, while spinning divergently away from reality. The body attempts to dissolve into space, to claim everything, to continue to (r)evolve. The self becomes far-reaching, traveling so long, lost in the in-between time, passing through inexplicable illusions, other people, other matter. Suns converge. Portals open; a shifting landscape. The drums can still be heard. The individual dancer attempts to hold all of this—so many generations, so many mutations—even as she is in a constant state of becoming, continually making and unmaking.
Light Years is commissioned by New York Live Arts and made possible, in part, by the Jerome Foundation, the National Endowment for the Arts, and by contributors to the Dance Theater Workshop Commissioning Fund at New York Live Arts.
Light Years was developed, in part, through New York Live Arts' Studio Series with support from the National Endowment for the Arts, the New York City Department of Cultural Affairs in partnership with the New York City Council and other generous donors.
Performances will take place in New York Live Arts' Theater. Come Early Conversations and Stay Late Discussions will also be featured with two shows (see complete schedule below). Tickets start at $30 with select $15 seats available. Tickets may be purchased online at newyorklivearts/season, by phone at 212-924-0077 and in person at the box office. Box office hours are Monday to Friday from 1 to 9pm, and Saturday and Sunday from 10am to 9pm.
Listing info:
Rashaun Mitchell
Light Years
April 1 – 4 at 7:30pm
New York Live Arts Theater
Tickets: $15, $30
T: 212-924-0077 | www.newyorklivearts.org
219 W 19th Street, New York, NY10011
Box Office hours:
Monday-Friday 1 - 9pm | Saturday-Sunday 10am to 9pm
Schedule of Related Events:
April 2 at 6:30pm Come Early Conversation with Irene Hultman
April 3 Stay Late Discussion with Will Rawls
About Rashaun Mitchell:
Rashaun Mitchell's choreography has been presented in NYC by Danspace Project, Baryshnikov Arts Center, La MaMa Moves! Dance Festival, Mount Tremper Arts, Skirball Center at NYU, Museum of Arts and Design and at numerous venues and universities throughout the country. With collaborator, Silas Riener, he was listed in Dance Magazine's "25 to Watch" for 2013. In 2014 they were members of LMCC's inaugural Extended Life Dance Development Program, Wellesley college artists-in residence and City Center Fellows. Mitchell has received numerous awards: a 2014 Guggenheim Fellowship, a Princess Grace Award: Dance Fellowship (2007), a New York Dance and Performance "Bessie" Award for sustained achievement in the work of Merce Cunningham 2004-2012 (2011), a Bessie for "Outstanding Emerging Choreographer" (2012) and a Foundation for Contemporary Art "Grant to Artists" (2013). He is a Cunningham Fellow and licensed stager of the repertory who started his dance training at Concord Academy and graduated from Sarah Lawrence College in 2000. He has worked with many dance artists including: Chantal Yzermans, Donna Uchizono, Pam Tanowitz, Risa Jaroslow, Sara Rudner, Jonah Bokaer, Richard Colton, Deborah Hay, Rebecca Lazier, Jodi Melnick and Silas Riener. Mitchell is currently on faculty at NYU's Tisch School of the Arts.
ABOUT NEW YORK LIVE ARTS
New York Live Arts is an internationally recognized destination for innovative movement-based artistry offering audiences access to art and artists notable for their conceptual rigor, formal experimentation and active engagement with the social, political and cultural currents of our times. At the center of this identity is Bill T. Jones, Artistic Director, a world-renowned choreographer, dancer, theater director and writer.
We commission, produce and present performances in our 20,000 square foot home, which includes a 184-seat theater and two 1,200 square foot studios that can be combined into one large studio. New York Live Arts serves as home base for the Bill T. Jones/Arnie Zane Dance Company, provides an extensive range of participatory programs for adults and young people and supports the continuing professional development of artists.
Funding Support
Major support for New York Live Arts is provided by: The Brownstone Foundation; Con Edison; The Joseph and Joan Cullman Foundation for the Arts; Cultural Services of the French Embassy; Doris Duke Charitable Foundation; The Ford Foundation; The Fan Fox and Leslie R. Samuels Foundation; French American Cultural Exchange (FACE); The Howard Gilman Foundation; The Grand Marnier Foundation; Jerome Foundation; Lambent Foundation; MAP Fund, a program of Creative Capital; The Andrew W. Mellon Foundation; Mertz Gilmore Foundation; Mid-Atlantic Arts Foundation; New England Foundation for the Arts; The Jerome Robbins Foundation; The Scherman Foundation; The Shubert Foundation. New York Live Arts is supported by public funds administered by the New York City Department of Cultural Affairs, the New York State Council on the Arts and the National Endowment for the Arts.