NEWS of THE YARD | 2013 Season Announcements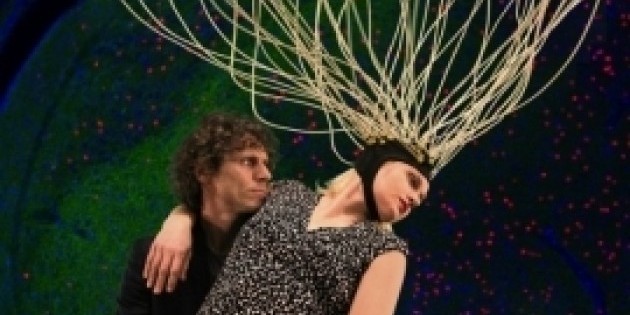 Big IDEAS. Serious JOY. Your YARD.
NEWS
of
THE YARD
Big IDEAS. Serious JOY. Your YARD.
© The Yard Inc 2013. All rights reserved.
The Yard announces its 41st Performance Season
May 22nd - September 22, 2013
Explosive Taps, Pop-and-Lockers, Dancing India, Brain Storms,
Edward Hopper, Clowns & Vaudevillians of the Modern Age
- and a Theater of Objects in desperate search of food.

YARD ARTS covers the arts waterfront in 2013 with a summer of Big Ideas and Serious Joy, dancing (and more) as if there's no tomorrow, featuring some of the nation's, and the island's, best artists exploring, teaching, creating and performing for the people of Martha's Vineyard. Look at it this way: The 3rd year return of Doug Elkins: the 1st year introduction of the electrifying young African-American choreographer Camille A. Brown; the 2nde year of TapTheYard with Yard veteran artist-curator David Parker, Jeff Kazin and the percussive BANG Group; premier Savion Glover tap collaborator Jason Samuels Smith; and . . .

Or this way: Contemporary dance-making, theater, adult puppetry, music, family matinees, a KidsMakeDance camp, and open community classes and workshops all summer long - who could ask for anything more of a nationally praised artist laboratory based in Chilmark? It's the 2013 YARD ARTS Artist Residency and Performance Season, May 22 through September 22, 2013. (More details are below and a full calendar is attached – of course, programs and times are subject to change and extreme weather).
Ticket prices at The Yard's Patricia N. Nanon Theater (Chilmark) are 5 General Admission /5 for seniors, students and Active Military. At the MV Regional High School Performing Arts Center (PAC – Oak Bluffs), 5 / 5, with special family group rates available for the TapTheYard 2 Closing Night "Family Tap Jam". Call Jesse Keller (508) 645-9662 or email jessekeller@dancetheyard.org for ticket details and further information.
Follow The Yard for artist video clips on Facebook and Twitter.

The Yard's favorite comic-yet-sensitive choreographer Doug Elkins (creator of everyone's
favorite, Fraulein Maria) unveils a brand-new neo-vaudevillian work in national preview, Hapless
Bizarre, a well as the completed Mo(or)town/Redux, in which Othello meets '60's soul music (first
seen in progress at The Yard in 2011). The expanded return of TapTheYard 2: A Vineyard
Festival of Rhythm and Beats featuring the best young tap and percussive artists from across
the country, including David Parker, Jeff Kazin and the BANG Group, Michelle Dorrance,
Derick Grant, the Wondertwins and Jason Samuels Smith, and The Yard's Annual Challenge
Match Benefit, "TapThePAC: The TapTheYard All Stars," at the MVRHS PAC on Friday,
August 2nd. The Festival ends big-time with a "FamilyTapJam" featuring the All-Stars in an
early Closing Night performance on Saturday, August 3rd, also at the PAC.

There's the gifted young South Asian choreographer Hari Krishnan (Bollywood, anyone?)
and the gifted young Americans Faye Driscoll, Donnell Oakley, Deborah Lohse and Camille A.
Brown. Edward Hopper's haunting sensuality comes to vital voyeuristic life in the eyes and
bodies of Art Bridgman and Myrna Packer. The slyly comic life observer Mitchell Rose, a
specialist in dance, film and audience participation once termed the "Woody Allen of modern
dance," stops in with his bag of tricks. And perhaps three of the most renowned "downtown"
women dancers of recent years, rarely seen together on a shared stage - Jodi Melnick, Sara
Rudner and Vicky Shick - bring a special grace and luminosity to the Patricia N. Nanon Theater.

Then there's Everett Dance Theater, a true modern family business (aka, the Jungels
Family) straight outta Providence (RI) founded by a mother, son, daughter, a bunch of friends
and a number of gifted kids trained in their (literally) backyard theater school, and including hiphoppers
Cased Closed – in a deep dive into the human brain, Brain Storm, inspired by a 2-year
residency in New Hampshire's remarkable Crotched Mountain Center for the treatment of brain
trauma and neurological disorders. And there's more: hilarious contemporary clownvaudevillian
artist Mark Gindick who, updating Charlie Chaplin in the classic Modern Times,
considers the travails of a man and his confounding social media; and the resident YardWorks
dance crew led by Jesse Keller and Alison Manning, with Yard friends What's Written Within, among others.

And finally, a serious note for the shoulder season in September: consummate theater
artists and contemporary puppeteers Dan Froot and Dan Hurlin bring their achingly poignant
Who's Hungry, inviting the audience to sit down for a banquet of sorts with the real-life stories of
five diverse victims of chronic hunger – what is now characterized as food insecurity. In asking
the audience to consider "A time that you or somebody you know in your community didn't know
where their next meal would come from," Froot, Hurlin and colleagues present distilled audio
portraits personified by Bunraku-style and rod puppets that join the audience at a 24-foot dinner table.

Throughout the summer there will be a number of special events still to be scheduled
including BackYardJams, a new island-grown music series; YardWORDS artist-and-process
meet-ups; and Public Dancing ALLOWED!!! community dancing evenings with live music.

Daily community dance classes open to all ages and experience levels will include special workshops devoted to South Asian dance, hip-hop and tap as guest artist residencies warrant. Molly Doyle will again lead Yoga at The Yard; and NYU's Steinhart School of Education children's dance specialist Deborah Damast returns to lead the acclaimed FLYTIME: KidsMakeDance Camp for 4 weeks in July and August (Note: Early registration for FLYTIME is urged because of limited weekly camp size). Further details about these and other events will be forthcoming in future weeks.

What makes The Yard and YARD ARTS possible:
Founded 41 years ago by the late visionary artist Patricia Nanon, the mission and programs of The Yard are now made possible with support from the National Endowment for the Arts; the Massachusetts Cultural Council; the New England Foundation for the Arts, through its Expeditions and National Dance Project programs; the National Performance Network; the Permanent Endowment for Martha's Vineyard; the Bank of Martha's Vineyard; The Nanon Family – Cate Woolner, Justine Woolner-Wise, Vicki Woolner-Samuels and the Newman Assistance Fund; the Feldman Family Fund; the Scripps Foundation; the OMA Foundation for Women; Dr. Marianne Goldberg and the Pathways Projects Institute; and our extraordinary growing family of family funds, individual donors and business sponsors.

(See accompanying 2013 Season Calendar for specific artists, events, performances, dates and times)


2013 PERFORMANCE SCHEDULE
June 14th & 15th

Bessie Schönberg Mentorship Residency Performances

The 2013 Bessie Schönberg Residency includes South Asian choreographer Hari Krishnan, and New York choreographers Deborah Lohse and Donnell Oakley. During their 3-week residency, the choreographers will work with collaborating performers and other artists under guest Yard mentor David Brick, co-Artistic Director of Philadelphia's HEADLONG Dance theater, to create brand-new work developed while on island. Join us to see where all the new research and Vineyard inspiration take these emerging creators in the works-in-progress performance.
June 21st & 22nd

Mitchell Rose in "The Mitch Show"

The Mitch Show is a fast-paced evening of comic films and audience-participation pieces by Mitchell Rose. A former choreographer and performance artist, now prize-winning filmmaker, Mitch's offbeat films have won 54 festival awards and are screened across the globe. Manically funny, often poignant and always surprising, The Mitch Show appeals equally to fans of film, theater, dance, and comedy.
June 29th & 30th

Jodi Melnick, Sara Rudner and Vicky Shick

Three of the most renowned "downtown" women dancers of recent years, rarely seen together on a shared stage - Jodi Melnick, Sara Rudner and Vicky Shick - bring a special grace and luminosity that is something not to be missed by dance lovers of all generations.
July 5th & 6th

Everett Dance Theater "Brain Storm"

Everett's Company takes audiences on a journey into the universe's most complex structure – the human brain. Using current neuroscience research and personal narrative as fuel, BRAIN STORM tells the tale of the brain and how it makes us human. A multimedia dance/theater experience that informs, entertains, and provokes thought.
July 19th & 20th

Bridgman/Packer Dance "Voyeur"

Art Bridgman and Myrna Packer, Guggenheim Fellows in Choreography, are acclaimed for their innovative integration of choreography and video technology that explodes the partnering form into a magically populated stage where image and reality collide. Their current work-in-progress, Voyeur, takes the paintings of Edward Hopper as its point of departure.
July 26th - August 3rd

Tap The Yard 2: A Vineyard Festival of Rhythm and Beats

TapTheYard 2: A Vineyard Festival of Rhythm and Beats featuring the best tap and percussive artists from across the country, including David Parker, Jeff Kazin and the BANG Group, Michelle Dorrance, Derrick Grant, the Wondertwins, Camille A. Brown & Company and Jason Samuels Smith, The Yard's Annual Challenge Match Benefit Event, and "TapThePAC: The TTY All Stars." Every Performance brings new work and new artists come to 2, 3, 4, or ALL of the shows, you won't be disappointed!

WEEK 1:

David Parker, Jeff Kazin and The Bang Group, The Wonder Twins and Irish step dancer

WEEK 2:

Jason Samuels Smith, Camille A. Brown and Company,Michelle Dorrance/Dorrance Dance, Derick Grant, David Parker & Jeff Kazin

CLOSING NIGHT:

Family TapJam
August 2nd

The Yard's Challenge Match Benefit with the TapTheYard All-Stars

This is the 2013 Annual Benefit for The Yard, the Vineyard's historic 41 year-old non-profit artist residency and performance center for contemporary dance, theater and related arts, located in Chilmark and serving all ages and communities across the island. The 2013 Benefit features the explosive, nationally acclaimed artists of the TapTheYard ALL-STARS, including David Parker and the BANG Group, Michelle Dorrance & Dancers, and the African-American artists Camille Brown, Jason Samuels Smith and Derick Grant.
August 15th & 17th

Doug Elkins and Friends "Hapless Bizarre" and "Mo(or)town/Redux"

The irreverent choreographer Doug Elkins (Fräulein Maria) returns to The Yard with a merry band of dancers, actors and clowns to explore the sharp intersections between physical comedy, choreography, flirtation and romance. Expect near misses of physical action and attraction with high flying kicks and turns eliciting a range of emotions. This new work will be paired with "Mo(or)town/Redux," an homage to Jose Limon's "Moor's Pavane" set to a top 40 sound score, first previewed here in 2011.
August 23rd & 24th

Mark Gindick's Modern Clown show "Wing-Man"

Springing from the sawdust of the Big Apple Circus' Dance On! and the acclaimed PBS series CIRCUS, physical comedian and clown Mark Gindick takes the audience on a hot pursuit of ideal romantic love in his solo piece Wing-Man. Without a single live spoken word, trapped in the worlds of social media, Mark Gindick flies in the tradition of silent comedians and clowns a la Chaplin's Modern Times, bringing his audience as his date, showing but never telling us, say less and lust more. Wes Hyler (How the Grinch Stole Christmas, Jersey Boys) directs.
August 30th & 31st

YardWorks

An evening of work directed by Jesse Keller and Alison Manning including works by The Yard Staff and Interns, and accompanied by the sophisticated Vineyard Improvisational company, What's Written Within. A third year tradition, YardWorks will bring to life TheYard theater with the names and faces you have come to know throughout the season.
September 20
th
& 21
st
Dan Froot/Dan Hurlin "Who's Hungry"
Who's Hungry - Santa Monica is part of an ongoing series of puppet plays produced and written by Dan Froot, designed and directed by Dan Hurlin with music by Amy Denio. The one-hour production weaves together stories based on the lives of five homeless and/or hungry residents of Santa Monica, CA.