NYC10 Dance Initiative — Call for Choreographers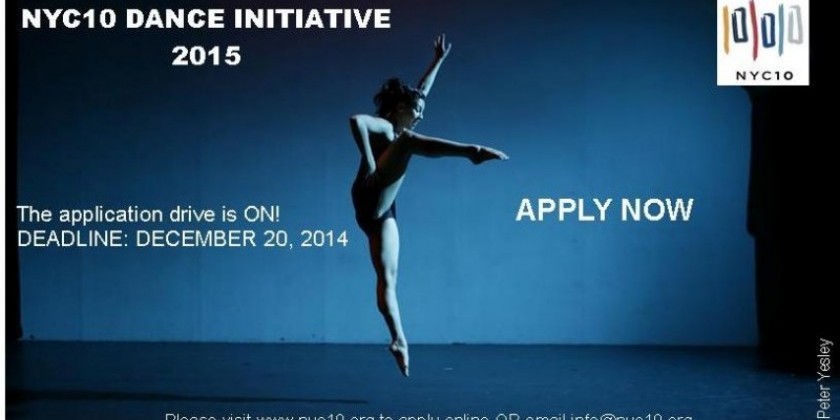 Company:
NYC10 Dance Initiative
Photo by Peter Yesley

NYC10 is a unique dance show.  Each show provides opportunities to 10 emerging choreographers/dance companies to showcase their work (up to 10 minutes each) and receive feedback and reviews.  It is a free dance platform for development and expansion of unique repertoires.
NYC10 is currently accepting applications for March 25, 2015 performance.  Other dates TBA. DEADLINE: DECEMBER 20, 2014
Please read the Application Guidelines below -
NYC10 is open to all the choreographers whose work fulfills the following criteria:
• The work is maximum 10 minutes long.
• The work features live dance performance.
• If selected, the work applied with should be the same as the work that is performed.
• Each company has a maximum of 20 min technical preparation in the theatre on performance day between 3 p.m. to 6:30 p.m.
• Work should be created by dancers and/or emerging choreographers.
• Work by artists who are actively pursuing a career in professional dance and choreography.
What NYC10 Will Do for You:
• Give you the performance space and its technical equipments and the technical support
• Give you the Marketing support
• Give you feedback report from audience and specially invited guests
• Give you an option to choose to review your work for an online publication
• Give you one Free video of the performance and professional photographs of the dance
• Post-performance reception and interaction opportunity with the audience
What NYC10 Expects from You:
• A work within the agreed performance length of 10 minutes
• A cancellation fee of $50 for no-show and canceling after approval and acceptance
• NYC10 will require at least one photo image for marketing purposes (JPEG, Tiff)
• Your representative will be asked for a short write up about the artistic work for use in marketing efforts