Contribute
Your support helps us cover dance in New York City and beyond! Donate now.
National Dance Theatre Company of Jamaica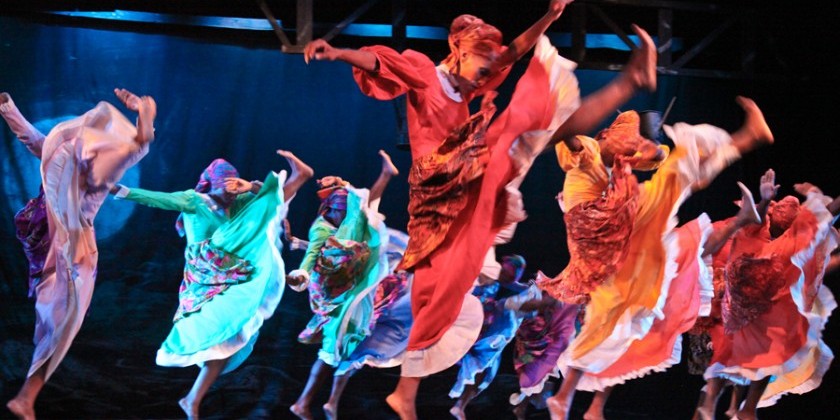 Company:
National Dance Theatre Company of Jamaica
Brooklyn Center for the Performing Arts at Brooklyn College continues its 60th Anniversary Season with the much-anticipated return of National Dance Theatre Company of Jamaica (NDTC) on Saturday, March 21, 2015 at 8pm and on Sunday, March 22, 2015 at 3pm. Returning to Brooklyn for the first time since their 50th Anniversary tour in 2012, the company will perform two programs combining evocative new works with favorites from their extensive repertoire. Tickets for Saturday evening are $40-$75 and tickets for Sunday matinee are $36-$45, and can be purchased at BrooklynCenter.org or by calling the box office at 718-951-4500 (Tue-Sat, 1pm-6pm).
Co-founded by Rex Nettleford and Eddy Thomas in 1962, at the time of Jamaica's Independence, NDTC ventures to provide an atmosphere in which dancers could create and perform works of high standards, to encourage the Jamaican public to better appreciate the art of dance, and to research and utilize indigenous dance-forms and movement pattern from Jamaica and the wider Caribbean.
A biennial visitor to Brooklyn Center for more than two decades, NDTC presents two special programs featuring repertoire highlighting the company's 50 year history. The repertoire for the company's 2015 Brooklyn appearance includes:
Drumscore (1979), choreography by Rex Nettleford, featuring the NDTC singers
Dialogue for Three (1963), choreography by Rex Nettleford
Playtime (2014), traditional Jamaican folk songs featuring NDTC singers and orchestra
Rough Drafts (2014), choreography by Chris Walker, featuring full NDTC company
Sulkari (1980), choreography by Eduardo Rivero-Walker, originally premiered on May 13, 1971 by the Danza Nacional de Cuba
Incantation (2002), choreography by Jeanguy Saintus, a solo excerpt featuring Kerry-Ann Henry
Kumina (1971), choreography by Rex Nettleford
About National Dance Theatre Company of Jamaica (NDTC)
National Dance Theatre Company (NDTC) is a voluntary group of dancers, singers, musicians and creative technicians who are dedicated to the view that their work in the dance can help to bring discipline, a sense of  process and cultural awareness to the awesome task of nation-building. The search for a definitive Caribbean dance theater linked a varied and versatile group together to make this goal a reality. During its five decades of existence the NDTC has achieved a reputation for artistic excellence developing much of its repertoire from authentic folk material. The entirely Jamaican ensemble has performed in Europe, North, Central and South America, Australia and the wider Caribbean meeting with unqualified success and establishing for itself a laudable international reputation.
Barry Moncrieffe (Artistic Director), former Associate Director and long-standing lead dancer with the NDTC, Mr. Moncrieffe has served as "the clay" on which many leading male roles in NDTC's repertoire were molded for some three decades. Mr. Moncrieffe did early training in Eddy Thomas Dance Workshop, in summer schools at the University of the West Indies, Mona Campus and later on scholarship at the Martha Graham School of Contemporary Dance in New York. The Company's principal dance tutor and senior lecturer in dance at the Edna Manley College of the Visual and Performing Arts (School of Dance), he has also taught and performed in the Caribbean, Germany, England, China, Finland and at Vassar College in the United States. He appeared with the last States-wide tour by the famous Anna Sokolow before finally returning to his native Jamaica and NDTC. A Musgrave Medalist and more recently a National Honours Award Recipient (Commander of Distinction, CD), he made his debut as a choreographer for NDTC in 2002 with a dance-work based on Bruckins Party in collaboration with Founding Member and dance icon Joyce Campbell.
Ewan Simpson (Musical Director), Attorney-at-Law, holds a Master of Laws (LL.M) in Intellectual Property Law, from the University of Turin (Italy). A creative and analytical mind, Simpson wears many hats and can be described as a young veteran in the Jamaican entertainment arena. He has a wealth of experience in production and events management, and has been a production and entertainment consultant to major entertainment stakeholders, including the Jamaica Jazz and Blues Festival for which he has been appointed Associate Producer. He is also a mentor, advocate, and lecturer in the areas of Intellectual Property Law, Entertainment Law and Artist Management, and has co-hosted or appeared as guest presenter on several radio talk shows, addressing areas of concern to the enhancement and development of the creative industries in Jamaica.
Brooklyn Center for the Performing Arts' presentation of National Dance Theatre Company of Jamaica is supported by TD Bank, Macy's, the Mertz-Gilmore Foundation, and The Harkness Foundation for Dance.
Brooklyn Center for the Performing Arts
Whitman Theatre at Brooklyn College
2 train to Brooklyn College/Flatbush Avenue
Online orders: BrooklynCenter.org
Box Office: 718-951-4500, Tue-Sat, 1pm-6pm
About Brooklyn Center for the Performing Arts
Founded in 1954, Brooklyn Center for the Performing Arts at Brooklyn College presents outstanding performing arts and arts education programs, reflective of Brooklyn's diverse communities, at affordable prices. Each season, Brooklyn Center welcomes over 65,000 people to the 2,400 seat Walt Whitman Theatre, including up to 45,000 schoolchildren from over 300 schools who attend their SchoolTime series, one of the largest arts-in-education programs in the borough. In recognition of its commitment to quality family programming, Brooklyn Center for the Performing Arts has been recognized as both Brooklyn's Best Theater or Theater Group for Kids and Brooklyn's Best Place for Family Bonding by ParentsConnect Parents' Picks Awards. In 2014-15, Brooklyn Center celebrates its 60th Anniversary Season of presenting world-class performances on the Brooklyn College campus.
Brooklyn Center for the Performing Arts' programs are supported, in part, by public funding from the New York City Department of Cultural Affairs in partnership with the City Council. Brooklyn Center's 60th Anniversary Season is made possible by the New York State Council on the Arts with the support of Governor Andrew Cuomo and the New York State Legislature. Major support for the 2014-15 season is provided by: Brooklyn College, Target, Con Edison, TD Bank, National Grid, Macy's, Shanachie Entertainment Corp, the Herman Goldman Foundation, The Harkness Foundation for Dance, the Jazz Touring Network, the Alice Lawrence Foundation, the Pierre and Tana Matisse Foundation, the Mertz Gilmore Foundation, the Mid Atlantic Arts Foundation, the Henry and Lucy Moses Fund, Inc., and the TD Charitable Foundation. Additional support provided by CNG Publications, The Brooklyn Eagle, WFUV, and WBGO Jazz 88.3 FM. The Fairfield Inn & Suites by Marriott New York Brooklyn is the official hotel of Brooklyn Center's 60th Anniversary Season. Backstage catering is graciously provided by Applebee's.
Brooklyn Center for the Performing Arts gratefully acknowledges generous support from New York State Assembly members Rhoda Jacobs, Alan Maisel, Félix Ortiz, Annette Robinson, and Helene Weinstein, New York City Council Speaker Melissa Mark-Viverito, and Commissioner of Cultural Affairs Tom Finkelpearl.
Photo: Tony wong