Nejla Y. Yatkin performs at the Between the Seas Festival in New York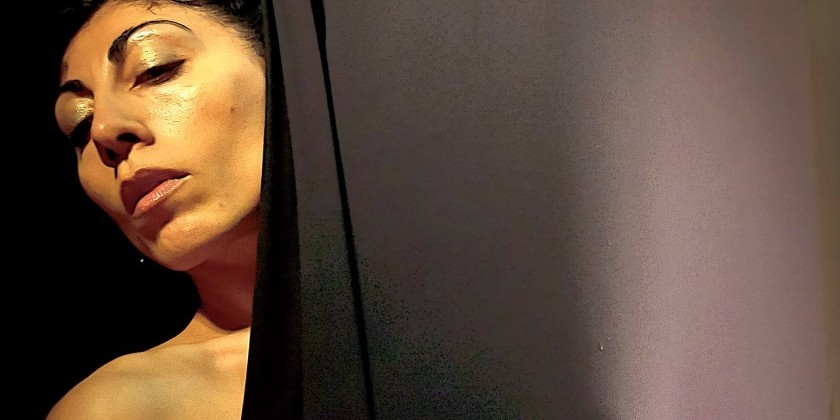 Company:
Nejla Y. Yatkin
Berlin born Turkish choreographer Nejla Y. Yatkin is featured guest artist in a shared program with Israeli dancer Talia Beck as part of the 4th annual Between the Seas Festival in New York.  Between the Seas Festival is New York's only international festival dedicated to producing, presenting and promoting contemporary Mediterranean performing artists.  Nejla Y. Yatkin originally from Berlin with Turkish roots, will perform her latest work entitled "What Dreams May Come" in a preview performance at the Wild Project as part of the Festival Friday July 25 at 8pm and Sunday July 27 at 8:30pm in New York.
This new solo piece is an evening length multi media dance theatre work choreographed and danced by Nejla Yatkin. After exploring large scale group project for the last 8 years, Nejla is going back to creating an intimate solo dance inspired by Turkish composers Ahmet Saygun and Kamran Ince as well as Video Design by New York based artist Enki. This new solo dance explores the spaces in between categories of oppression and freedom and identity and anonymity through movement and stillness, light and shadow, space and time.
"What Dreams May Come" was made possible in part by a grant from the Turkish Cultural Foundation (www.tcf.org)
About NY2Dance
NY2Dance was formed in 2000 by dancer and choreographer Nejla Y. Yatkin in Washington, DC. NY2Dance is the vehicle for Ms. Yatkins vision to use dance in exploration of the human experience through movement. The company's mission is to: 1) create works that reflect the complexity of human existence, that tap the essence of what is common within all humanity and to embrace spirituality as a guiding force, a point of communication as well as reflection; 2) to collaborate with other artists from various disciplines from around the world; and 3) to preserve the works of master choreographers. Toward these ends, Ms. Yatkin is in the process of synthesizing the diverse techniques that she has been exposed to throughout her life into her own style of dance, entitled MOZAIK. For more information please visit www.ny2dance.com
About Nejla Y. Yatkin
Nejla Y. Yatkin is a 2012 3Arts Awardee, a 2011 National Performance Network Creation Fund recipient, a 2008 Princess Grace Choreography Fellow (awarded by the Princess Grace Foundation in New York City) and an Artist in Residence at the University of Notre Dame. In her choreography, she explores the beauty as well as complexity of memory, migration, transformation, identity and multiculturalism through movement. This is achieved by drawing upon diverse traditions of dance, cultures and medium as well as utilizing subjects that are at once universal and timeless. After dancing with several companies in Germany and the USA for over 10 years, Ms. Yatkin began choreographing solo works for herself and other dancers inspired by early works of Martha Graham, Mary Wigman, Susanne Linke and other great female solo choreographers. After 10 years of solo dance and choreography, she then moved to create larger works on other bodies and companies. To date, she has performed in 25 countries and 80 cities around the world and has choreographed on the Cleo Parker Robinson Dance Ensemble, Dallas Black Dance Theatre, the Washington Ballet and The Maryland Dance Ensemble, River North Chicago as well as the Baltimore Ballet. A recipient of many awards and honors, Ms. Yatkin has received the DC Mayors Arts Award for Outstanding Emerging Artist, 6 Metro DC Dance Awards, a 2008 Princess Grace Choreography Award, a 2009 Princess Grace Special Project Award, 4 Artist Fellowship Awards from the D.C. Commission on the Arts and Humanities for her excellence in Dance and Choreography. In 2005 she was selected as one of Dance Magazine's "Top 25 To Watch." In Nejla Y. Yatkin has been supported by the National Performance Network, D.C. Commission on the Arts and Humanities (an agency of the National Endowment for the Arts), the German Embassy, The American Embassy, University of Maryland, the Goethe Institute NY, US International Artists, University of Notre Dame, the John F. Kennedy Center for the Performing Arts, the Princess Grace Foundation, the Historical Dance Foundation, the Turkish Cultural Foundation, the American Turkish Society in NYC and the Illinois Council for the Arts. For more information on her work visit ny2dance.com
About Enki (Interactive multi-media artist)
Enki is a New York based Multimedia Interactive artist experimenting with physical phenomena to discover how humanity views itself in light of our finite human perceptions and how expanding those reflections enhances our self awareness.  An interdisciplinarian since college he studied Physics and Philosophy at Boston University while pursuing his art . Initially inspired by "technology" artists such as Eadweard Muybridge, Alfred Stieglitz, Chuck Close, and United Visual Artists; Enki began working as a photographer in 2000 then in 2010 started exploring video, time based photographic progressions and  interactive media arts. His art pieces have been exhibited at New York Figment, Nuit Blanche New York (NBNY) and showcased in collaborative interactive works with Chris Jordan for the Flint Public Art Project (FPAP) and at Monitor Digital Festival. His photography has appeared in the Huffington Post and the Washington City Paper. His art can be viewed at Syncord.com.
What: Nejla Y. Yatkin/NY2Dance
When: Friday, July 25 at 8pm and Sunday, July 27 at 8:30pm
Where: The Wild Project, 195 East 3rd Street
New York, NY 10009
P. 212.228.1195
Tickets: $15-$20
To purchase tickets visit:
Friday 8pm: Nejla Yatkin (Turkey) / Korhan Basaran (Turkey) / Talia Beck (Israel)   https://web.ovationtix.com/trs/pr/936102   or
Sunday 8.30pm Nejla Yatkin (Turkey) / Talia Beck (Israel) https://web.ovationtix.com/trs/pr/936103
For more information about the Festival visit www.betweentheseas.org
Artist video
http://www.youtube.com/watch?v=1jWtZm-XFAg

Previously commissioned works
http://www.youtube.com/watch?v=IhG2Qo0nwMk