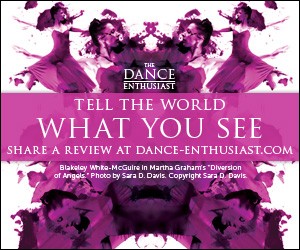 New Releases Choreographers Showcase
Company:
New Releases Choreographers Showcase
New Releases Choreographers Showcase
Saturday, July 2 at 8pm
Sunday, July 3 at 7pm
Dance Place's annual showcase of the best works submitted by established and emerging choreographers.
Featuring choreography by:
Travis Gatling of Full Circle Dance Company
Susan Mann
Gabrielle Campagna of DancEthos
Nicole Martinell
Diana Movius of Movius Dance
Wayles Haynes
and the Dance Place Repertory & Performance class performing a new work by Peter DiMuro.
Tickets: 2 general admission; 7 members, students, teachers (PreK-12), professional artists & seniors; for children 17 & under.
To purchase tickets visit www.danceplace.org or call 202.269.1600