New Solos by Hilary Clark, Caroline Gravel & Taisha Paggett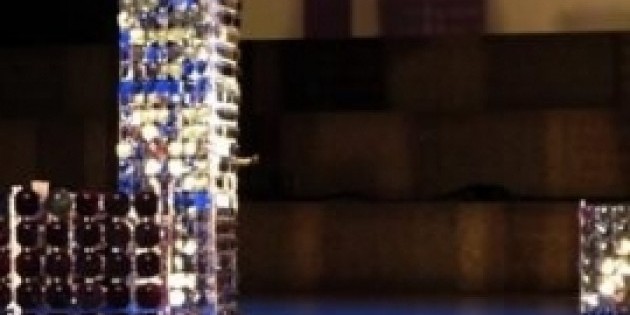 Solos & Solitudes: April 25-27, 2013
Danspace Project Presents
Solos & Solitudes:
HILARY CLARK, CAROLINE GRAVEL, TAISHA PAGGETT
APRIL 25-27, 2013 [THU-SAT] 8PM
Admission:
8 General Admission / 2 Danspace members
FOR IMMEDIATE RELEASE, New York, NY, April 17, 2013
- Danspace Project presents three evenings of compelling solos created and performed by three choreographers Hilary Clark
, Caroline Gravel
, and Taisha Paggett
. Solos & Solitudes
is guest-curated by performance scholars Jenn Joy
and Noémie Solomon
. Inspired by George Didi-Huberman's text Le Danseur des solitudes
(2006), in which the philosopher considers the impossible solitude of the solo, Joy and Solomon invite Clark, Gravel, and Paggett to each imagine a solo addressing the material and temporal qualities of dance. For the occasion, Joy and Solomon have co-edited a catalogue featuring essays and interviews with the choreographers, published by Danspace Project.
Dance artist Hilary Clark
is known for her performance in the work of Miguel Gutierrez, Luciana Achugar, and, most recently, in Young Jean Lee's Untitled Feminist Show
. She was honored with a 2008 Bessie Award for her work with Tere O'Connor as "a fearless and magnanimous performer, whose gorgeous, astute, 'take no prisoners' interpretations of experimental work...enliven the very evolution of the form itself." Clark's Accessories of Protection
is structured through intuition and improvisation and evokes, in curator Joy's words, "a melancholic magic that speaks of the warrior's weakness and longing."
Montreal-based dance and performance artist Caroline Gravel
has collaborated and toured worldwide with Montreal choreographers Catherine Gaudet, Frédérick Gravel, Jean-Sébastien Lourdais, and Daniel Léveillé. Mentored by choreographer Meg Stuart, Gravel has been exploring emotional body states and questions of authorship through her work, inspired by an interest in invisible forces that act on the dancing body. With Ma mère est un mâle alpha (My Mother is an Alpha Male
) Gravel looks at questions of relations, inheritance, and corporality using a technique of impulsion and "bodystorming" to generate materials.
Taisha Paggett's
work for stage, gallery, and public sphere include investigations of the body, agency, and the phenomenology of race. Paggett is co-founder of itch
dance journal and Guest Lecturer at the Dance Center of Chicago's Columbia College. Her solo work was recently presented as part of The Studio Museum in Harlem's Fore
series, which featured emerging artists of African descent working in innovative multi-disciplinary forms. She has worked extensively with visual artist Ashley Hunt in collaborative video and installation work, as well as with David Roussève, Stanley Love, Fiona Marcotty-Dolenga, and Kelly Nipper. Private Realness
emerged from an interest in understanding the expressive systems of pop culture phenomena Zumba and the Autotune as well as the parasitic relationship that pop culture orchestrates between people and things.
FUNDING

:
Thanks to the New York City Department of Cultural Affairs and City Council Member Rosie Mendez.
LOCATION

:
Danspace Project is located inside historic St. Mark's Church in-the-Bowery at 131 East 10th Street (at 2nd Avenue), New York, NY 10003.
TICKETS

:
General Admission is 8. Danspace member tickets are 2. Tickets are available for purchase online at www.danspaceproject.org, or by phone at (866) 811-4111.
BIOS:
Hilary Clark
, based in New York, is a dance artist working with other dance and theater dreamers. Performing in New York since 1998, she has had the pleasure to work with artists Miguel Gutierrez and the Powerful People, Young Jean Lee Theater Company (Untitled Feminist Show), Tere O'Connor (since 2004), Luciana Achugar, Jon Kinzel, and Larissa Velez. Clark was honored with a 2008 New York Dance and Performance Award, a Bessie, for her body of work as a performer with Tere O'Connor, Fiona Marcotty, and Luciana Achugar. Her work has been shown at CATCH, Dixon Place, AUNTS, the Painted Bride in Philadelphia, Pennsylvania, Art Space in Hartford, Connecticut, Dance Theater Workshop, where Clark was a 2008-2009 Fresh Tracks Recipient, performing in collaboration with Larissa Velez, The Kitchen in December 2008, as a part of Dance and Process. In 2010 -2011, Clark received a Studio Series creative residency at Dance Theater Workshop. An alumni of University of the Arts, 98' Dance, she received the Silver Star Alumni Award in 2012.Hilary has enjoyed teaching through CLASSCLASSCLASS, as a guest lecturer at St. John's University, Glenwood Springs Dance Festival, Bates Dance Festival through the Outreach Program, ST. Ann's, and recently returned to teach at the Greater Hartford Academy of Performing Arts as a alumni guest artist. Keep in touch, hilarylclark@gmail.com
Caroline Gravel
is a Montreal-based contemporary dance artist who flirts with performance art since she graduated from l'École supérieure de danse du Québec in 1997. She collaborated with visual artist Luc Boisclair for over four years to lay the ground for an "in between" dance and performance. Her works and collaborations for stage and public space have been presented in Russia, Canada, United States, Brazil, France, Italy, Netherlands, Denmark and Spain. She has worked collaboratively, toured with and made creative contributions to the projects of several Montreal choreographers including Frédérick Gravel, Catherine Gaudet, Jean-Sébastien Lourdais and Daniel Léveillé. Mentored by choreographer Meg Stuart, she completed in 2012 a practice-based Master's thesis in which she explored emotional body states and the question of authorship.
Taisha Paggett
makes things and is interested in what bodies do. She believes language is tricky, thoughts are powerful, and that people are most beautiful when looking up. Her work for the stage, gallery and public sphere include individual and collaborative investigations into questions of the body, agency and the phenomenology of race, and has been presented locally, nationally and internationally. She's been a Guest Lecturer at the Dance Center of Columbia College in Chicago since 2010. In addition to her group choreography and solo durational works, she has the honor of working extensively with the Stanley Love Performance Group, Fiona Dolenga-Marcotty, David Roussève, Vic Marks, Cid Pearlman, Cheng-Chieh Yu, Baker-Tarpaga Projects, Rebecca Alson-Milkman, Kelly Nipper, Meg Wolfe, Ultra-red, and with Ashley Hunt in their ongoing collaborative project, "On movement, thought and politics," which has taken form as workshop, performance, video and mixed media installation. She holds an MFA from UCLA's Department of World Arts and Cultures/Dance and is a co-instigator of itch dance journal.