New York Theatre Ballet presents THE ALICE-IN-WONDERLAND FOLLIES
Company:
New York Theatre Ballet
NEW YORK THEATRE BALLET announces
The Alice-in-Wonderland Follies
January 25 & 26, 2014 at Florence Gould Hall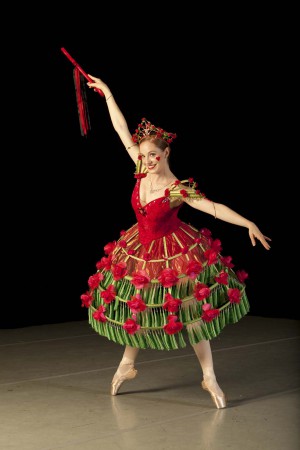 New York Theatre Ballet announces The Alice-in-Wonderland Follies choreographed by Keith Michael at New York City's Florence Gould Hall, 55 East 59th Street, New York City.  Performances are at Saturday, January 25, 2014 at 1pm and Sunday, January 26 2014 at 11am, 1pm, and 3:30pm.  Tickets are $39 and are available at online at www.nytb.org, via Ticketmaster at (800) 982-2787, or in-person at the Florence Gould Hall box office.  For more information, contact the Florence Gould Hall box office at (212) 355-6160.
"Imagine a totally unwired world and the impact of so much visual richness on the children in it. Then unplug a 21st century kid, and head for the Gould..."
-The Village Voice
Follow Alice's adventures through Wonderland as she meets some of the most beloved characters in children's literature. Presented in a vaudeville setting (NY circa 1915) this eclectic ballet draws on many different dance forms - from Irish step dancing to African Jubba to classical ballet.  The ballet features sets by Gillian Bradshaw-Smith and costumes by Sylvia Taalshon Nolan, Resident Costume Designer of the Metropolitan opera.
The Alice-in-Wonderland Follies is part of NYTB's Once Upon a Ballet series.  Other ballets in the Once Upon a Ballet series include:
Cinderella
March 1-2, 2014 at 11am, 1pm, and 3:30pm
 
Carnival of the Animals & Sleeping Beauty's Wedding
May 3, 2014 at 1pm, May 4 at 11am, 1pm, and 3:30pm
ABOUT NEW YORK THEATRE BALLET
New York Theatre Ballet (NYTB), founded in 1978 by artistic director Diana Byer, is the most widely seen chamber ballet company in the United States and has been hailed by The New York Times as "an invaluable company." NYTB is dedicated to inspiring a love of dance in diverse audiences through performances of chamber ballet masterpieces and bold new works, as well as innovative one-hour ballets for children, all at affordable prices.
By pairing the ballets of legendary creators with those of contemporary visionaries, NYTB brings a new understanding and appreciation of dance. The approach to live performance for children is groundbreaking and unique. New York Theatre Ballet offers an annual series of hour-long ballets tailored to the attention span of young audience members, while offering high production values and clever choreography sophisticated enough for discerning parents.
NYTB is committed to reaching underserved audiences by performing in small cities throughout the U.S. Its professional school provides ballet training based on the Cecchetti syllabus. Classes are offered at affordable prices. Scholarships are awarded to talented homeless and underserved children along with support for well-rounded learning.