Contribute
Your support helps us cover dance in New York City and beyond! Donate now.
News from Los Angeles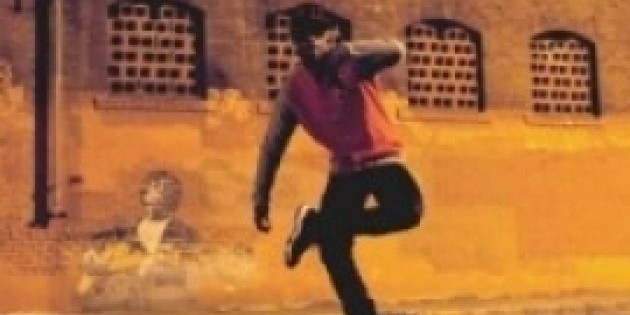 L.A. Dance Project, which gave its inaugural performances at Disney Hall in Los Angeles this past September, will make its Peak Performance debut, October 25-28, with a program of classic works by two of the greatest dance innovators of their generations, William Forsythe ("Quintett") and Merce Cunningham ("Winterbranch"), and the local premiere of "Moving Parts" by L.A. Dance Project's Founding Director Benjamin Millepied.

"Quintett" presents a seamless flow of duets, solos and trios performed in counterpoint to Gavin Bryars' score (Jesus' Blood Never Failed Me Yet). The 26-minute dance, which embodies the music's themes of loss, hope and fear concludes with a torrent of joyous movement. Like each of the evening's works, the dance engages the full company: Frances Chiaverini, Julia Eichten, Charlie Hodges, Morgan Lugo, Nathan Makolandra, and Amanda Wells.

Merce Cunningham's "Winterbranch" still sends the same shock waves through its audience as it did at its 1964 world premiere almost fifty years ago. Based on the "facts" of falling and rising, the mostly dark dance is set to La Monte Young's "2 Sounds," consisting of "the sound of ashtrays scraped against a mirror, and the other, that of pieces of wood rubbed against a Chinese gong." The lights, décor, and costumes are by Cunningham's long-time collaborator, the late Robert Rauschenberg.

Twenty-seven minutes in length, "Moving Parts" is set to music by Millepied's close collaborator Nico Muhly. The visual installation is by Christopher Wool. The costumes are by Rodarte's Kate and Laura Mulleavy, and the lighting is by Roderick Murray.

There will be a Community Conversation with Benjamin Millepied following the Saturday evening performance.

PERFORMANCE TIMES

October 25 @ 7:30 pm
October 26 @ 7:30 pm
October 27 @ 8:00 pm
October 28 @ 3:00 pm

WHERE TO GO

The Alexander Kasser Theater at Montclair State University is located at 1 Normal Avenue, Montclair, New Jersey 07043. Tickets are 5, and are available at the box office, www.peakperfs.org, or by calling 973-655-5112.

Charter bus service is provided from New York City's Port Authority Bus Terminal – arcade on 41st Street between 8th and 9th Avenues – to the Alexander Kasser Theater (0 per person, roundtrip) for all Saturday and Sunday performances. Bus reservations may be made by calling 973-655-5112 or by visiting www.peakperfs.org. For train service, available only on weekdays, go online to www.njtransit.com or call 973-275-5555.

For restaurants close to the Alexander Kasser Theater, visit www.destinationmontclair.com.

ARTIST BIOS

BENJAMIN MILLEPIED Born in Bordeaux, France, Benjamin Millepied began his dance training at the age of eight with his mother Catherine, a former modern dancer. After studying classical ballet in France under Michel Rahn at the Conservatoire National de Lyon, Millepied came to New York City to study at the School of American Ballet in 1992. While at SAB, Millepied received numerous prestigious awards, including the French Ministry of Culture's "Bourse Lavoisier," the "Prix de Lausanne," and the "Award for Outstanding Promise."

In 1995, Millepied joined the New York City Ballet, where he quickly rose to the rank of Principal Dancer by 2001. During his time at NYCB, Millepied danced lead roles in ballets by notable choreographers including George Balanchine, Jerome Robbins, and Peter Martins. He also originated roles in new works by Jerome Robbins, Peter Martins, Angelin Preljocaj, Mauro Bignozetti, Alexei Ratmanski and Christopher Wheeldon. In 1999 and 2002, he appeared in featured roles with the NYCB for the nationally televised Live from Lincoln Center broadcast. Millepied retired from NYCB in 2011.

In addition to being a celebrated dancer, Millepied is also a renowned choreographer who has created works for some of the world's most well-known dance companies and artists, including the New York City Ballet, the Paris Opera Ballet, American Ballet Theater, Mikhail Baryshnikov, the Maryinsky Ballet, Geneva Opera Ballet, the Lyon Opera Ballet and Pennsylvania Ballet. Millepied's works are regularly performed by dance companies around the world.

In 2010 Millepied choreographed and starred in Darren Aronofsky's award-winning feature film Black Swan. The same year, he directed his first short film. In 2011, Millepied directed five short films for a multi-media performance entitled Portals, and he is now directing on a regular basis.

In 2011, he became the face of Yves Saint Laurent's new fragrance L'Homme Libre.

In 2012, Millepied announced the creation of L.A. Dance Project, his new dance company. The company's inaugural performances were commissioned by Glorya Kaufman presents Dance at the Music Center, and took place Sept. 22 & 23, 2012 at the Music Center's Walt Disney Concert Hall in Los Angeles. L.A. Dance Project will tour the United States and internationally into 2013.

# # #

The L.A. Dance Project is commissioned by Glorya Kaufman Presents Dance at the Music Center, Los Angeles.

The 2012/13 season is made possible in part by funds from: Association of Performing Arts Presenters; the National Endowment for the Arts; the New Jersey State Council on the Arts/Dept. of State, a Partner Agency of the National Endowment for the Arts; Discover Jersey Arts; the Mid Atlantic Arts Foundation; Alison and James T. Cirenza; and The Honorable Mary Mochary.

Front photos of Nathan B. Makolandra by Benjamin Millpied.
Design by Michael Bonfiglio.

Please click here for the press release in pdf format. If you have any problems opening the release, please contact us.