Nimbus Dance Works Announcements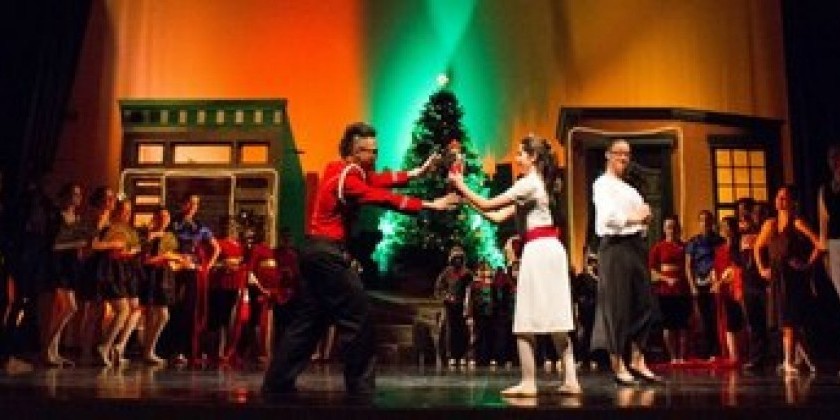 Company:
Nimbus Dance Works
Photo by PeiJu Chien-Pott: Jersey City Nutcracker 2013

Jersey City Nutcracker 2013:
Youth Performance Opportunities!
 Nimbus seeks youth performers for
4th Annual Jersey City Nutcracker Season including lead youth roles: "Maria" and "Christopher"

 Nimbus Dance Works returns with the 4th annual season of Jersey City Nutcracker.  Performed by Nimbus' professional company of dancers, and over 100 youth performers, Jersey City Nutcracker tells the story of two children's urban Christmas adventure leading them through fantasy, adversity and celebration and teaching them lessons about friendship and community along the way. This adaption of Tchaikovsky's holiday classic ballet includes full professional sets, costumes, and lighting and features beloved aspects of the original ballet – including the Sugar Plum fairy, the Arabian Princess and Drosselmeyer, and a ferocious battle between Nutcracker and the Rat King – all with a Jersey City twist! Partnering schools and dance studios include: School of Nimbus Dance Works, Jersey City Dance Academy, Henry Snyder High School, Martin Center for the Arts (MS #41), Hi Tech High School. 

Performances: December 18th - 22nd

Opportunities are available for youth performers, ages 4-17 in the following roles: Cookies, Angels, B-Boys/B-Girls, Rats/Bullies, Spanish, Chinese. No audition required.

Audition for Lead Youth roles: "Maria" and "Christopher" (ages 11-17)
October 12th, 2:30 - 5pm
School of Nimbus Dance Works
83 Wayne Street, Jersey City, NJ
Participation Fee: $95 - includes all rehearsals, performances, costume use, and 1 ticket to performance; Scholarships available

Please visit www.nimbusdanceworks.org or contact us at (201) 377-0718/info@nimbusdanceworks.org for more information

•     •     •

Nimbus Elects New Board Members and Officers for New Fiscal Year

Nimbus welcomes incoming board members Lillian Rivera and Lisa Talma, Jersey City residents who both bring extensive backgrounds in the non-profit world and strong commitments to the arts in the community. Ms. Rivera, Director of Advocacy & Capacity Building at the Hetrick-Martin Institute, is also, with her partner Elsa Vasquez, parent of a student at the School of Nimbus Dance Works. Lisa Talma, a lifelong dancer, is Senior Asset Manager at Enterprise Community Asset Managment, Inc.; Ms. Talma is inspired to unite her passions for dance and for community development through her work with Nimbus.


Incoming Board President,
Dr. Guillem Lomas

Additionally, Nimbus welcomes a new slate of officers whose leadership will help propel the company to new heights. Dr. Guillem Lomas, Assistant Professor of Orthopaedic Surgery, NYU - Hospital for Joint Diseases and Attending Physician, Jersey City Medical Center , is the new Board President. Says Dr. Lomas: "We are committed to supporting Nimbus' world-class dance company and also the organization's important work teaching dance within the Jersey City community.  I am extremely proud to be a part of Nimbus Dance Works and excited about the upcoming year.". Having joined the board in 2011, Dr. Lomas has served the company not only with his guidance and stewardship, but also with expert, pro-bono, medical expertise for company dancers. Ms. Edith Hunt is the company's new Board Treasurer. Ms. Hunt, Advisory Director at Goldman Sachs, is a fixture in the Jersey City Community and surrounding region through her affiliation with Grace Church Van Vorst, Phillips Academy Charter School (Newark), New Jersey Needs You (Jersey City), Women's Campaign Intl. (Philadelphia), and Howard University School of Business (Washington DC). Founding board member, Dr. Judith Pott, a clinical pschologist with a private practice in New York City, and mother of Nimbus Founder/Artistic Director Samuel Pott, will continue to serve as Board Secretary. Dr. Pott brings a lifelong interest in the arts and is a member of the New Amsterdam Singers, New York City.

Nimbus Dance Works extends our special thanks to Elizabeth Sobo, outgoing Board President, who will remain on the board. Under Ms. Sobo's leadership and guidance, Nimbus has made extraordinary steps forward including the founding of the School of Nimbus Dance Works, the location of the company offices and studio to the Barrow Mansion, and development of the company's strategic plan and administration.

If you are interested in learning more about Nimbus Dance Works' Board of Directors or other opportunities to volunteer with our 501c3 non-profit organization, please contact us at info@nimbusdanceworks.org

Nimbus Dance Works Board of Directors

Dr. Guillem Lomas, President
Assistant Professor of Orthopaedic Surgery, NYU - Hospital for Joint Diseases; Attending Physician, Jersey City Medical Center
Edith Hunt, Treasurer
Advisory Director, Goldman Sachs
Dr. Judith G. Pott, Secretary
Clinical Pyschologist, Private Practice,
Hannah Kwon
PhD Student, Rutgers University
Samuel Pott
Artistic Director, Nimbus Dance Works
Lillian Rivera
Director of Advocacy & Capacity Building, Hetrick-Martin Institute
Elizabeth Sobo
Principal, SoboConsulting 
Lisa Talma
Senior Asset Manager, Enterprise Community Asset Management, Inc.
Jessica Wasilewski
Associate Producer, Arts and Cultural Programming, Montclair State University

•     •     •
Nimbus Dance Works's 2013-14 Season is made possible by: The Geraldine R. Dodge Foundation, New Music USA/Live Music for Dance, Goldman Sachs, US Trust/Bank of America, the City of Jersey City, Grace Church Van Vorst, the New Jersey State Council on the Arts/Department of State, A Partner Agency of the National Endowment for the Arts; administered by the Hudson County Office of Cultural & Heritage Affairs/Tourism Development, and by the County of Hudson, Thomas A. DeGise, Hudson County Executive, and the Hudson County Board of Chosen Freeholders, and by generous donors and sponsors. Thank you!